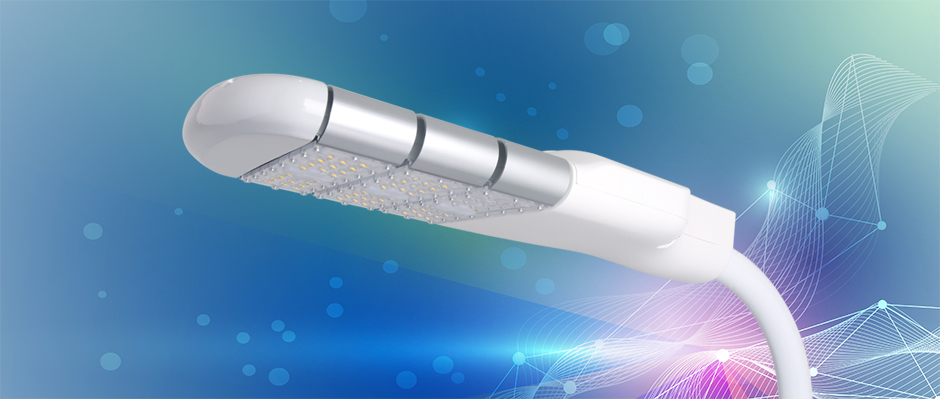 The LSI Series LED street lights from BBE LED are engineered with industry-leading roadway and street lighting functionality with advanced technology for affordable sustainability on a balanced range of price points. The LSI range operates at 50, 100, 150, 200 or 250 watts of electrical power and produces 5,500, 11,000, 16,500, 22,000 and 27,500 lumens, respectively. This robust product family is designed to replace up to 600W metal halide fixtures with up to 75% energy and operation cost savings while never waiving on adherence to performance and reliability.
LSI incorporates future-oriented product concepts to delivers long lasting, consistent illumination over a maintenance-free operation lifespan for 100,000 hours (L70). The integrated thermal management system has been designed to maintain junction temperature of LED at lowest possible value. Thermal resistance of the components along the thermal path has been minimized at both the package level and the system level. The high performance CREE LEDs are designed with metallized ceramic substrate to achieve excellent electrical isolation and thermal conductivity. The solid, robust interconnection between the LED submounts and metal core PCB provides an extremely low thermal resistance and makes it possible for high density packing, thereby enabling homogenous distribution of the current density over the junction to minimize thermally induced stresses. Thermal resistance from the MCPCB to the luminaire housing is minimized by using a highly heat-conducting die cast aluminum heat sink. A flow-through heat sinking design creates the inlet and outlet for turbulent airflow over the LEDs to convect the heated air away.
Exceptional convective and conductive heat transfer ensures the high flux density CREE LEDs to deliver both high lumen output and high efficacy at very high drive currents without compromising color quality and degrading LED life. These LEDs are optimized for the most performance conscious and cost sensitive outdoor applications including collector roads, city streets, residential streets, local roads, parking lots, bridges and overpasses. Proprietary polycarbonate optics provide all of the characteristics desirable in street lighting: reduced light trespass and sky glow, consistent photometric uniformity, and optimal illumination coverage.
The circuit efficiency and reliability of LSE LED luminaires are underpinned by Philips Advance Xitanium LED drivers which have an operating life matching that of the CREE LEDs. These constant-current drivers are designed to operate a choice of professional dimmable LED solutions ranging from analogue 0-10V dimming and pulse-width modulation (PWM) to digital DALI dimming. These perfectly matched LED Drivers take advantage of flexible drive currents (350, 525, 700 and 1050mA) to maximize energy efficiency and utilize a current balancing circuit to provide accurate current sink. Full set of advanced protection features ensure that these devices operate efficiently and reliably to specification under wide temperature and electrical ranges.
The LSI Series LED street lights deliver high environmental and mechanical reliability with rugged construction and robust specifications for moisture, vibration and corrosion protection. The waterproof Xitanium driver comes with an IP67 ingress protection rating. The optical assembly is fully sealed with a highly durable silicone rubber gasket to maintain an IP66 rating. A thermoset TGIC polyester powder coating that undergoes five-step pre-treatment, 1,000 hour salt-spray test protects the aluminum housing against corrosion, ultraviolet degradation and abrasion.