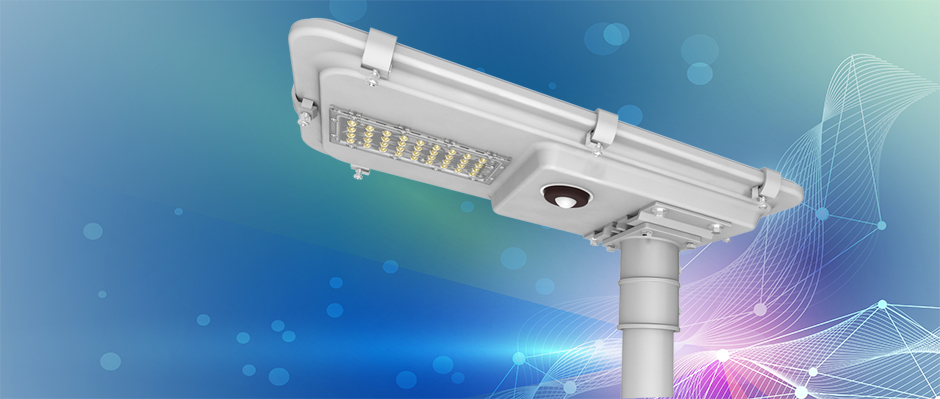 The INTESOLAR Series is a family of fully integrated, solar powered LED lighting systems that harvest the striking efficiency benefits of solid state lighting and the sustainability of renewable energy systems. The all-in-one solar street lights from BBE deliver dependable off-grid lighting with no operational costs and burden of invasive installation such as trenching, cabling or wiring. They're an economically sensible solution to illuminate parking lots, cycle and pedestrian pathways, residential streets, rural roads, driveways, village squares, courtyards, gardens, and remote areas with no electrical infrastructure.
Leveraging BBE's integrated approach for system design, INTESOLAR has been carefully engineered with matched components to provide a highly optimized system. All components, including the robust light assembly, high efficiency solar panel, high volume rechargeable battery, high functionality controller and lighting management modules, are incorporated into a single ultra-thin block. The low-profile, single-piece design eliminates the need for overhead and underground electrical wiring to the battery box and light assembly while facilitating ease of installation and maintenance in addition to cutting down logistical costs.
The INTESOLAR Series is powered by 40-130W monocrystalline solar panels with high Wp (Watts Peak) output and conversion efficiency as well as excellent weak-light photovoltaic characteristics. All generated energy is stored in a high capacity lithium iron phosphate (LiFePO4) battery available in 9.6, 16 or 32AH based on the LED power consumption. The battery features strong thermal stability, tolerance to deep discharging and provides long life cycles even with fast charging. The large battery bank assures the lamp to operate for up to five consecutive cloudy or rainy days. An intelligent charge controller constantly monitors the state of the batteries and ensure that the connected loads don't over-discharge the battery, thereby maximizing the performance and reliability of panel and battery.
INTESOLAR solar street lights are available in 8W, 15W and 30W models. High performance LEDs in conjunction with precision engineered, UV resistant polycarbonate lens deliver between 1,273 and 5,210 lumens at an industry-leading efficacy of 160 LPW, while providing exceptional coverage and uniformity for road and area lighting. The INTESOLAR range is available with integrated PIR or microwave sensors to regulate the luminaire from a dim-mode to full-brightness upon detection of movement around the light.
The INTESOLAR luminaire is completely sealed with a silicon rubber gasket along the perimeter of housing for IP66 level ingress protection. The luminaire housing is built with heavy duty extruded aluminum for excellent thermal management. A thermoset polyester powder coat finish provides the housing with excellent corrosion, fade and abrasion resistance. INTESOLAR is certified to withstand wind load up to 65 m/s. The luminaire is designed for both post-top and side entry mounting.
Product features
Self-contained solution, all-in-one design that combines form and function.
Long-life monocrystalline photovoltaic modules with high power generation capacity.
Large battery capacity bridges periods of bad weather for up to 5 days with smart energy management.
LiFePO4 battery with strong thermal stability, tolerance to abuse, high current rating and long battery life.
Intelligent charging controller protecting battery against overload, over-charge/discharge and short circuit.
High performance LEDs deliver high lumen output and high efficacy.
Top quality optics create consistent distributions with superior uniformity and glare control.
Reliable thermal management ensures long lumen maintenance.
Built-in PIR motion sensor (8-10m detection range) or microwave sensor (360 degrees, 0-15m detection range) providing automatic dimming control.
Automatic on/off controlled by daylight sensing.
Fully sealed against dust and moisture, and protected from environmental and mechanical damage.
Designed for 4-6 meter pole height with post top or side entry mounting.
Quick and easy installation. No trenching, underground wiring or on site assembly required.
Remote setting of operation modes.