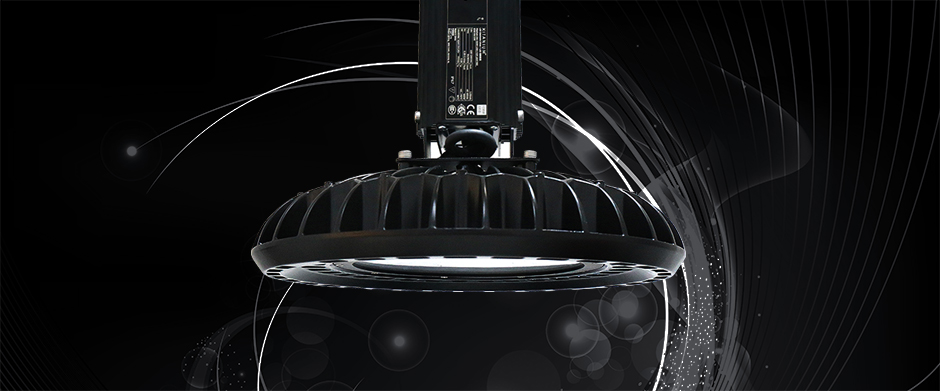 The LUMO Series LED
high bay lights
have been developed to economically address the stringent efficacy and sustainability standards required for modern industrial and commercial applications. The engineering behind the LUMO's LED assembly, optics, drivers and thermal management systems allow it to survive in high ambient temperatures, wet and dusty environments, and hard-to-reach areas where maintenance-free lighting is critical. From warehouses, production facilities, big box stores and auto showrooms to gymnasiums, LUMO brings across many benefits of LED technology in a myriad of open ceiling applications.
The luminaire features a proven design that maximizes both performance and reliability. An integrated die cast aluminum heat sink takes full advantage of the three-dimensional geometry to maximize the total ambient contact surface area and improve convective heat transfer. A metal clad aluminum circuit board provide low thermal impedances and bridges the thermal path between the discrete LEDs and the heat sink. Robust solder joints maintain a tight integrity of the LED packages and the circuit board. The inherent high packing density of LUXEON 3030 2D LEDs combined with high solder joint reliability makes it possible for the high performance LEDs to deliver high lumen output at high thermal stress without causing open circuit failures or compromising lumen maintenance and color stability.
The LUMO LED luminaires operate at 100, 150, 200 and 240 watts of electrical power with a system luminous efficacy of 130 LPW. A choice of two top-tier brand LED drivers are offered. The Philips Advance Xitanium LED drivers offer vertical integration with the heatsink, adding a modern look to the luminaire and ensuring a lower density of dirt. The classic round Mean Well LED drivers offer LUMO a compact design while providing the equally excellent current regulation and power efficiency. These constant current LED drivers integrate seamlessly with thermoset powder coated heat sink for a sleek appearance and have the outputs precisely matched to the electrical characteristics of the array of LUXEON 3030 2D LEDs.