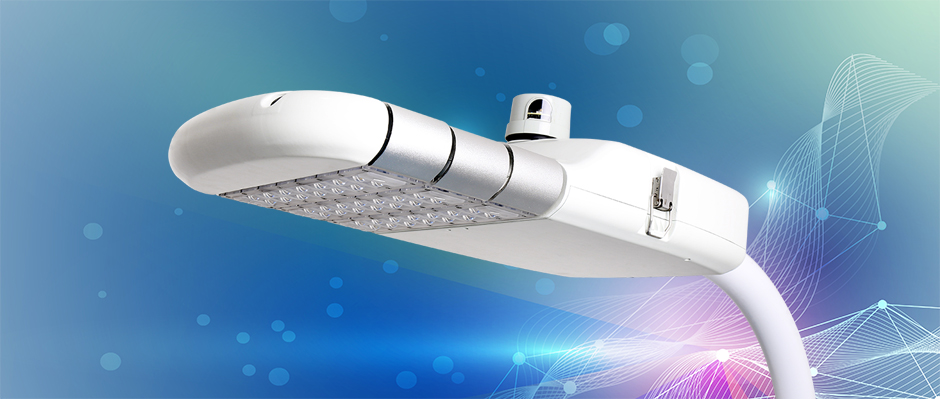 The LSA Series features a modular design that delivers flexible power serialization for different lumen packages. Its sleek profile that combines straight lines and smooth curves creates an appealing, unobtrusive form that seamlessly integrates itself into any cityscape. The sophisticated design makes the most of aerodynamics to facilitate natural air flow across the fixture for enhanced convective cooling and natural self-cleaning. The highly engineered LED lighting system delivers dependable photometrical performance and significant energy and maintenance savings by taking full advantage of the latest LED technology available.
LSA
LED street lights
integrate technological innovation, striking industrial design and best-in-class componentry to achieve excellent functionality, maximum reliability and a long service life. The LSA product family incorporates Cree's high-density (HD) class of LEDs and Philips Advance's high efficiency Xitanium LED drivers to meet the most stringent regulations for power efficiency and photometric performance. The high flux density CREE LEDs boast the performance and reliability required in high drive current applications while offering the industry's highest optical control factor (OCF). They deliver a breakthrough combination of lumen delivery and efficacy through precision engineered secondary optics. The injection molded PC lenses provide highly optimized photometry targeted for each specific application with unprecedented glare control, consistent beam uniformity at all mounting heights.
The LSA Series embrace a total systems approach to minimize the effective thermal resistance for every component and maximize the heat sinking performance through integrated thermal management. Ceramic-package technology allows an array of CREE LEDs to be packed at a high density onto metallized ceramic substrates and wired in series. This technology ensures the package-level reliability by eliminating the liabilities of an electrical open circuit or an electrical short, and most importantly, providing an adequately dimensioned thermal path to extract heat from the active region of the LED. An MCPCB that includes a thin dielectric layer with high thermal conductivity addresses the thermal challenges created by high power and component densities. The anodized aluminum heat sink integral to the LED modules and vertically ventilated luminaire housing collaboratively lowers the convective thermal resistance within the housing and provides robust heat sinking to keep LEDs and driver cool.
The LSA range offers versatile combinations of modular light bars, a choice of drive currents and dimming options to deliver application efficiency and improve system scalability. This product family is available in 50W, 100W, 150W, 200W and 250W models with lumen output ranging from 5,500 lm to 27,500 lm. The programmable Xitanium LED driver with variable drive current settings from 350mA to 1050mA operates a variable combination of LED modules with exceptional efficiency and reliability. The Xitanium driver comes standard with the standalone 0-10V dimming protocols. Integration with optional twist lock photocell maximizes energy savings by daylight harvesting. The LED driver provides a collection of features including overvoltage, undervoltage, short circuit and overtemperature protections that protect the connected LED modules. A 10kV/10kA SPD protects the luminaires against excessive high surge voltages.
The optimal mechanical structure of LSA provides contractor friendly installation and maintenance convenience. The luminaire offers tool-less access to driver components, optical assemblies and terminal blocks with quick-release stainless steel latches. The LSA Series is designed to mount on 1-5/8" (41.3 mm) to 2-3/8" (60.3 mm) O.D. mounting arms. A zinc plated dual clamp mounting system secures arm to luminaire. A bubble level is supplied and allows for a +5° to -5° tilt in 2.5° increments for hassle-free mounting alignment.