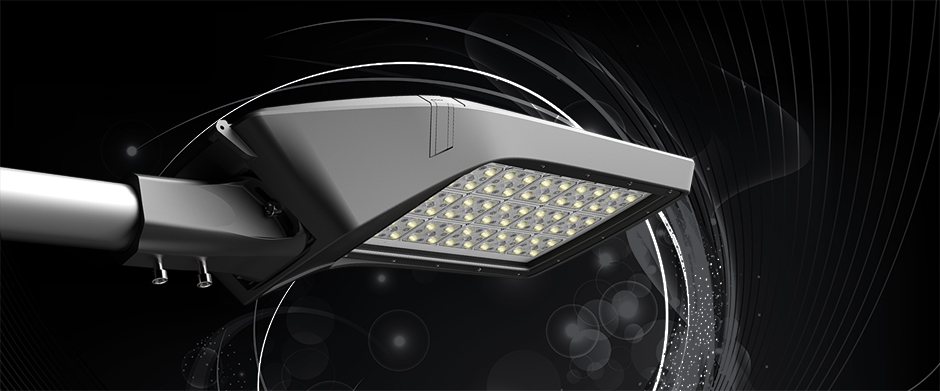 The BBE LENDA Series LED luminaires embrace a striking yet unobtrusive design with uncompromising light quality or energy efficiency. The luminaire harvests the high efficacy, long operation life, and reliability benefits of LEDs by taking advantage of BBE's comprehensive engineering philosophy and integrated manufacturing solutions. Architectural aesthetics, design integrity and engineering depth blend together to make LENDA the premier outdoor lighting fixture for public roadways, urban roads, residential streets, parking lots and pedestrian areas.
LENDA incorporates a highly engineered housing that serves as a robust heat sink utilizing both convection and conduction methodology for removing the heat generated from the LED semiconductor junction. One-piece heavy duty housing, made of low copper aluminum alloy, is cast with a plurality of integral fins that feature an aerodynamically optimized tunnel design. The advanced geometry maximizes the total ambient contact surface area while stimulating a fully developed laminar flow for better convective cooling. With its capability of integrating package and system level heat sinking, LENDA can perform in ambient temperatures ranging from -30 to +50°C (-40 ~ 122°F), ensuring maximum hours of maintenance-free, high current density operation to assure L70 rated lumen maintenance.
This highly configurable LED street light offers a wide variety of LED packages, drive currents, and lighting management options. LENDA operates at a wide range of electrical power that can be scaled from 28 watts to 215 watts, with a system luminous efficacy of up to 115 LPW. The light engine of the LENDA family accommodates up to 60 high performance CREE LEDs and takes advantage of a flexible range of drive currents (350 mA, 525mA, 700mA and 1050 mA) to maximize energy efficiency. The high intensity CREE XLamp LEDs deliver exceptional lumens-per-dollar performance and boast high reliability utilizing ceramic-package technology. Full cutoff, IESNA Type II optics made of reflective optics maximize light extraction, optimize application efficiency and minimize glare.
The LENDA range is equipped with waterproof Philips Xitanium LED drivers to optimize driving current for LEDs with improved performance in power factor (PF), harmonic performance and efficiency. The constant current LED driver offers a high level of reliability with robust short circuit, over-temperature and input voltage protection. An integral SPD protects the complete system against peaks and surges of up to 10 kV / 10 kA. These power supplies can be dimmed with PWM and 0-10V inputs, while the DALI compatibility allows for full digital configuration through the standard control protocols.
A durable polyester powder coating electrostatically applied over the aluminum housing provides excellent corrosion resistance as well as optimal color and gloss retention to maintain the lasting visual appeal. The electrical and optical chambers are fully sealed to provide high ingress protection against water and dust. The pole-top or side entry mount accepts 40-60mm O.D. mast arms with +15° to -15° tilt (side entry) or 0° to 15° tilt (post top) in 5° increments. Quick-release latches allow for tool-less entry for ease of field maintenance and installation.
Product features
Impressive design language that harmoniously blends with modern architectural settings.
Aerodynamically optimized heat sink facilitates convective and conductive thermal management.
CREE XLamp LEDs deliver superior luminous efficacy and color consistency.
Full cutoff, IESNA Type II reflective optics provide uniform distribution of light across the target area.
High efficiency Philips Xitanium LED drivers with maximum robustness and protection.
Robust protection against moisture, corrosion, vibration and temperature.
Post top or side entry mount with tilt design for accurate optical aiming.
Integration with daylight and/or occupancy sensors.