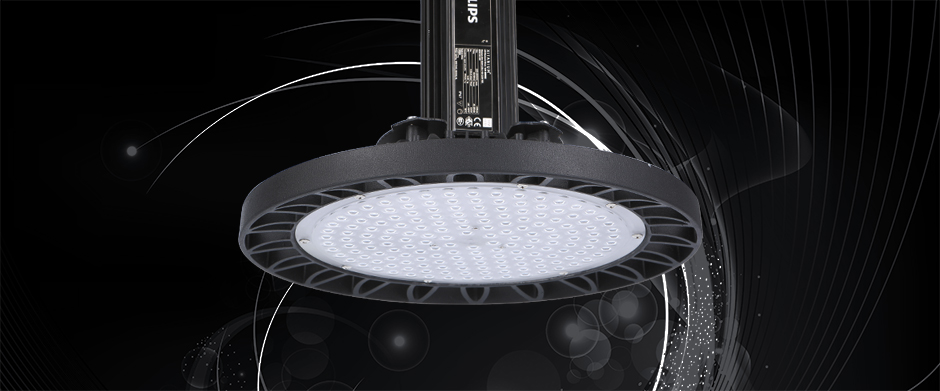 The Spiegel Series UFO LED luminaires from BBE bring a modern look and new level of performance to the world of
high bay lighting
. Built to deliver enhanced benefits of LED lighting for industrial, retail and commercial interiors, Spiegel offers a distinctive architectural solution that combines advanced technology and functional design. Beyond delivering leading-edge efficacy and performance for high/middle ceiling warehouses, distribution centers and retail facilities, this ruggedly constructed, IP65 rated luminaire is engineered to thrive in the most challenging environments to guarantee consistent performance at all levels of industrial uses.
Thanks to the integrated thermal management with emphasis on both package and system level optimization, Spiegel rules out the risk of premature failures such as accelerated lumen depreciation, shortened life, color shift and light output reduction. The die cast heat sink made from low copper (<0.6% Cu) ADC12 aluminum includes an array of integral cooling fins. The thermodynamically optimized fin geometry was simulated in the development process for the maximum efficiency of thermal conduction. Thermal energy is also convected directly from the vertical air circulation passages distributed around the heat sink core. A metal clad PCB with low thermal impedance and superior electrical isolation is coupled to the heat sink to spread heat uniformly over a horizontal surface area. High solder joint reliability ensures a robust thermal path between the LED packages and circuit board.
Spiegel incorporates EMC molded LUXEON 3030 2D emitters to deliver high efficacy and quality of light. These workhorse LEDs with hot color targeting feature ensure consistent performance within ANSI specifications at high current densities and operating temperatures. Paired with a high reliability constant current LED driver, Spiegel provides the highest level of power conversion efficiency in its class. Advanced thermal engineering in conjunction with high quality LEDs, optics and drivers enables this high bay to achieve an excellent 130 LPW system efficacy and 50,000 hour rated lifespan with 70% lumen retention.
The Spiegel Series is available in 100W, 150W, 200W and 240W models, with lumen packages ranging from 13,000 to 31,200 lm. The luminaire offers two driver integration options, including the vertically mounted Philips Advance Xitanium driver and the classic round Mean Well HLG driver. With high mechanical reliability, corrosion resistance and ingress protection, Spiegel is well suited to today's harsh industrial environments. The luminaire provide multiple mounting options including suspension, surface and wall mount.