Providing endless versatility, Cube can be mounted on the wall or ceiling to provide dynamic interpretation of contemporary minimalism. The simple light fixture utilizes highly composable geometric forms to create striking expressions that instantly enhance any space it resides in. Cube is not only a stylish
light fixture
that offers an impressive decor element on its own, but also a lighting module that works in a group to create visual depth. The hexagonal shape of this ultra-thin panel light offers incredible flexibility of geometric combinations which allows for abundant styles of architectural appeals as well as a choice of light outputs.
The expandable lighting module is a
surface mount (flush mount) panel light
that leverages edge-lit technology to achieve a slim profile and visually pleasing illumination. The 23.6" hexagonal light fixture consists of three parallelogram light panels with arrays of SMD LEDs embedded along their perimeters. These side emitting light sources are recessed into the aluminum frames and produce no luminance directly to the space to be illuminated. Light emitted by these concealed LEDs is reflected to PMMA light guides which subsequently distribute the extracted light across the opal diffusers. The total internal reflection (TIR) optical architecture coverts directional LED lighting systems into surface emission devices. Smooth, uniform illumination is produced across the entire span of these light panels without no irritating hot spots and glare generated.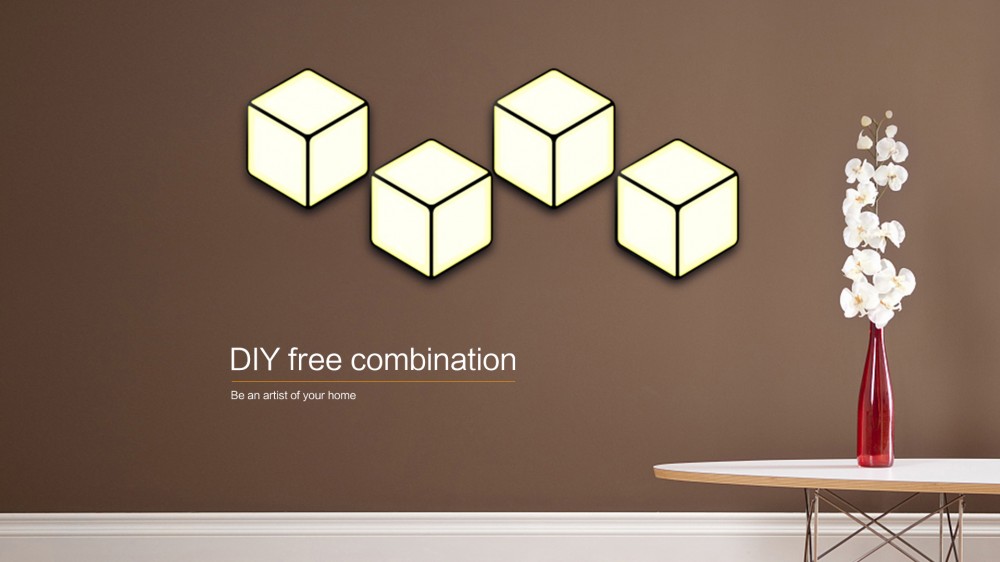 Available in 2700K and 4000K color temperature options, the hexagonal panel consumes 30 watts and produces 2100 and 2400 lumens of softly diffused light respectively. Cube incorporates high quality SMD3014 LEDs from top tier brands to deliver high performance and high reliability. Made of high thermal conductivity aluminum alloy, the flat housing provides an adequately dimensioned cooling path to dissipate heat away from the junction of the diodes. Excellent thermal management ensures enhanced color stability and lumen maintenance. The LED modules are operated by a high performance,
TRIAC dimmer compatible LED driver
which accommodates AC 100-240V universal input.