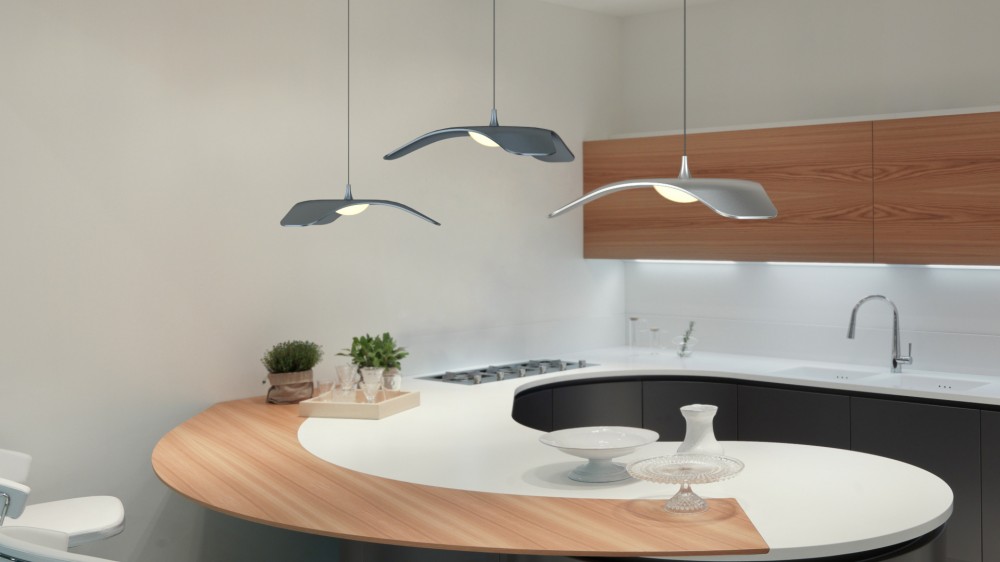 Taking its shape from flying wings, the Adot Wing
LED pendant light
brings a fresh contemporary flair to your decor. The tri-wing pendant combines forward thinking design with advanced technology to create a fixture that carries a fine fusion of style and performance, while affording higher levels of system reliability and energy efficiency. Its lovely, graceful profile invites an airy feel and dynamic elegance, enlivening your space with a truly contemporary appeal. With its impressive combination of geometry and aesthetics, Wing makes an instant visual statement as a living room light, dining room light, kitchen island light, foyer light, or a bedroom light in residential spaces. Its attractive minimalism look also caters to a variety of commercial and hospitality spaces such as conference rooms, restaurants, retail environments, reception rooms, lounge and seating areas.
Wing is destined to captivate everyone who resides in the space, whether hung as a single fixture above a table for a chic minimalist aesthetic or suspended in a group at different heights for a spectacular display in open spaces. This
exquisite pendant light
exhibits high attention to detail and quality. The 13.38 inch, elegantly curved and smoothly contoured aluminum housing is precision engineered from a single piece 5052 aluminum alloy plate with just 3mm thickness. The aluminum surface is protected with durable oxide films using a proprietary two-step electrolytic adonization process to ensure its excellent corrosion resistance and scratch hardness. The attractive metallic finish available in rose red, Qin Brick grey, space saver and champagne gold color options helps to bring out the sleek look and refined quality in the design. An opal half-globe light diffuser that is at the center of the design is seamlessly integrated to the aluminum shade to strengthen the lamp's minimalist profile. A domed canopy that matches the fixture's finish completes the clean look of this contemporary pendant.
Designed to bring aesthetic and robust lighting to any modern home, the Wing LED pendant incorporates 24 Lumileds LUXEON 2835 SMD LEDs to deliver the quality and quantity of light for optimum illumination throughout your space. These high efficacy light sources produce up to 950 lumens of visually comfortable light while drawing 10 watts of power. The impact resistant polycarbonate diffuser offers a combination of high light transmission and light diffusion and provides a pleasant distribution of light that contributes to a harmonious room atmosphere. Choice of warm 3000K or cooler 4000K LED color temperature allows for selection of color shades for a desired feeling of ambiance.
With lumen maintenance and life expectancy far beyond light fixtures illuminated by traditional light sources, Wing provides years of energy savings and maintenance-free operation so critical to ensure a quality life as well as a good economic payback. The integrated LED module receives superior thermal management which keeps the operating temperatures of the LEDs (T-junction) to a minimal value, thereby eliminating the concern of accelerated lumen depreciation and shortened lifetime due to phosphor thermal degradation in LED packages. A
constant current LED driver
which sits in the canopy provides well-regulated DC output current that matches electrical characteristics of the array of LEDs for high level LED system efficiency. The high power factor LED driver accommodates a universal voltage input from 100 to 240VAC. The pendant light is TRIAC dimmable.
Product features
Chic design deliver contemporary minimalist aesthetics and dynamic elegance.
Impeccably detailed metalwork evokes a fine quality and sophisticated feel.
High quality LEDs offer no-compromise luminous efficacy and light quality.
Comfortable, glare-free illumination, uniform light distribution.
Superior thermal management ensure consistent LED performance.
Multiple finish options accommodate a variety of interior decor.
High efficiency driver delivers excellent load regulation.
Compatible with TRIAC dimming controls.