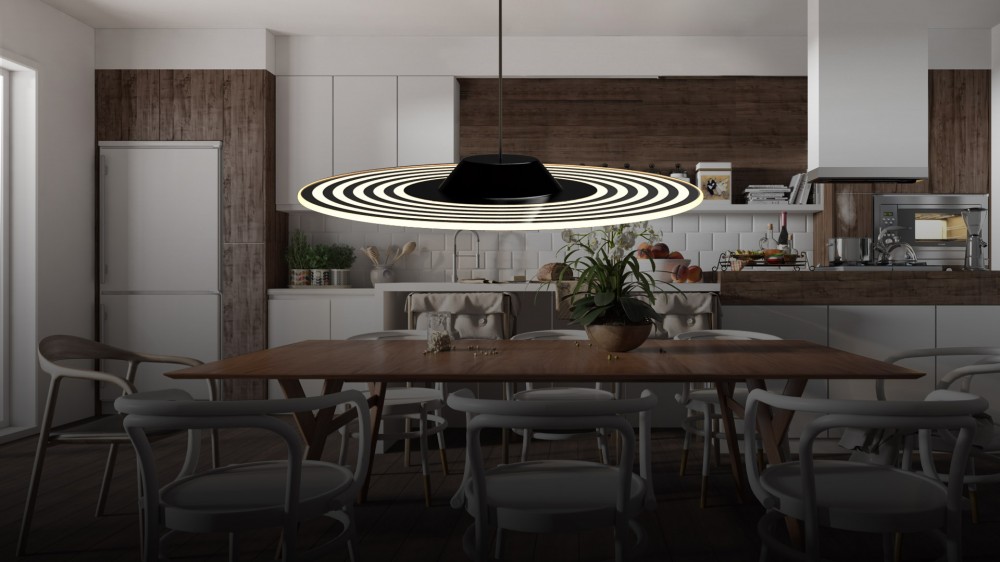 The Adot Halo LED pendant light delivers a sophisticated look in a sleek disc design that invites maximum visual appeal from above kitchen islands, dining tables, bar countertops, work stations, or office desks. The uniquely expressive LED pendant light utilizes contemporary lighting technology and advanced optical engineering to bring radiance and intrigue into your interior. The optically efficient, edge-lit design creates a fantastic spread of light that transforms any space with soft, low-glare illumination while offering a striking luminous presence in a modern home or office setting. The ultra-thin pendant light accommodates a variety of low ceiling installations requiring both unobtrusive look and high quality lighting.
The
disc pendant light
consists of a round light guide for edge-to-edge illumination and a light assembly centered within the transparent light guide panel. The light assembly includes a downlight module and an edge-lit module which combine to provide wide coverage and all-around brightness with an appealing visionary aesthetic. The downlight LED module produces a pool of softly diffused light through an opal lens. The circular edge-lit module is embedded with an array of SMD LEDs that emit horizontally outwards through the light guide panel. The light guide panel which is made of a tempered glass with beveled edge traps the light emitted by the edge mount LEDs through internal reflection. Light bounces around inside the 6mm thick glass until it reflects back from the laser etched glass surface.
Delicately etched circular patterns on glass surface aesthetically control where light escapes for a charming accent and supplementary ambience. The edge-lit LED module creates halos of light around the fixture with its light sources recessed into the round light assembly, without causing direct glare to the eyes. The glass light guide can also be etched with other factory-designed patterns. Brilliant glows float in space and bring a striking presence to the volume of space. The exquisitely patterned glass is securely clamped by electroplated metal housing in which the light assembly is nestled. The long-lasting, lustrous finish over the metal surface and pattern rendered crystal clear glass accent evoke a refined look and high class quality that lends a striking architectural statement to spaces ranging from living rooms, dining rooms, bedrooms, to commercial and hospitality spaces.
Halo
LED pendants
takes advantage of Lumileds LUXEON 3020 LEDs for cutting edge lighting performance. These compact high flux density light sources deliver an industry-leading combination of luminous efficacy and light output over their long rated lifetime. Robust thermal engineering relives the LEDs from phosphor thermal degradation which can be an issue of concern in many lighting systems. The tempered glass with high temperature stability does not age and yellow over time, which addresses the problem of chromaticity shift and performance discrepancies between fixtures that typically occur in polymer-based optics.