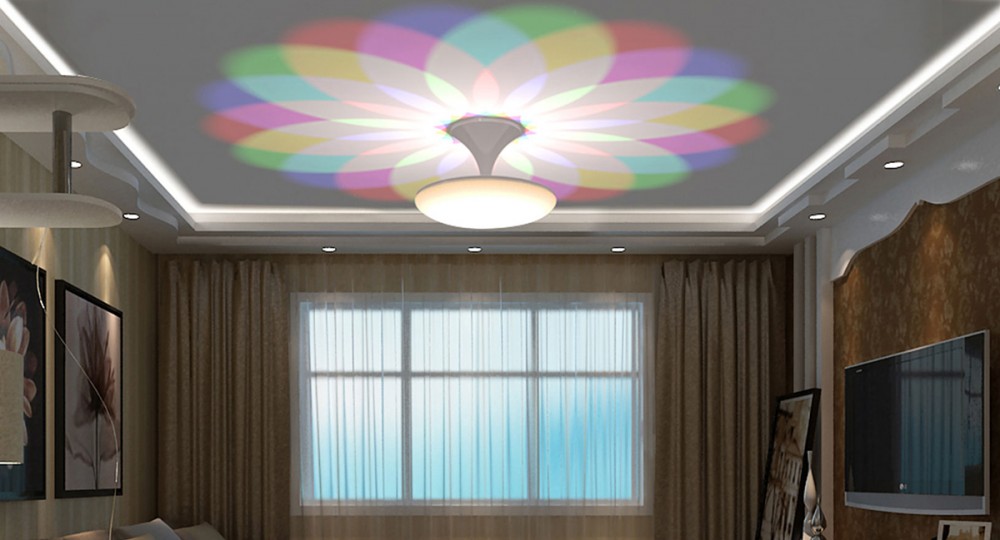 Distinguish your decor with this exquisite light fixture which displays light in an unconventional way. Delivering a dramatic punch of robust illumination, this fabulous ceiling light from Adot Lighting presents a true conversation piece that speaks the languages of creative architectural lighting. The Sunflower semi-flush LED ceiling light brings stunning light art to residential architecture schemes. It delivers the striking visual presence of decorative light patterns to otherwise minimalist settings. The contrasting coupling of spectacular uplight patterns and soft ambient downlighting lends a sophisticated update to your interior. A true marvel that makes the ordinary extraordinary, Sunflower is sure to add class and style to a multitude of spaces including living rooms, dining rooms, hall ways, hotels and restaurants.
Scaling at 16.2" in height and 22.9" in diameter, Sunflower semi-flush LED ceiling lights feature a minimalist aesthetic which is ideal to blend with any decor. A subtly protruding dome-shaped shade in white acrylic is fitted to an aluminum housing which is held by a 12.9" round aluminum base. The sleek base that has an invertedly curved shape gives Sunflower an understated elegance. Clean geometry and graceful silhouette create a visual sense of organic depth and aesthetic harmony as the eyes travel the contours of the fixture. The aluminum housing and base are each constructed from a single-piece 5052 aluminum through an automated metalworking process that holds tight tolerances. The aluminum exteriors are protected by a super durable TGIC thermoset powder coat finish in oil rubbed black or Qin Brick grey. A multi-stage intensive pretreatment process ensures the attractive finish has superior corrosion resistance and excellent retention of gloss and luster.
Sunflower is equipped with two light modules for uplight pattern projection and downward ambient illumination. The downlight LED module consists of 80 Lumileds LUXEON 3030 2D mid-power LEDs which deliver high quality light in 4000K neutral white. Luminous flux from these high intensity directional LEDs is diffused by the acrylic shade with evenly scattered penetration to ensure visual comfort from every angle of view. 18 Cree XP-E2 high power LEDs are mounted on the uplight LED module to create engaging illumination and extravagant visual experience. Each LED projects a crisp, sharp edged petal pattern onto the ceiling through a precision molded optical lens. The round circuit of pattern-projecting LED submodules produces a ring of petals around the fixture. The petals overlap from the inside out, creating a layered effect that fades out in a radial pattern. This ingenious design allows the LED uplight to accentuate the ceiling with a blossoming flower pattern that is stunningly beautiful. When viewed from below, the round downlight that features an opal white shade intermixes with the ceiling nestled petal ring and creates a gorgeous look of sunflower. The LED uplight comes in monochrome white (3000K/5000K) and RGB color options. The flower pattern in pure white showcases understated elegance while the RGB version delivers a vibrant aesthetic for maximal visual impact.
The semi-flush mount ceiling light fixture is engineered without compromise to provide long-lasting aesthetic charm and energy-efficient lighting. The aluminum construction provides high mechanical strength and dimensional stability as well as excellent thermal emissivity and conductivity that facilitate efficient dissipation of the waste heat generated at the LED junction. Excellent thermal engineering and reliable performance of the solder joints translate to optimal lumen maintenance and chromaticity stability over the life of the product. A high performance LED driver that accommodates a universal input of 100-240VAC provides constant currents to operate the array of LEDs. The LED driver delivers high efficiency conversion of the electrical energy with tight regulation and control on the current output provided to the LED load for optimal LED performance.
The uplight and downlight LED modules can be controlled independently via a 2.4G RF LED remote. Featuring low power consumption, long distance transmission, high speed communication and interference-free connection, the RF remote allows for wireless operation of on/off switching and 5%-100% continuous dimming control.
Product features
A blend of understated elegance and minimalist aesthetics.
Artistic uplighting delivers striking visual impact.
Visually pleasing light and enhanced ambiance.
Best-in-class LEDs deliver industry-leading performance.
Superior thermal management enables low junction temperatures at the chip level.
Constant current LED driver provides excellent load regulation.
Smooth, flicker-free continuous 5%-100% dimming.
High quality metalwork, durable polyester powder coat finish.
2.4G RF remote provides convenient light control.