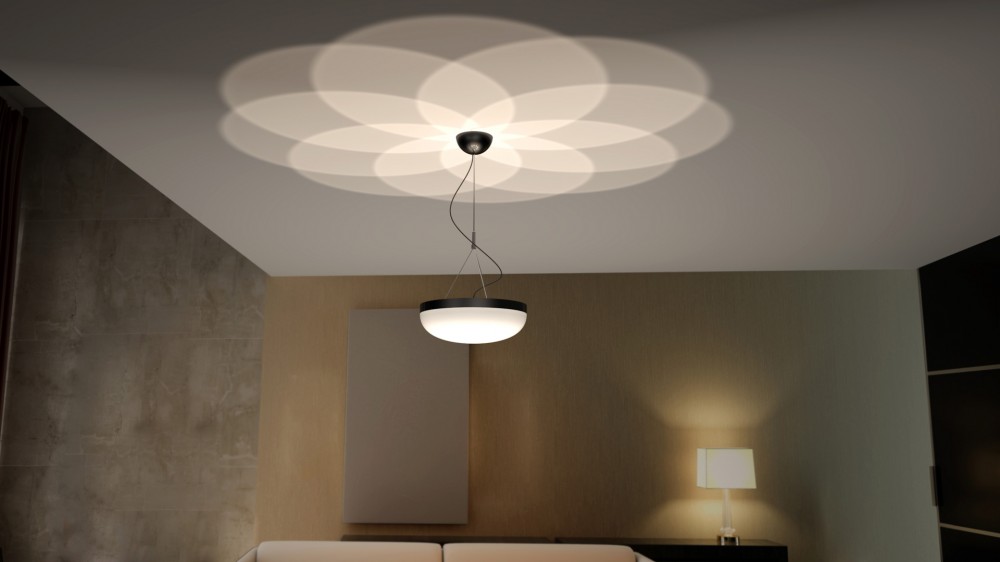 Add a contemporary accent to your home decor with this impressively designed
LED pendant light
which highlights the design power of elegant simplicity. Mirage delivers a perfect mix of art and illumination by creating a poetic play of light and shadows that changes up the conventional tone of living space design. In addition to an ambiance that is both functional and pleasant, the pendant light emanates uplight in a beautiful multi-petal flower pattern. This
exquisite light fixture
rounds out a nature-inspired artistic elegance that gives depth to your interior design and instantly transforms your room into a visual spectacle.
The Mirage LED pendant light is constructed from die cast AL5052 aluminum with an integrated single piece structure and CNC-milled edge. The 11.8" round aluminum housing supports a circuit of 45 Lumileds LUXEON 3030 2D LEDs which deliver downward illumination and an array of 8 Cree XP-E2 LEDs for uplighting. LEDs are soldered to a thermally efficient metal core circuit board with higher reliability, creep resistant, high operating temperature capable interconnects. The aluminum housing provides adequate heat dissipation to draw heat away from the LED junction via the thermally interfaced MCPCB. TGIC polyester powder coating with multi-step pre-treatment creates a smooth, corrosion resistant metal exterior with lasting beauty and durability. An opal polycarbonate diffuser is neatly contrasted against the Jazz black aluminum finish or coordinates with the aluminum housing finished in pearl white.
Mirage produces 1800 lumens of 80 CRI white light at 3000K color temperature. The high transmission efficiency diffuser is injection molded in a seek dome shape. It softens and distributes luminous flux from light source evenly in a 120° beam spread, creating a visually comfortable warm glow around the fixture. Available in RGBW or monochrome whites (4000K, 5000K), the uplight LED module introduces an atmosphere of sparkling splendor by projecting a stunning pattern of light onto the ceiling surface through precision engineered optical lenses. The combination of functional illumination and artistic accent adds flair and wonder to the nighttime ambience. The interplay of light and pattern brings upscale charm, aesthetic impact and elevated visual harmony to your home. This artfully interesting fixture excites with striking color accents, captivates with decorative floral patterns, and fascinates with depth and sparkle.
With a fingertip touch on the 2.4G wireless RF LED remote control, Mirage lets you conveniently harvest the artistic ambience. Turn on/off the light straight from the palm of your hand. Choose the most optimal level of warm light to shine through the shade for a perfect ambiance. The integrated
dimmable LED driver
offers guaranteed smooth dimming from 5% to 100% brightness. Illuminate the uplight pattern and create a spectacular look to inspire your contemporary decor. The remote control comes with preset 'TV' and 'Party' modes to make your room glow with an adaptive atmosphere. The 'Setting' mode allows you to enjoy personalized light. The feature-rich remote control with anodized aluminum housing and transfer printed interface provides a premium look and quality feel. With low power consumption, long distance transmission, high speed communication and interference-free connection, the remote control unlocks the versatility of the pendant to give your lighting effortless, sophisticated control.
Product features
Nordic inspired fixture delivers modern, minimalist expression.
Beautiful uplight invites a striking visual presence.
Softly diffused light provides an excellent source of down light.
Die cast aluminum housing provides superior dimensional stability and thermal management.
High efficacy LEDs deliver high optical output and long LED lumen maintenance.
Smooth, flicker-free continuous 5%-100% dimming.
Convenient 2.4G wireless light control.