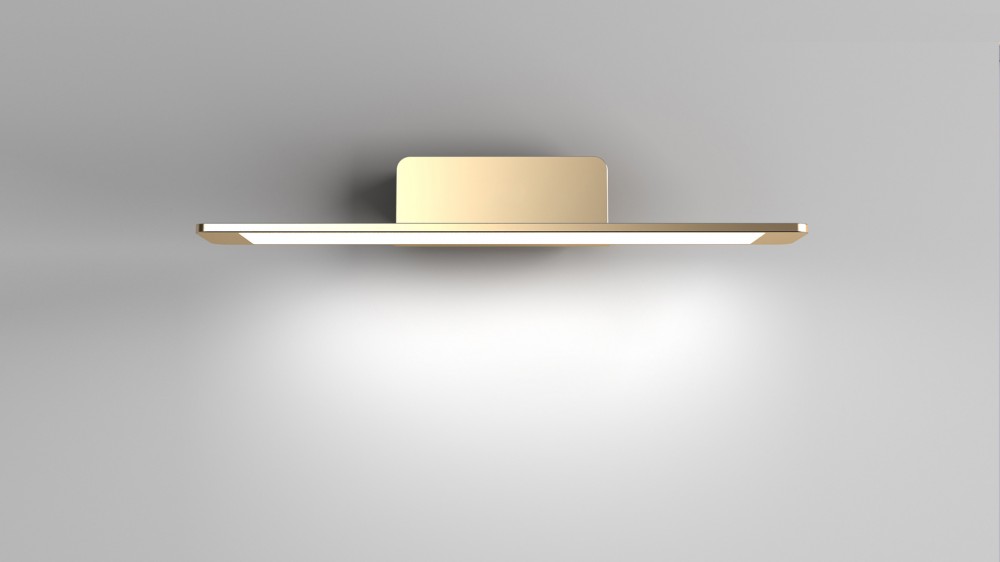 Contemporary minimalist styling and a bounty of visually pleasing light define this sophisticated LED bath vanity light from Adot Lighting. Modern technology meets architectural form and exquisite craftsmanship. The ACE features a revolutionary edge-lit LED architecture which enables an extremely low profile design as well as extraordinary illumination experience. The wall-mounted flat panel light elicits a refined beauty both in its visual presence and comforting ambiance. Slim and sleek, the ACE LED bath light brings to a modern master or guest bath suite an intriguing accent that adapts well to both residential and commercial settings.
The integrated light fixture accommodates the light panel and junction box in a seamless design which draws your eyes to its ultra-clean yet sophisticated look. Edge-lit technology creates an expansive reach of illumination with a uniform luminance all over the light panel which measures 31.5" long and 3.3" wide. A circuit of 60 SMD3014 LEDs are mounted in this 6mm thick light panel and produce a uniform spread of light by way of total internal reflection (TIR). The light panel has a waveguide optical architecture in which a laser etched acrylic light guide refracts the beams from edge mounted LEDs down towards a high-transmittance polycarbonate diffuser. With optimized distribution, minimized glare and hot spots, and balanced illuminance delivery on walls and horizontal surfaces, the ACE LED bath light produces a pool of light that is bright yet gentle on the eyes.
Utilizing the latest in surface mount LED technology from Lumileds, the uniformly illuminated panel produces 650 or 750 lumens of soft, balanced light in warm white 2700K or neutral white 4000K CCT. The LED strip modules that are solder mounted with these high efficacy and high flux density LEDs are thermally interfaced with the aluminum housing. The flat panel aluminum housing with a massive heat dissipation area provides substantial volumetric thermal capacity. Excellent thermal management eliminates the concern of chromaticity shift and lumen depreciation which are consequences of thermal degradation occurring on certain package and optical materials. The ACE is equipped with a constant current LED driver which resides in the junction box and provides high performance power conversion for flicker-free lighting as well as optimal operation and long life of the LEDs.
Advanced engineering creates a product with its performance, reliability and visual quality standing up to the test of time. Fabricated from a single-piece 5052 aluminum through low tolerance CNC metalworking, the aluminum housing has excellent dimensional stability and smooth exteriors that contributes to the fixture's sleek profile. The single-piece construction also facilitates structural waterproofing. The vanity light delivers reliable ingress protection for the whole lifetime of the product with a watertight and dustproof rating of IP65. The lustrous silver, golden or grey aluminum finish adds a cool, contemporary vibe and stunning visual depth to modern interiors. A two-step electrochemical anodization process ensures the metallic finish has long lasting retention of gloss and luster.