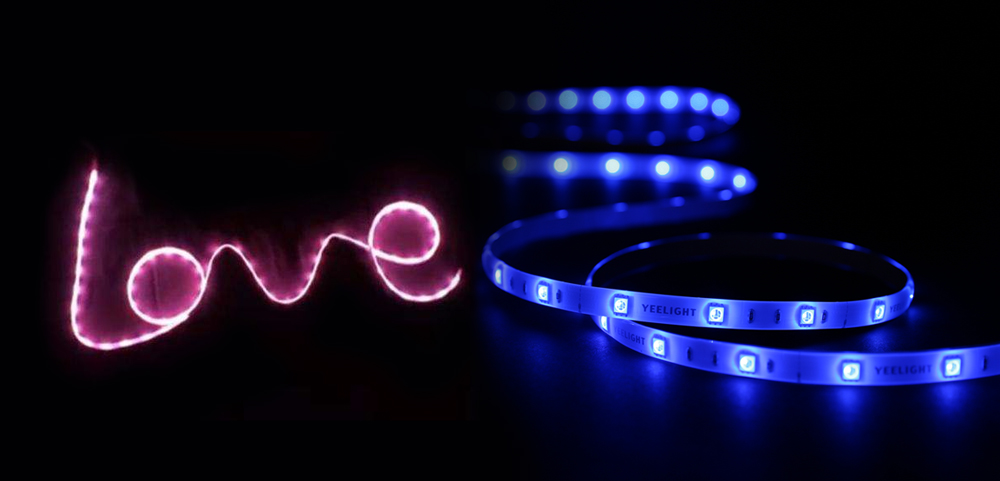 Create incredible architectural accents to emphasize the individual character of your premises. Xiaomi Yeelight smart LED strip lights bring out your creative side, whether in a home or business, with endless color options and an array of smart lighting features. Through intuitive, intelligent lighting control there is no shortage to the amount of amazing effects you can achieve with this Wi-Fi connected RGB LED strip. Add a flood of accenting color to exteriors and interiors with ultralong life, energy efficient, safe and shock-free LED lighting. Whether for installation under bars, bed frames, cabinets, toe kicks, in coves, bannisters, shelves, or a multitude of other places you may imagine, this multicolor remote controllable solution offers users a new freedom of design. The Yeelight LED strip light kit is all-inclusive and comes complete with everything you need to create the perfect connected lighting atmosphere.
The Yeelight flexible LED strip comes in a length of 2 meters with a density of 30 diodes per meter and draw 12 watts at 12V power supply. To accommodate long run applications Yeelight offers a separate model, Aurora (24 LEDs p/m), which comes standard in 2-meter length but allows you to run up to 10 meters (26.6W, 24V) using its extension kits. Yeelight LED strips take advantage of state-of-the-art SMD5050 tri-chip RGB diodes which integrate red, green and blue dies into compact, thermally-stabilized packages. Unlike another type of color changing RGB LED strips that use single-channel color LEDs and require a certain distance for additive color mixing, these 5050 tri-chip RGB diodes provide high performance in-package color mixing that guarantees richly saturated colors and natural-looking soft tones across the entire light spectrum from any distance and field of view. With 256 steps of color depth for each color channel, the integrated RGB LED provides you with an infinitely variable selection of 16.7 million colors.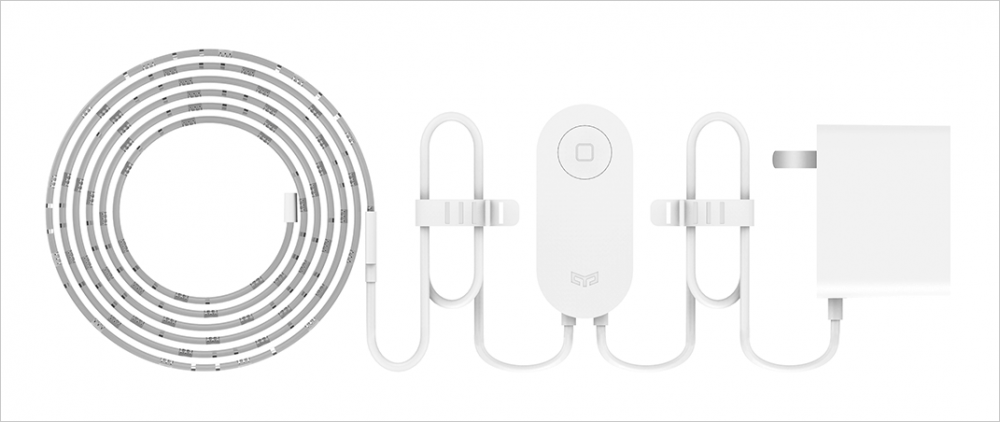 Not all light strips are created equal. Yeelight flexible LED strips are engineered with the highest quality components and materials through an advanced process with the highest degree of production tolerance. The flexible printed circuit board (FPCB) is made of double layer rolled and annealed (RA) copper foils which are known for their high thermal conductivity, bending stability and metallurgical bonding strength. The 3-ounce, 10mm wide FPCB provides effective heat dissipation to keep the p-n junction temperature below the characteristic temperature limit of the phosphor and encapsulant materials of the LED packages. Superior fatigue performance allows the LED strip to make sharp turns around corners and irregular spaces – offering virtually unlimited design and installation possibilities. These LEDs are tightly binned to ensure consistent color output across the entire installation.
The SMD LEDs are reflow soldered to the printed circuit board through a highly automated SMT process to ensure the excellent solder joint performance. The reliability of the solder joint between the LED package and FPCB is critical to the performance and useful life of an LED strip. High reliability solder joints made of a creep resistant solder alloy with high mechanical and thermal fatigue resistance offer Yeelight LED strips a lifetime of durability for all applications including those requiring tight bends. The water LED light strip utilizes a clear polyurethane encapsulation which features a 5 times higher chemical resistance and 10 times water tightness compared to typical silicones. Mercury-free, UV stabilized polyurethane encapsulation using an automated coating process not only allows the light strips to withstand jets of water, but also enables them to tolerate continuous and repeated bending.

Designed to cater to the consumer market and DIY enthusiasts, Yeelight LED tape lights offer a clean aesthetic and user-friendly design that make them suitable for quick and easy installations in both hidden and exposed applications. Custom molded copper pad connectors and terminal protectors offer excellent resistance to thermal expansion, eliminating the concern of thermal stress cracks that may lead to an unpleasant look and can compromise electrical connection. The all-white light strip has a neat PCB appearance with clean, uniform soldering, concealed circuits, and minimal screen printing of labels and marks. Even the release liner of the adhesive backing is de-labelled to avoid giving users too much industrial feel. The adhesive backing comes with an easy-peel design to facilitate hassle-free installation. A wired controller and power adapter that are included in the light kit are finished in white for a coordinated look. The sleek controller with a touch button switch provides convenient on/off and color control. The power adapter includes the power conversion circuit that accommodates AC 100-240V universal input and a wireless communication module that operates on Wi-Fi IEEE 802.11 b/g/n 2.4GHz network.
The instant Wi-Fi pairing smart light strip can easily be controlled from your iOS or Android smartphone or tablet via the Mi Home or Yeelight app. Tune, dim, and control the light remotely wherever you are. Millions of available colors allow you to create atmospheric lighting for holidays, parties, movies, and more. Yeelight LED strips bring total adaptive lighting flexibility that support circadian rhythms and mood enhancement with adjustable shades of white, from 1700K warm white to 6500K daylight, and 1%-100% dimming control. The ability to set up colors with different durations and transitions with the flow mode allows you to create your own personal light show. Have your light strip change colors automatically to the beat of your favorite song with the cool music synchronization feature. Schedule your light to wake you up gradually for a pleasant start to each day and fall asleep easily with natural lighting that dims off gently. You can create groups for a synchronized scene. Virtually every smart lighting feature you expect from a smart light strip is available on this product.
Yeelight LED strips work with Amazon Alexa and Google Assistant, allowing you to enjoy home automation with hands-free voice control. Integration with IFTTT (If This, Then That), a popular trigger-action programming platform for IoT and web services, opens up a whole new world of lighting automation.
Product features
App-based CCT tuning, intensity adjustment, color changing, light scheduling.
Wi-Fi connectivity (instant pairing), no hub or bridge required.
Support integration with Amazon Alexa, Google Assistant, and IFTTT.
High quality flexible PCB with excellent ductility (bending stability).
Best-in-class, tightly binned RGB LEDs provide high performance color mixing.
Excellent thermal management prevents LEDs from efficiency degradation and premature failure.
Clean aesthetics, user-friendly design, hassle-free installation.
IP65 ingress protection with mercury-free PU encapsulation.