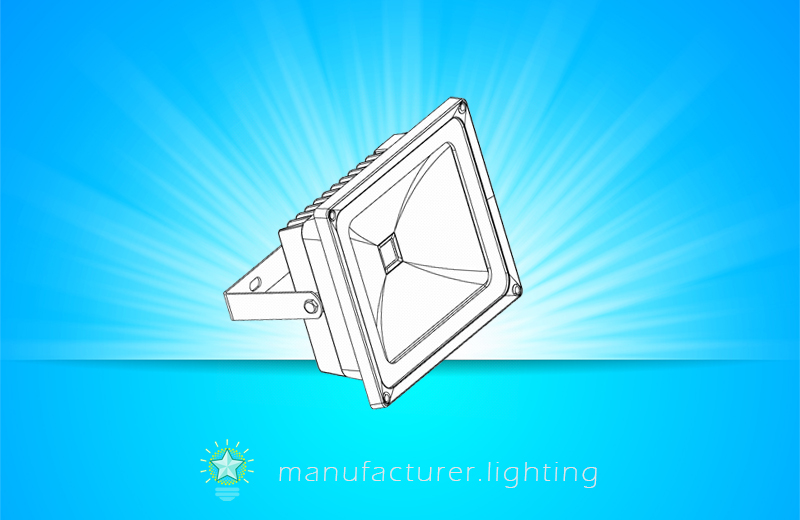 Floodlighting luminaires are designed to cast a beam for illuminating a scene or object to a luminance greater than its surroundings and are generally capable of being directed in any direction. Their use is dictated predominantly by luminaire location (usually at a perimeter) and the task size being illuminated. Floodlights are available in two broad types, i.e., area and directional. As the name suggests, the first one are used to light large areas such as parking lots. Directional floodlights deliver a smaller field of illumination and therefore are preferred by architects, lighting designers and building owners as a means to visually "highlight" certain building and landscape features and enhance the nighttime visual appearance and ease of use of buildings and grounds. Directional floodlights are used for such practices as "uplighting" the foliage of trees, illuminating stairs and walkways and highlighting (by illumination) a distinct architectural or structural feature. These types of luminaires are in some circumstances called projectors due to the fact project light across spaces typically several times the length of their mounting heights.

A traditional flood lighting solution makes use of a large halogen lamp with an internal parabolic reflector. These lamps are extremely inefficient and require substantial quantities of electrical power to operate at the designed levels. Most of this power is radiated as heat and generates very high temperatures. Light emitting diodes (LEDs) are amongst the most efficient types of light sources commercially obtainable today. LED solutions often have an operating life much longer than halogen or HID lamps. LED solutions are a lot more efficient than halogen solutions and generally consume less electrical power. LEDs also have a number of possible operating conditions, allowing intensity levels and flash rates which are not easily available with halogen and HID solutions. LED flood lighting is typically used in parking lots, athletic fields, and other areas to deliver illumination for convenience and safety. Furthermore, architectural features such as building walls are advantageously evenly illuminated at night. Flood lighting is developed to illuminate large areas, ideally with relatively uniform illumination across the area. They are suitable for both indoor and outdoor environments, such as factory, gymnasium, stadium, landscape, square and public area, golf course, airport, metro station, business area, flyover, outdoor advertising, and landmark applications -- even in extreme salty marine environments.

LED floodlights generally include a cast aluminum housing, a cast aluminum door, control gear to operate a lamp, an optical or reflector system to project the light in a specified distribution and direction, and a mounting bracket to secure it to a pole or the side of a structure. The LEDs used in floodlights may indifferently give off white or colored light, or be RGB type LEDs, and, as a way to increase the luminous effect, they are frequently associated singly with a known type of lens, smooth or bossed, with a known property of focusing or scattering the beams of light coming from a luminous source. Available in various designated beam angles fitted with efficient LEDs from international brandnames such as CREE, Bridgelux, Osram, Sumsung, LG, Nichia, Philips Lumileds, and Epistar, and powered by Meanwell drivers, LED flood lights offer the users not just superior quality of lighting exteriors, but also a remarkable reliability. Designed with an IP65/66 rating, LED flood lights are dustproof and waterproof against extreme weather and strong jets of water, allowing safe installation in both interior and exterior applications. The flood lights feature a tempered glass lens with a black ceramic paint frit to minimize glare, however, an optional polycarbonate lens is available for impact resistance.

Portable floodlighting is employed generally for illuminating construction sites and the outdoor areas of other work and activity. They allow a consumer to extend the daylight activities with a portable source of light. Such floodlights have been found great for recreational purposes such as camping, boating, entertaining, and sports such as volleyball and basketball; as a spotlight for decorating homes during holidays; for construction applications such as painting, cleaning gutters, building decks, installing doors and windows, or pouring cement during the night; or for emergency situations such as automotive problems, frozen pipes, and the like.

LED flood lights equipped with passive infrared sensors (PIR sensors) are capable of detecting motion in a certain distance. Once movement is detected, the light will automatically switch on. In addition, the sensor is fully adjustable to modify the distance in which the light will detect motion. It is ideal for security lighting, but can also be used in a range of other locations such as hotels, restaurants, art galleries, recreational areas, and homes. These LED lights are economically ideal because they consume less energy, produce less heat, and have a higher life expectancy.