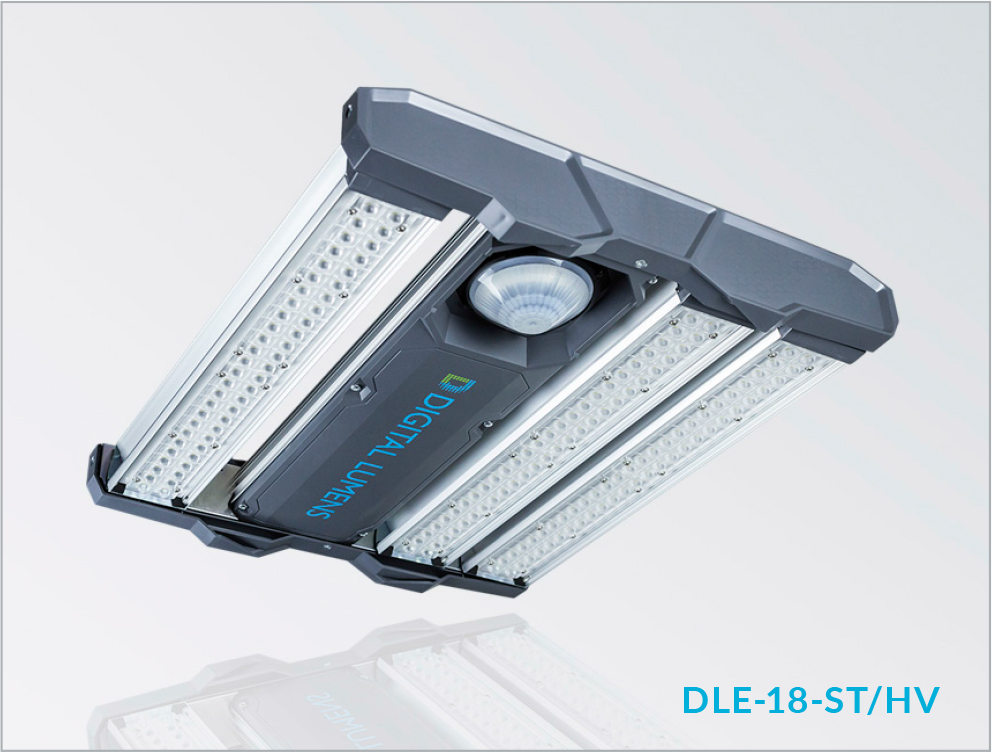 The very nature of IoT is to incorporate digitally controllable LEDs, distributed intelligence and networking into a single system which is responsive to the environment. Intelligent lighting systems use sensor-generated insights to optimize lighting operation in order to achieve exceptional levels of energy efficiency along with high quality illumination. The intelligent LED fixtures from Digital Lumens, an Osram business, offer a connected lighting solution that takes an integrated approach to delivering superior efficiency, control, and flexibility in the most demanding application environments. Marrying the latest in LED technology with a robust, scalable industrial IoT platform, Digital Lumens' product is profoundly transforming the way the industrial sector interacts with sustainable lighting.
In today's hyper-competitive manufacturing and warehousing market, industrial facility operators are challenged with the rising energy costs and struggle to comply with ever-changing energy codes. Maintaining tight control of the electrical expense in lighting is very likely to compromise lighting quality needed for the operational environment. All industrial lighting needs to provide the visibility for the workers to achieve speed, accuracy, and safety within a comfortable environment. A poorly illuminated work space is an environment ripe for errors and accidents. Mission critical lighting applications in high ceiling buildings rely on high intensity lighting to provide a safe and productive work environment. Lighting is reported to account for up to 37% of the electricity consumption of a typical warehouse or manufacturing facility. Driving competitive advantage through energy efficient lighting is becoming an obvious way embraced by all enterprises across industries.
Digital Lumens' intelligent LED high bay fixtures were born to fill the market vacancy for a solution that integrates the most energy efficient technology with network-based intelligent lighting control to squeeze every possible cost reduction potential out of every chance. High bay lighting applications require increased lumen output and longer operation time compared to commercial or residential lighting solutions used in standard offices or homes that have 8-10 feet ceilings and 3-12 hours of runtimes. Hard-to-reach ceilings (30-40 feet high), expansive spaces, extreme environment, and extended operating time up to 24 hours a day. These challenges have been driving the engineering team at Digital Lumens to develop a cost-effective lighting solution that thrives in the strenuous industrial environments. By combining high luminaire-level sophistication contributed by LED technology with platform-based lighting automation, Digital Lumens brought to market a best-of-breed digital lighting system that addresses the efficiency, performance, reliability, maintenance, and large-scale management challenges in industrial applications.
Available in 13,446, 20,242, 27,036, and 55,460 lumen packages, the DLE Series offers up to 70% luminaire-level energy savings over HID lamps and is qualified for DLC Premium with its high system efficacy of up to 132 lumens per circuit watt. These high bay fixtures come in 2-, 3-, 4- and 8-module options and produce uniform light distributions through a choice of narrow, wide, aisle, and diffuse optics, providing maximum flexibility in all types of applications. The LED high bays which produce high intensity beams of 4000K/70 CRI or 5000K/80 CRI bright white light provides excellent task visibility as well as incredibly attractive ROI and payback periods through reduced utility bills and maintenance. Integration with Digital Lumens' SiteWorx Tune intelligent lighting control system can drive energy savings of up to 90%. Plus its qualifications for financial incentives, including utility rebates, tax credits and energy financing programs, the DLE LED high bay lights deliver a superior value proposition for either new construction or retrofit lighting projects.
DLE is built to last longer and perform better than the competition. The high bay light takes advantage of high efficacy LEDs which deliver high performance and high reliability over 300,000 hours of operation in ambient temperatures up to 50°C. These thermally optimized LED packages have extremely low thermal resistance which enables low junction temperatures at the chip level and supports high drive currents despite the fact they are underdriven to ensure a long service life. Superior thermal management makes it possible that the temperature of all critical components is maintained within functional and absolute maximum limits. Heat generated by the LED chips is efficiently transferred to the ambient environment via a heavy gauge, die-formed heat sink. As a result, the LEDs maintain excellent lumen maintenance and high color stability. Framed with anodized aluminum, zinc-plated steel and PC/ABS polymer, the rugged housing withstands prolonged exposure to highly corrosive elements (moisture, salt spray, acids, bases).
The built-in auto-sensing driver operates 100V through 277 VAC or 347-480 VAC, 50/60 Hz. This constant current driver is capable to control the output current for 0-100% continuous, flicker-free dimming (PAR1789-compliant with modulation > 1.25 kHz) while keeping the power factor near unity (0.90 min.) and a low total harmonic distortion (THD) across the entire universal input voltage range. The driver is housed in a dedicated power enclosure which allows for easy servicing and maintenance while preventing the high temperature sensitive driver circuitry and other electrical components from being thermally stressed by the LED heat flux. Along with integrated smart thermal protection as well as overvoltage, short-circuit and overcurrent protection, resistance to peaks and surges of 1 kV line-line / 2 kV line-earth, the high reliability driver boasts an impressive lifespan of 120,000 hours (25°C) or 60,000 hours (50°C). The driver is designed to work with optional BBD43 NiMH battery backup which is capable of operating the LED load (1-2 LED modules) for a minimum of 90 minutes (UL) or 120 minutes (CE). Digital Lumens' award winning Emergency Management System provides emergency lighting capability and automated life-safety testing and reporting.
It is Digital Lumens' IoT gene that prominently distinguishes the DLE LED high bay lights in the marketplace. Integrated PIR and daylight sensors work with the dimmable driver and allow the fixture to capitalize on occupancy sensing, task tuning, progressive dimming, natural lighting, and off-hour setback through automated intelligence provided by SiteWorx Tune, Digital Lumens' smart building solution developed to transform any building, facility, or enterprise into a source of insightful, actionable data. Based on the onboard intelligence such as built-in sensing with data logging, energy and fault monitoring, protective temperature monitoring and control, the IIoT-enabled software application delivers advanced analytics and actionable reports necessary to turn data into real-world ROI. From single-room facilities to multi-facility sites, SiteWorx Tune applies multiple lighting control strategies to maximize energy savings and minimize work load. Within each SiteWorx Tune enabled fixture and across the entire IoT ecosystem, integrated sensors, control modules, cloud-based platform all work together using the language of light and intelligent algorithms to make lighting intelligent and adaptive. Web-based lighting management not only dramatically reduces field maintenance cycles, it also makes it easy to collect lighting-related data to validate savings for utility rebates and internal stakeholders.
SiteWorx Tune creates facility-wide, cross-organizational value that goes beyond intelligent lighting controls, massive energy savings, and improvement in the quality of the light delivered. The smart lighting platform automates critical and time-consuming tasks, unlock new operational insights and provide additional capabilities that continually enhance operational efficiency, and easily expand a network of customizable IIoT solutions. The SiteWorx suite of software-based IoT applications is deployed through SiteWorx Core, a secure, wireless mesh network that operates on IEEE 802.15.4 Wireless Mesh and is created and extended by Digital Lumens intelligent LED fixtures, Digital Light Agents (DLAs), and smart sensors. Accessible via web and mobile applications, intuitive software allows facility managers to access insights, optimize lighting, customize controls and reporting from anywhere. User-friendly mobile applications (available for iOS/Android) make it easy and intuitive to perform remote configuration and diagnostics of individual or groups of fixtures.