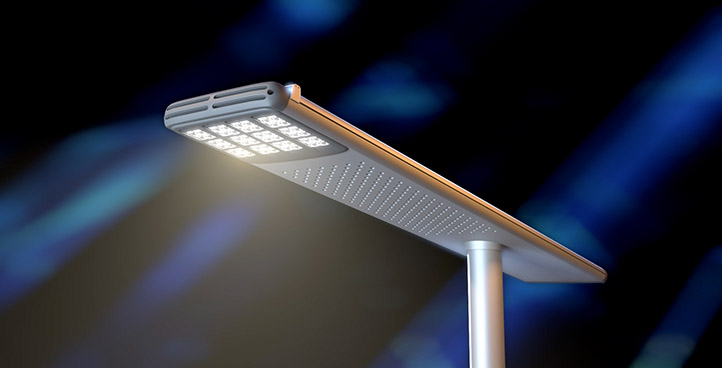 The Kamr X range LED street lights from SiliconCPV are completely self-contained lighting systems that can be installed anywhere, requiring no wiring, no trenching and no on-site assembly. This all-in-one product provides a plug-and-play solution that delivers sustainable lighting without the burden of expensive and complicated installation, monthly utility bills and high maintenance frequency. High capacity photovoltaic power generation, energy efficient LED lighting and advanced battery management make Kamr X one of the most robust solar street lights that deliver powerful and dependable illumination comparable to grid-tied lighting systems. The completely assembled system with its low-profile form factor not only provides a clean aesthetic that complements a variety of architectural design schemes, but also facilitates shipping and handling.
SiliconCPV's total systems approach makes it possible to integrate the most advanced LED sources, power electronics, photovoltaic modules, and batteries into a highly engineered platform that extracts best performance from each part. The Kamr X solar street light uses ultra-bright LEDs that boast of a light source efficiency of 200 lumens per watt, which significantly reduces the load on the battery. This range of luminaires comes in 80-, 160, 240- and 320-LED versions and offer 5 lumen packages including 7,200, 9,600, 11,900, 15,500, 17,500 and 20,700. Kamr X shines brilliantly in a 5000K color temperature which contributes to higher visibility. Modular configuration of the LED assembly gives ultimate flexibility in luminaire maintenance, lighting upgrades and optical modifications.
The modular LED engines are equipped with UV-stabilized, impact resistant optics which are designed to maximize column spacing and provide unparalleled illuminance uniformity. Optimized light distribution allows Kamr X to achieve a spacing of 5 times pole height. With a light extraction efficiency as high as 92%, these precision molded optics reduce optical loss to a minimum while spreading the flux in clearly defined beam patterns. A choice of eight light distributions (T2, T3, T4, DN, A-T, ME, DWC, DNW) allows Kamr X to bring solar lighting to a large number of outdoor lighting applications, including rural roads, residential streets, motorways, driveways, car parks, bike paths, squares and roundabouts.
SiliconCPV-T2 produces IESNA type II light distribution with a great mix of luminance and illuminance uniformity. It is also applicable to European S-standard pedestrian lighting. SiliconCPV-T3 is classified as IESNA type III and also features high luminance and illuminance uniformity. The IESNA type IV T4 optic is best suited for wider roads ad well as wide area lighting, for example parking lots and yards. SiliconCPV-DN is a 2X2 array of asymmetric lenses that produce asymmetric forward tilted beam and wide light distribution. SiliconCPV-A-T is designed to work on roads that are narrower than the height of the pole and when the spacing is four times the height of the pole. SiliconCPV-ME is made for installations with the ratio of pole distance and height up to 5.5. SiliconCPV-DWC is designed for roads with longer pole distances. SiliconCPV-DNW is tailored for roads where the pole height and the roadway width are similar.
The integrated solar panel utilizes high efficiency silicon solar cells to harvest energy from sunlight. The power outputs of the solar panels installed in the Kamr X range include 80, 100, 125, 160, 180 and 220 wattage options. Together with an energy conversion efficiency of greater than 20%, the oversized solar panel generates sufficient electrical output to power the high intensity LED engines. Extremely low light-induced degradation (LID) and potential-induced degradation (PID) ensure consistently high power output over the guaranteed 25-year lifespan. With improved temperature coefficient and exceptional low-light performance the solar panel provides outstanding energy delivery per peak power watt. The higher power versions additionally include two booster panels which are vertically mounted to the pole and aligned toward east and west respectively.
Enjoy up to 15 hours of uninterrupted illumination at full output with a built-in lithium-ion battery with a capacity (635, 952 or 1,270 Wh) that is sufficient to bridge periods of bad weather. The rechargeable battery has excellent performance in low and high temperature conditions as well as high tolerance to deep discharging. A high depth of discharge (DOD) maximizes utilization of stored energy. The ability to maintain 100% DOD over a long lifespan of up to 5 years even with fast charging substantially reduces maintenance cycles. An intelligent charging controller monitors and controls the power going into and coming out of the battery and provides automatic regulation of battery charging to prevent the battery from over-charging and over-discharging. Compared with conventional solar street lights that require external wiring to remote battery systems, Kamr X's integrated architecture produces virtually zero wire loss. Combined with low idle currents thanks to advanced circuit design, the electrical system has a high operating efficiency which eliminates the need for bigger batteries to accommodate for the circuit power loss, as is the case with other solar street lights.
Not only does Kamr X have multi-tier charging algorithm that maximizes the energy harvest from the photovoltaic modules and provides optimum battery management, its microprocessor based energy management system (EMS) provides intelligent operating profiles that can be programmed to improve battery autonomy. The smart energy management system and large battery bank combine to guarantee that you will never be left in the dark, even during extended periods of cloudy weather or rainy days. The EMS' user-selectable profiles allow the average daily DOD to be tuned based on the seasonal differences or weather forecast. The intelligent system also provides adaptive light level control based on battery voltage and state of charge. The Kamr X range has automatic dusk-to-dawn operation which prevents energy waste. The solar light has on-board wireless communication hardware that allows remote control and monitoring of the lighting system. Up to 200 fixtures can be controlled through a gateway using Internet or GSM. The wireless controls solution simplifies light management and meanwhile significantly reduces maintenance costs.
Kamr X has been designed and engineered to provide a reliable, lasting and maintenance-free roadway and area lighting solution. Aside from charge and load control that maximizes battery life, high performance output current regulation ensures that the LEDs operate at optimal conditions. The waste heat generated at the LED junction is effectively dissipated through a low thermal resistance path and an aluminum frame that functions as a heat sink. Excellent thermal management allows the LEDs to produce maximal light output at rated current and eliminates the risks of accelerated lumen depreciation, color shift, and even premature failure. Efficient heat dissipation prevents excess heat buildup which could thermally stresses the battery and electronic components.
The solar street light is ruggedly built to withstand harsh environments. Durable aluminum construction and IP66 rated ingress protection give Kamr X superior resistance to vibration, corrosion, and penetration of water and dust. The solar panel is protected by a high transparency, low iron tempered glass. A robotic wiper provides automatic cleaning of the glass so as to avoid depreciation in power conversion efficiency caused by dirt accumulation.