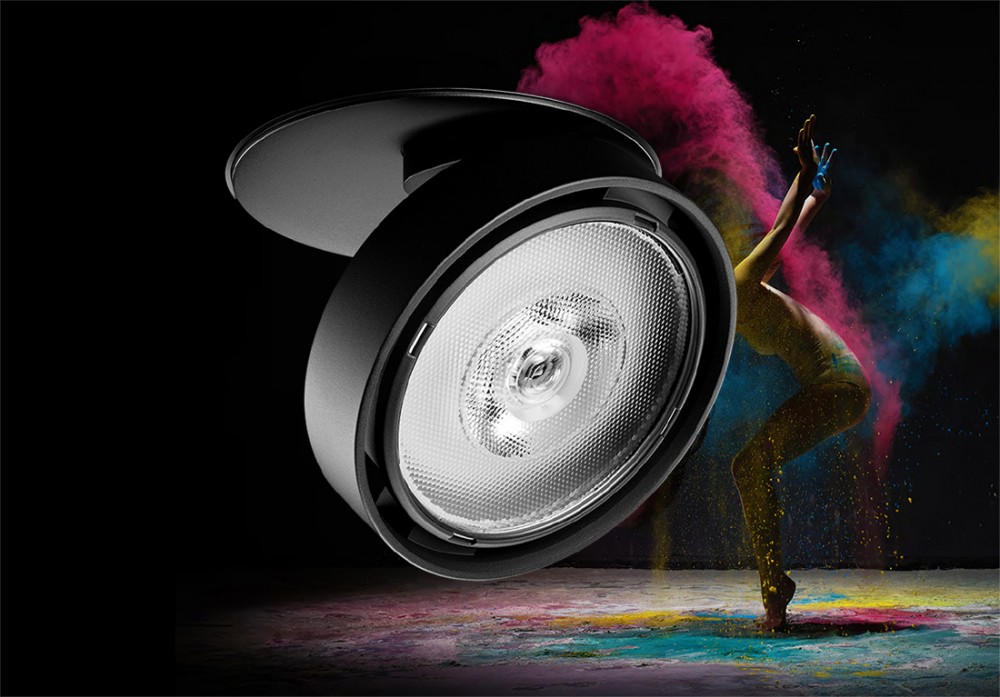 A celebration of the SSL revolution, the Soraa ARC ceiling mounted LED luminaires are designed exclusively around LED technology, delivering stunning color experiences that are second to none. Founded by Shuji Nakamura, Nobel Prize winner in Physics 2014, Soraa inherits a rich heritage and continues to drive innovation in LED lighting. Offering all the advantages of advanced LED technology as well as breakthrough spectral characteristics quite distinct from conventional LED lights, Soraa ARC brings a new dimension to directional lighting for accent applications in commercial facilities, retail settings, hospitality environments and residential spaces. With exceptional beam control and superior quality of light, the spotlight's lighting trait is perfectly wedded to the design philosophy of creative architects and lighting professionals, who take light as a tool to make inspiring interior designs come to life.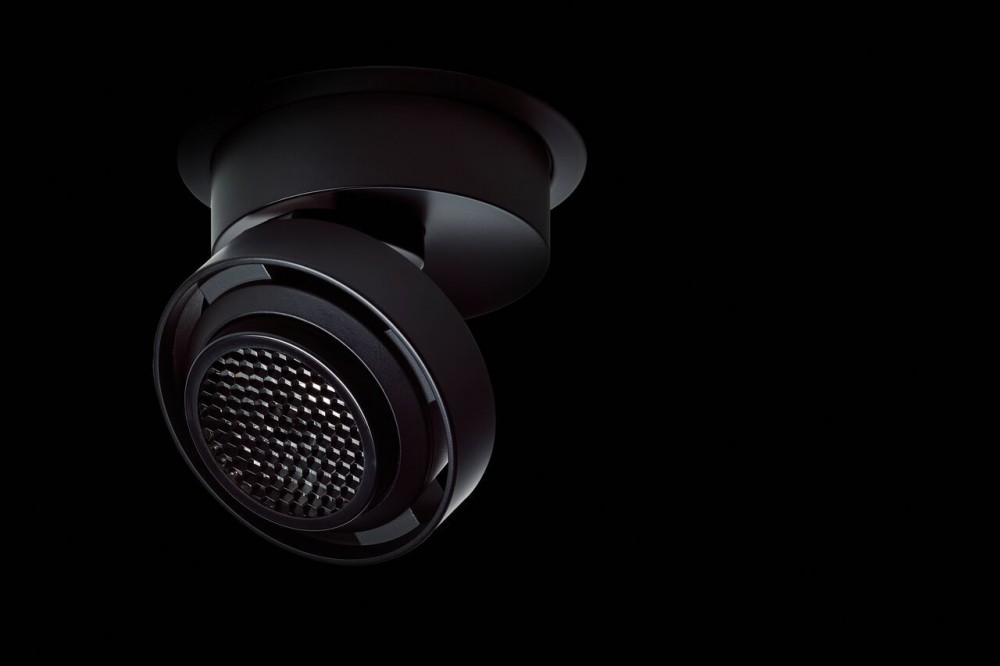 Soraa's adjustable LED luminaires come in recess, semi-recess, and surface mounting options. This provides maximum flexibility in architectural integration. The luminaire consists of a round light head and an auxiliary gear cylinder. The low profile light head is 0-90° tiltable and 350° rotatable. Its sleek geometry and contemporary finish in black, white or silver options create a clean, minimalist aesthetic. With such a nicely coordinated, harmonious design expression, Soraa ARC blends seamlessly into even the most prestigious surroundings. Exquisite craftsmanship and pristine styling make this luminaire perfect for a variety of upscale spaces with sophisticated taste. Soraa ARC's understated personality complements very well the design concept of accent lighting for commercial and hospitality spaces - let the architecture or accentuated objects, and not the lighting, take center stage.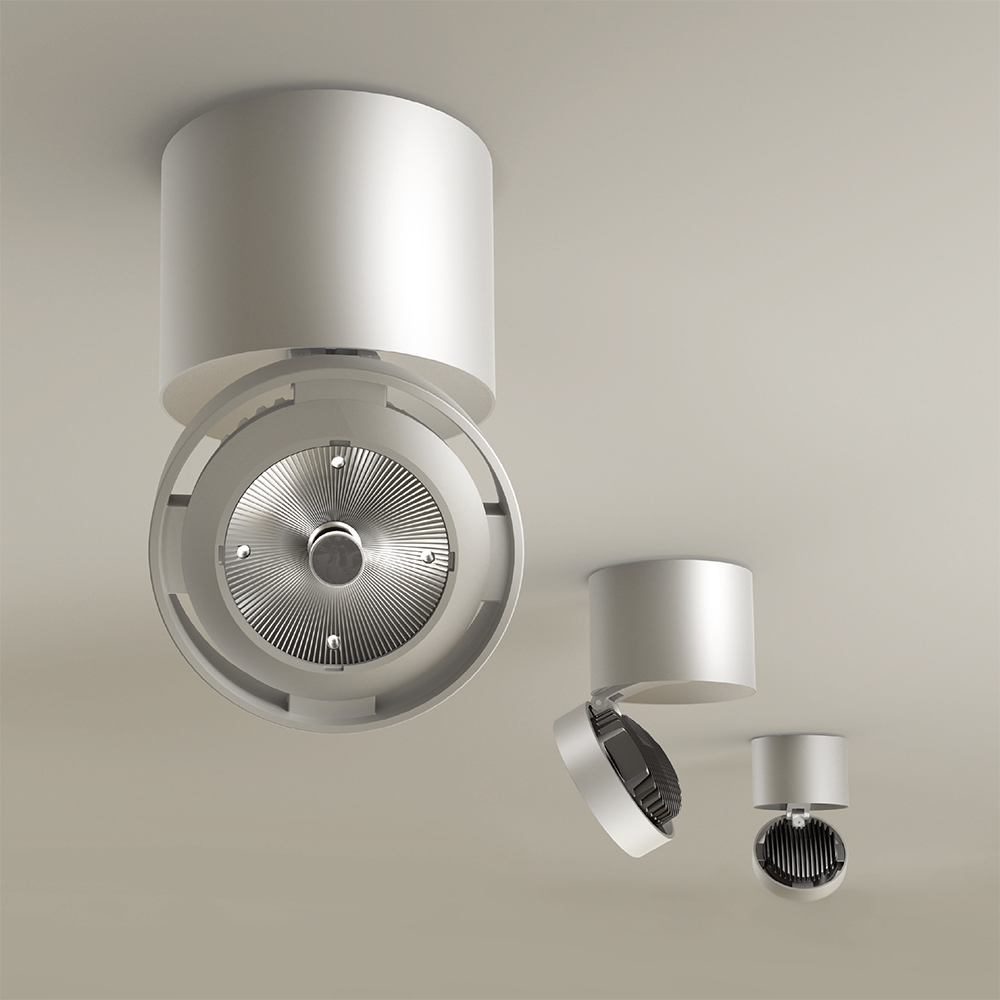 Under a refined appearance, Soraa ARC integrates the most sophisticated LED engine to deliver both high lumen output and CBCP, all while maintaining high luminous efficacy, color fidelity, and chromaticity stability over the product's rated life. The Soraa ARC LED luminaires include 50mm and 100mm models which accommodate 11W, 18W and 20W LED engines. The accent lighting solution provides an abundance of light with 500-1100 lumen packages. State-of-the-art optical design yields clean patterns of light with exceptional beam uniformity and optimal cut-off. Available in narrow spot 9°, spot 15°, narrow flood 25°, flood 36°, and wide flood 60° beam options, Soraa ARC provides versatility for every lighting need, from efficient accentuation for three-dimensional modeling to flooding illumination of surface areas and spatial zones.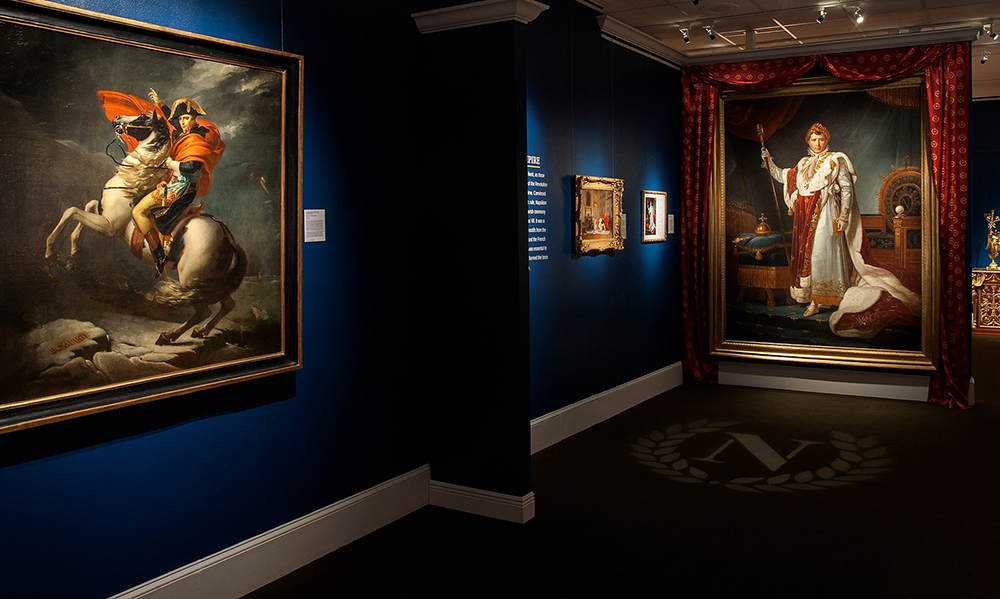 In the world of retail, artwork display, dining establishments, commercial accommodation, and even high-grade residences, appearance is everything. Lighting has a profound effect on people in a space, making it one of the most important components in interior design. Accent lighting, as one of the layers of a lighting design and delivered by directional luminaires, establishes the importance of the object on display through the use of contrast. In the hospitality industry, accent lighting is essential in adding a human scale to spaces and generating positive guest impressions. In the retail industry, accent lighting helps communicate store image, reinforce design aesthetics, and create a hierarchy of importance of the goods displayed. Museums and art galleries rely on accent lighting to create compelling and beautiful compositions. In residential spaces, selective highlighting of decorative focal points can affect emotions and trigger pleasant feelings.
Soraa ARC is specifically designed for commercial showroom lighting, retail displays, lighting of artwork and modeling of sculptures in museums and galleries, fostering positive feelings in private residences, and accentuation of signature elements in hotels, restaurants and bars. Not only this luminaire prevails in mounting flexibility, optical aiming dynamics, design aesthetics, system efficacy and reliability, it also delivers a game-changing LED solution that opens an exciting new vision of high color fidelity lighting. The directional luminaire features Soraa's proprietary GaN on GaN™ technology which makes every color come alive. Unlike competitor LED lamps which have limited spectrum coverage, Soraa full spectrum color rendering VIVID Color LEDs deliver spectral content from violet to deep red in every wavelength from 400nm to 700nm with 95 CRI, R9>95. Rw, Soraa's own calculation method for white tone rendering, makes white light quality measurable and gives birth to the industry-unique Soraa Natural White technology. With an Rw of 100, Soraa LEDs render white faithfully, matching or exceeding that of halogen and incandescent sources at 2700K and 3000K.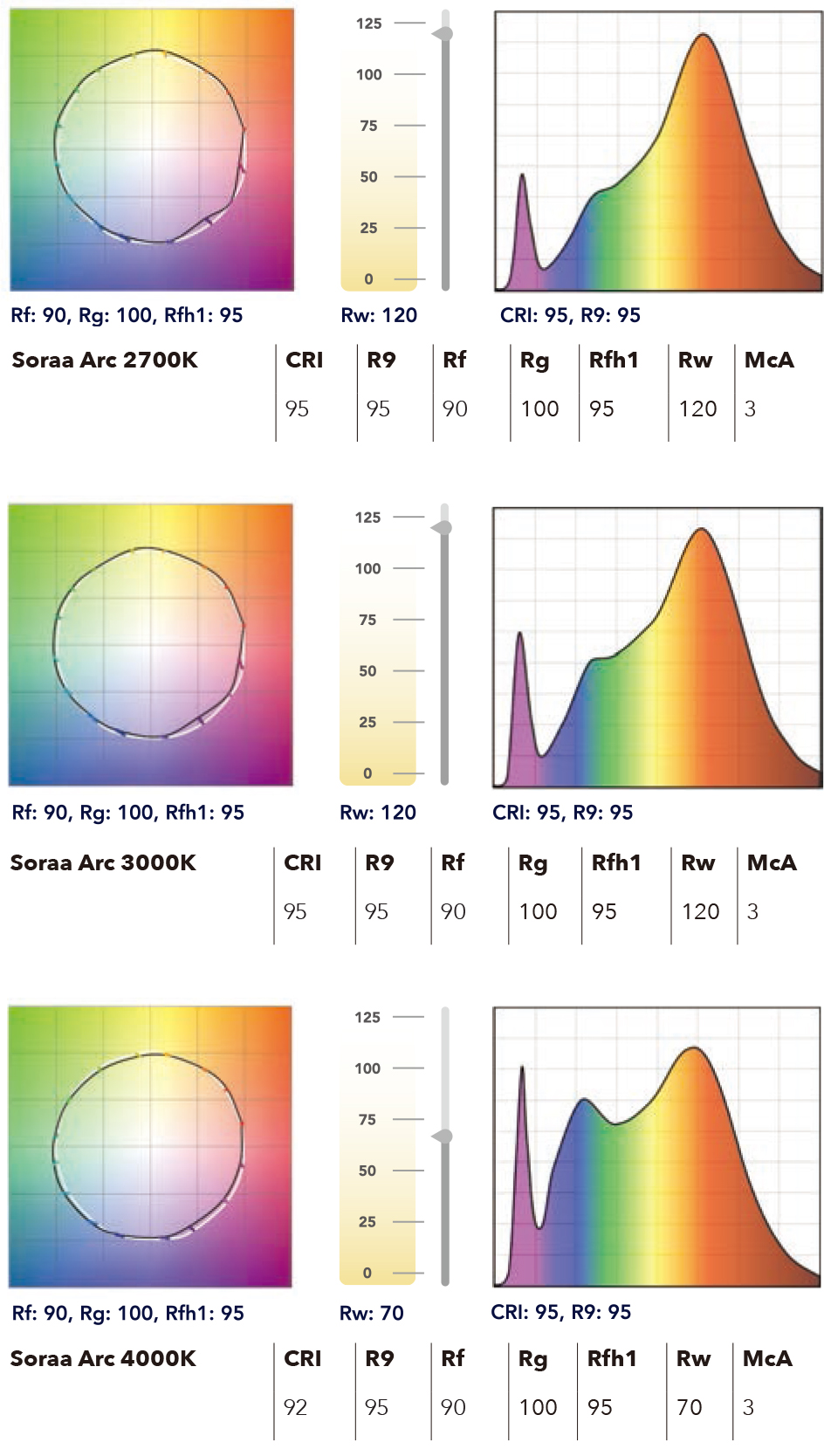 Soraa VIVID LED technology is based on a semiconductor chip that emits violet light. Since the sensitivity of the human eye to different wavelengths of light starts at violet and ends at red, the full spectrum light produced by Soraa ARC luminaires brings out the best in the accentuated objects. Conventional blue LED excited light sources are over-saturated in the blue and green spectrums. Poor spectral power distribution (SPD) makes it impossible to render every color components accurately. With an SPD that exhibits qualities closest to sunlight, Soraa LEDs faithfully reproduce the colors of the real world. In particular, an R9 value of 95 and above guarantees a faithful reproduction of all colors on display, with consistent depth and vibrancy through to the end. A frequently overlooked characteristic of LEDs is their ability to render white. In a world where optical brighteners are ubiquitously used to enhance optimal perception of product characteristics. Soraa's violet LEDs are engineered to excite the optical brighteners in exactly the same way as natural light, thereby making the reflected chromaticity of white materials look in their best.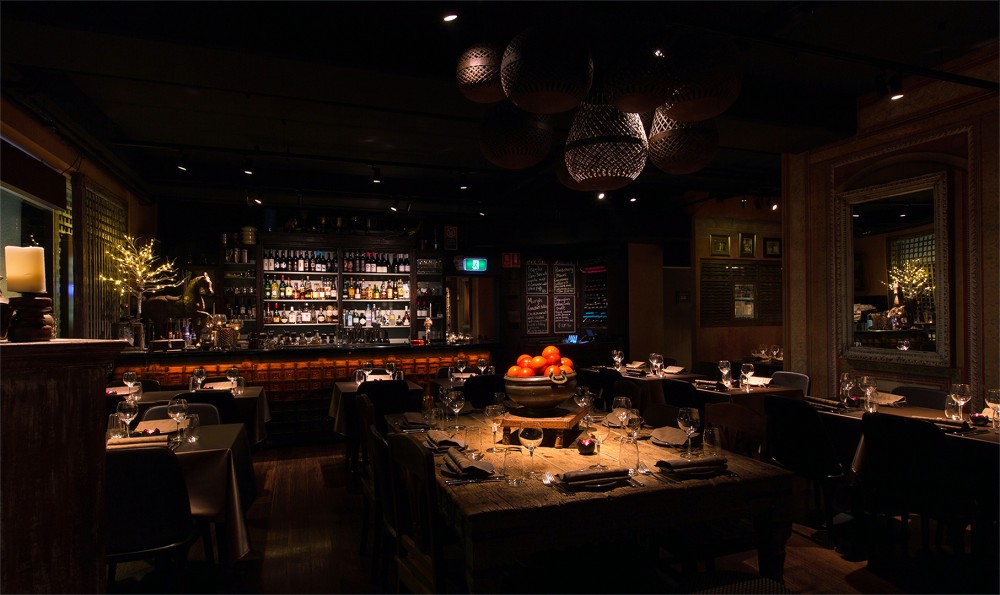 All thanks to its exceptional color quality, Soraa ARC can do one thing exceptionally well: impress, whatever the application. Full spectrum rendering and attractive chromaticity improve perceived quality and facilitate merchandise evaluation to initiate purchases in stores, supermarkets and showrooms. Only authentic light brings out the true character and quality of merchandise. It presents the appetizing freshness and naturalness of fresh produce such as fruit and vegetables, pastries, and meat to optimum effect. It makes colorful textiles and fabrics in fashion shops appear brilliant and displays white colors with particular purity. It produces fascinating accent and emphasizes specific details that help round out a presentation concept in commercial showrooms. High quality light also helps draw out an exhibit's natural beauty and bringing it to life before the visitor's eyes in museums.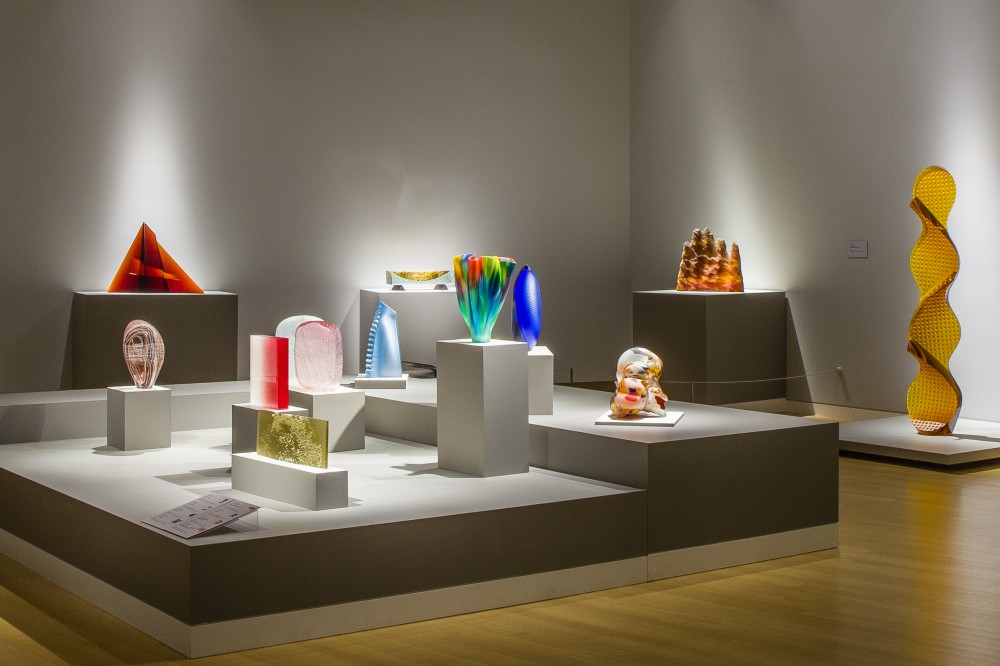 The directional LED luminaires are available in 2700K, 3000K and 4000K CCTs. Binned to within a 3-step MacAdam ellipse, Soraa ARC luminaires provide outstanding color point consistency to ensure uniform color perception across all luminaires with the field of view. With efficient thermal management provided by the die cast aluminum heat sink, these thermally stabilized LED packages boast an extra long color lifetime that ensures Soraa ARC always delivers the exact shade of white. The crystal structure of the GaN-on-GaN LED allows the luminaire to offer the highest drive current capability in its class. The light engine is operated by an integrated 120-277 VAC LED electronic constant current driver which supports smooth deep dimming (dimmable to <1%) and effectively removes the current ripple at the output for flicker-free lighting. All these contribute to a fantastic lighting experience.
Soraa's precision engineered optics provide exceptional beam control and uniform light distribution. The 9° beam version is compatible with Soraa Snap System™, a self-centering magnetic system that secures various Snap optical accessories to the luminaire for custom beam control and color twist. Soraa's optical accessory kit includes clear lenses for use with gel and dichroic filters, color enhancing filters, beam spreaders, linear spread lenses, louvers, flat top beam shapers, beam deflecters, and CCT shifters.