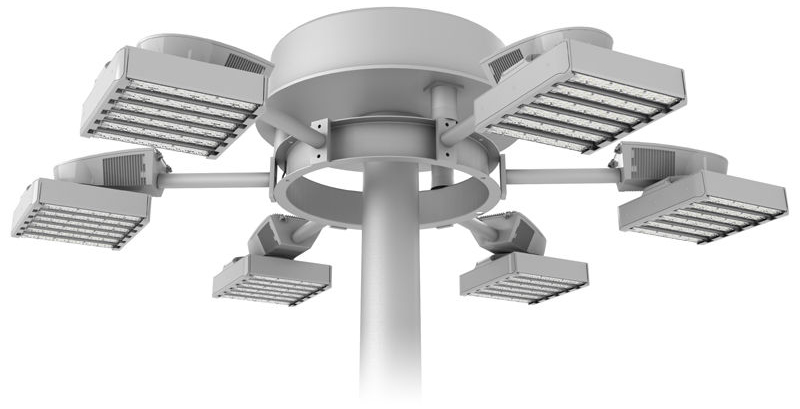 The HighFocus LED high mast luminaire from Philips Lumec continuously pushes up the benchmark for performance, reliability, and energy efficiency with its high specification engineering and future-proof design. High mast lighting, which is designed to provide large area illumination at mounting heights of 20 meters (65 ft.) and up, calls for heavy duty lighting systems that can withstand harsh environmental conditions and provide high volumes of luminous flux. This presents a big challenge for lighting manufacturers to develop a product that gets the above-mentioned mission accomplished, while providing compliance with the increasingly stringent energy codes and meeting the ever-changing sustainability goals and high payback expectations from end-users.
Created with pioneering design innovations in high power LED lighting, HighFocus thrives in extreme environments and excels in delivering superior optical performance with unmatched ROI. Whether you're looking to install a complete high mast system, or upgrade an existing HID high mast system, HighFocus makes the choice easy. The high mast system harnesses the full potential of LED technology to reduce energy consumption and maintenance frequency to a minimum. Enhanced light quality and optical control promote safety and productivity. Integration with standalone or networked lighting control maximizes energy and operational efficiencies. Scalable system design enables the luminaire to address all high mast applications including multi-lane freeways and expressways, interchanges, major and collector roads, traffic junctions, bridges and overpasses, airport aprons, parking lots, port facilities, trailer/container yards, sports fields, and township/informal settlements.
The modular family of HighFocus LED high mast luminaires provides a scalable offer from 167W to 965W with delivered lumens ranging from 21,775 to 97,380. Unlike traditional metal halide or high pressure sodium lighting which is a drain on your resources, HighFocus' luminaire efficacy of up to 140 lm/W contributes to energy savings as high as 70% compared to typical HID installations. This translates to a short payback period of less than 3 years. The savings can be substantial when lighting control strategies such scheduled dimming, motion sensors, daylight harvesting and integrated control are implemented. A 10-year limited warranty relieves your burden from endless and labor-intensive re-lamping cycles which are typical of HID fixtures. All of this combine to make budget-straining and maintenance-heavy operation of high wattage lighting systems a thing of the past.
Every project has specific requirements. A choice of 8 lumen packages from 2, 4, and 6 LED modules in conjunction with 5 optical distributions enables lighting designers to make optimal configurations adaptable down to the last detail. Each modular LED engine is composed of 92 high performance LEDs with correlated color temperature as per ANSI/NEMA bin Neutral White, 4000 Kelvin nominal (3985 +/- 275K or 3710K to 4260K). A minimum CRI of 70 enables better color perception than HID lamps and therefore creates improved visual acuity. The LED array is indexed with a UV stabilized optical grade polymer refractor lens to enhance light extraction, ensure uniform lighting and maximize pole spacing while meeting the veiling luminance (glare) requirements. The luminaire provides IES Type II (2), Type III (3), Type IV (4), Type V Medium (5M), and Type V Wide (5W) distribution patterns. Entire optical assembly is rotatable, allowing for precision asymmetric distribution. All optical distributions have a U0 rating which means no uplight and all of the light is directed downward on the roadway or the field where it is needed. External house side shields for the luminaire and internal house side shields for LED engines are optionally available to prevent light trespass.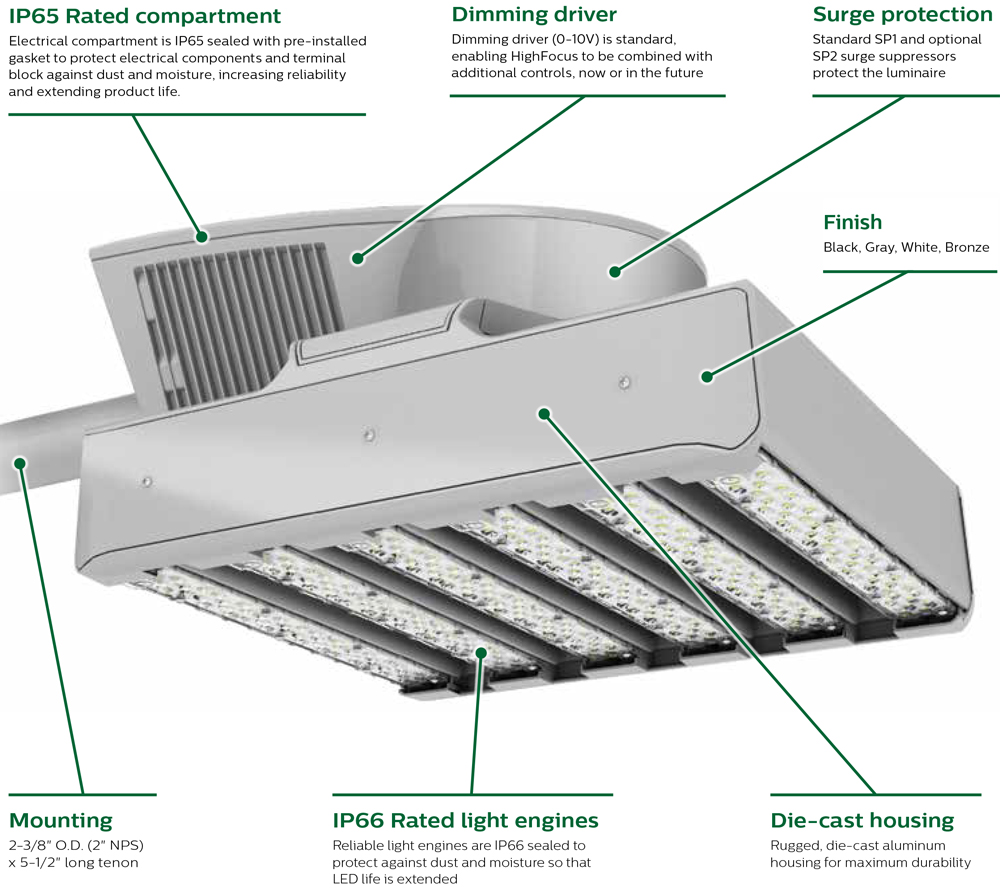 Thanks to its exceptional thermal management HighFocus delivers consistent optical performance throughout the product's rated life. High power LED packages are assembled on a thermally efficient MCPCB (metal core printed circuit board) with robust interconnects provided by the high reliability solder joints. These creep resistant solder joints maintain excellent shear strength that allows them to survive a great number of thermal cycles even under high CTE mismatch conditions. The LED board is attached to an aluminum heat sink which is mounted to the die cast luminaire housing. The modular heat sink and aluminum luminaire housing combine to provide high efficiency thermal transfer of the waste heat generated at the LED junction. Gaps between the modules facilitate natural air flow which drives convective cooling of the light engines. By keeping the operating temperatures of the high power LEDs (T-junction) under control, the service life of the luminaire is significantly extended (L70 100,000+ hours at 25°C), accompanied with outstanding chromaticity stability over the life of the luminaire.
HighFocus is engineered to stand strong in extreme weather and environmental conditions. Made of a low copper aluminum alloy (A360), the heavy duty luminaire housing provides excellent mechanical strength and corrosion resistance. The modular heat sink is built from anodized 6063-T5 aluminum and provides durable protection for the light engine. Rugged system construction and strong metallurgical bonding between the MCPCB and LEDs make HighFocus mechanically strong to survive wind- and vehicle-induced vibration. The luminaire was tested for 3G over 100,000 cycles by an independent lab and meets the ANSI C136.31, American National Standard for Roadway Luminaire Vibration specifications for bridge/overpass applications. The aluminum housing is finished with a polyester powder coat paint (4 mils/100 microns) with ± 1 mils/24 microns of tolerance. The thermosetting resin provides superior discoloration resistance in accordance with the ASTM D2244 standard, as well as optimal luster retention per the ASTM D523 standard. The luminaire has been tested to withstand 3,000 hours of salt spray exposure as defined in ASTM Standard B117. Modular LED engines are sealed to provide IP66 level ingress protection against water and dust penetration. Seals and sealing devices are made and/or lined with EPDM and/or silicone and/or rubber. All exposed screws are made of stainless steel for high corrosion resistance.
The electronic driver operates on auto adjusting universal voltage input from 120 to 277 VAC or 347 to 480 VAC rated for both application line to line or line to neutral. A built-in power factor correction circuit maintains a high power factor of minimum 0.9 while suppressing the harmonic current within the 20% maximum THD limit. The on-board thermal protection module automatically reduces LED drive current to prevent overheating when the system temperature hits the upper limit. The driver is also protected against damage resulting from electrical shorts and overloaded circuits. The constant current driver is capable of 0-10V dimming which provides compatibility with many available controls such as photocells, motion sensors, and digital wireless control systems. Optional 5-pin and 7-pin NEMA twist lock receptacles are available to accommodate a twist lock control node, photoelectric cell or a shorting cap. The driver has standard built-in surge protection of 2.5kV (min). An integrated 10kV/10kA surge protector is designed to protect luminaire against common (line-to-ground) and differential (line-to-line) mode surges.
The driver is housed in a separated electrical compartment which is IP65 sealed with pre-installed gasket. The complete separation of the driver compartment from LEDs prevents LED thermal impact that can compromise driver's service life. Electrical connection of the luminaire is done using a terminal block connector 600V, 85A for use with #2-#14 AWG wires from the primary circuit, located inside the housing. A time delay or slow blow fuse is recommended to avoid unnecessary and unwanted fuse blowing that can occur with fast acting fuses due to the inrush current that occurs with electronic drivers. A single screw with sealing washer, hinged, removable door opens upward to provide access to the electrical compartment. Door is secured to prevent accidental dropping or disengagement. A bird guard seals around tenon and protects the electrical compartment against birds and similar intruders.
The luminaire is designed to fit on a 2 3/8" (60mm) O.D. (2" NPS) by 5 1/2" (140mm) minimum long tenon. A zinc plated clamp which is fixed by 4 zinc plated hexagonal bolts 3/8-16 UNC provides ease of installation and allows step adjustment of +/ 3° tilt in 3° increments. Philips Lumec offers SkyMast raising and lowering system SMLS-G2 to accompany your HighFocus LED high mast luminaire. The SMLS-G2 high mast system is designed to accommodate up to twelve luminaires and may be specified to system heights up to 150 feet. It comes in 5 configurations: 1) Top Latching and Portable Drive, 2) Top latching and Internal Drive, 3) Bottom Latching and External Drive, 4) Bottom Latching and Internal Drive, and 5) Bottom Latching with Winch/Drive.