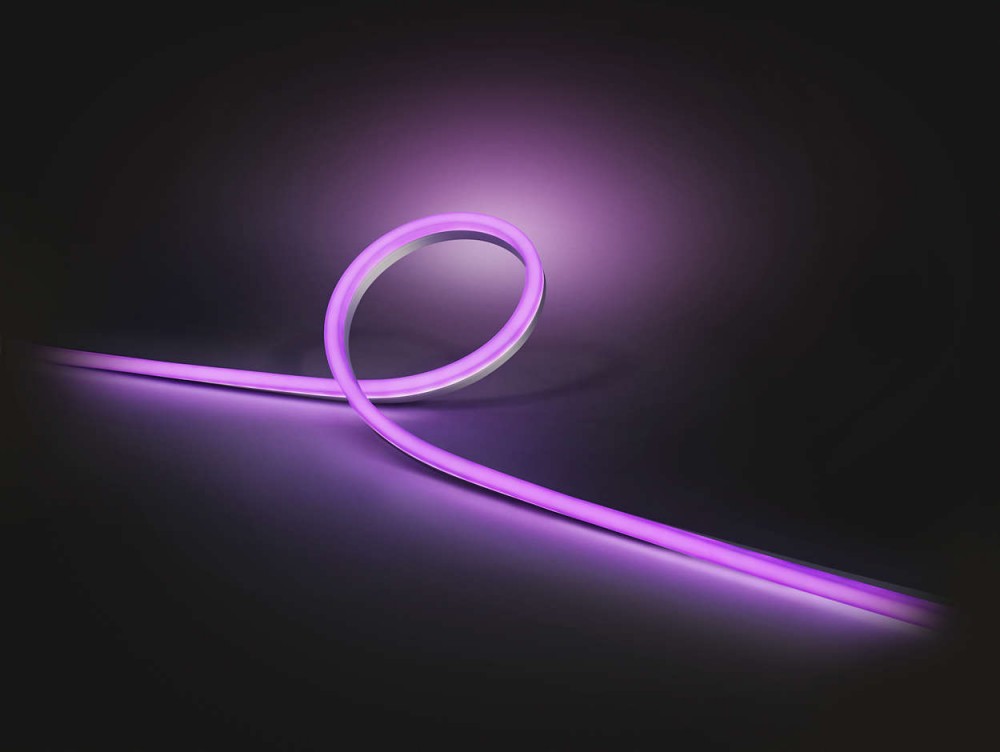 The
Philips Hue Outdoor Lightstrip
offers a connected, intelligent linear lighting solution that delivers the ultimate in controllability, flexibility and durability for any outdoor space in need of elevated lighting design. The fully encapsulated smart light strip brings beautiful ambiance to places you were not able to before. Astonishing uniformity of the light in combination with high performance
CCT tuning
and color mixing makes this light strip a fantastic choice for exterior and interior decorative and accent lighting applications requiring a symbiosis of homogeneous light, infinite color options and great color consistency throughout the entire run of the light strip.

The Philips Hue white and color ambiance range is comprised of 80-inch and 197-inch length versions which are sold in complete kits. The light kit that includes a light strip and an
outdoor power supply
comes with all elements you need to get started. In comparison to the interior range of IP20 rated Philips Hue light strips which are not protected from water ingress, the Philips Hue outdoor lightstrip has excellent watertight integrity and can be placed where conventional lights cannot venture. The silicone encased
light strip
is designed to withstand temporary immersion of up to 1m, making it ideal for outdoor accent lighting around pools, along path ways, decks, patios, balconies, garden beds as well as interior architectural lighting for bathrooms, kitchens, or anywhere else they may be exposed to water. Constructed as complete lighting system with high level ingress protection, the Philips Hue outdoor LED strip is not cuttable. This is because re-assemblies at user level may compromise the strip's watertight integrity. The outdoor Light strip does not have an adhesive backing and instead uses mounting clips to attach itself to surfaces like fences, home exteriors, and more.
This waterproof light strip has its own terminology because of its full body opal silicone encapsulation. In addition to offering submersible IP67 ingress protection, the extruded silicone housing with a milky finish provides excellent diffusion of LED hot spots and creates a continuous glow with invisible light points. Diffused light emission along the entire strip gives the appearance of neon and hence the name LED neon light (known mostly as LED Neon Flex). The Philips Hue outdoor lightstrip offers nearly the same visual effects as traditional blown glass neon without the typical worries of working with fragile glass. The LED neon light strip is also as flexible as a traditional LED-exposed light strip while providing unparalleled visual discomfort. Traditional light strips mount LEDs on bare flexible PCBs and produce high intensity light in tight spots, causing close-field visual discomfort.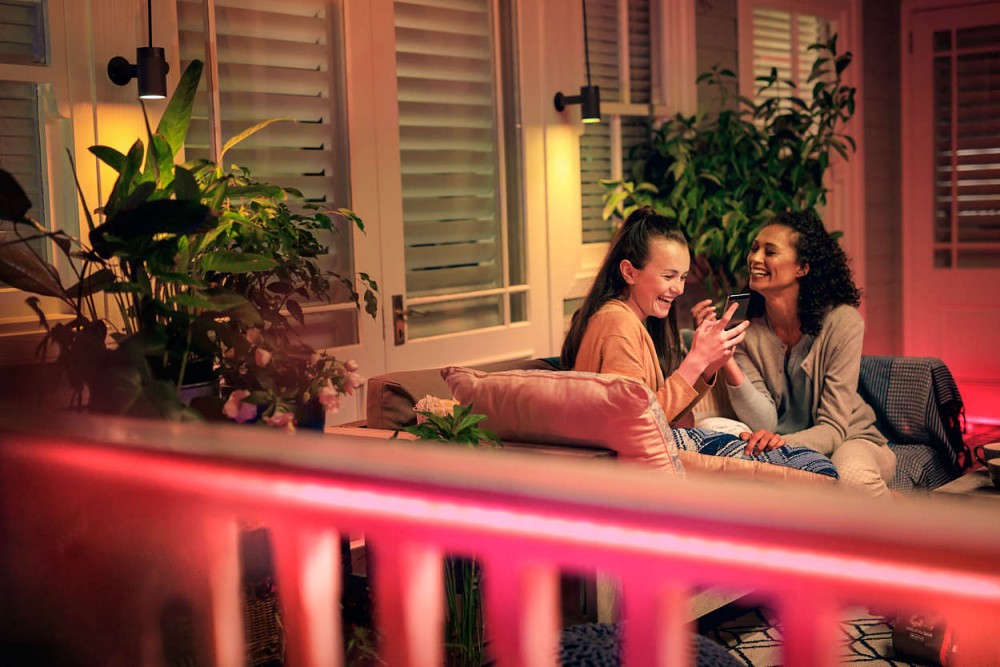 The multi-color light strip incorporates high performance RGBW LEDs for white light in different shades (2000K - 6500K) and a full rainbow of color options. These SMD light sources are mounted to the flexible printed circuit board through a quality controlled reflow soldering process such as to meet strict solder joint reliability requirements. Superior solder joint performance and high fatigue ductility of copper foils offer a lifetime of durability for all applications including those requiring tight, continuous and repeated bending and twisting in all directions. The
flexible LED strip light
features a heavy copper board core that provides high capacity heat dissipation. Excellent thermal management allows the Philips Hue outdoor lightstrip to operate in ambient temperature of up to 45°C with excellent lumen and spectral maintenance.
The light strip offers a decent package of lumen and spectral output with uniform linear luminance. It draws 19 watts (80") or 37.5 watts (197") to produce up to 900 or 1810 lumens at 6500K. High density LED mounting enables the tape light to be installed close to an adjacent surface for seamless illumination. A unique silicon composition minimizes absorption at certain wavelengths to ensure faithful color delivery. The UV and high-temperatures resistant silicon housing does not produce yellowish hue which causes color shifting. The
LEDs
are binned to a tight MacAdam ellipse tolerance to ensure color consistency across the entire run and eliminate color discrepancies between different installations. Onboard current regulation ensures consistent light output is maintained across the length of the run. The included waterproof power supply accommodates 100V - 120V input and provides high efficiency power conversion. The Philips Hue outdoor lightstrip is
dimmable
via smart device only.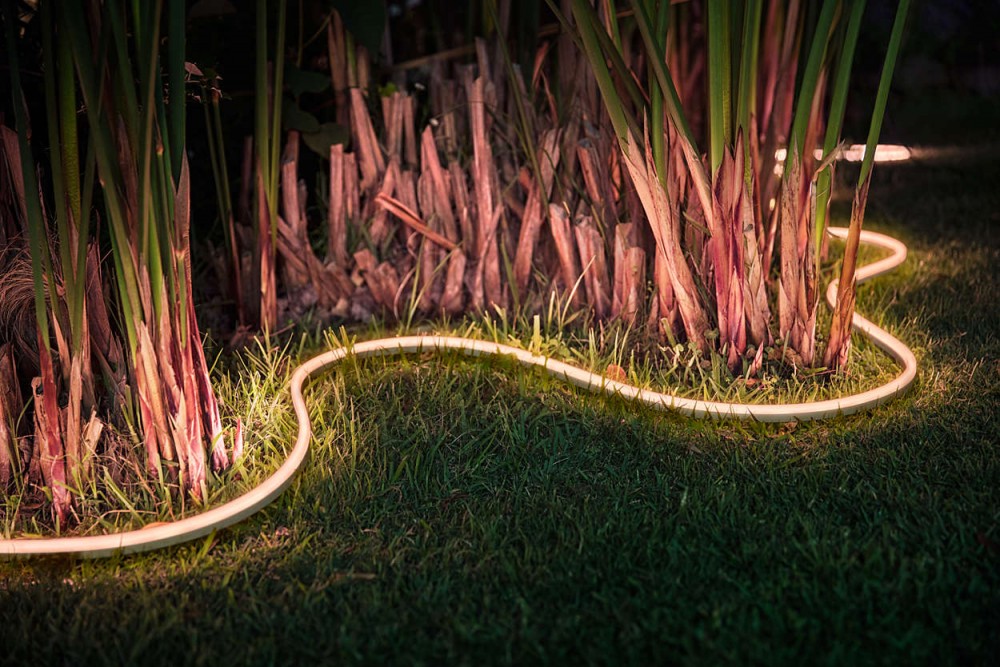 Philips Hue White and Color Ambiance LED strips reside in Philip's ZigBee-based
smart lighting ecosystem
which transforms
LED luminaires
into smart, digital nodes. The Philips Hue Internet of Things (IoT) platform allows for communication and interaction between the lighting system and people. Pair the smart light strip to the Hue Bridge (sold separately) which acts as a smart hub and allows you to control the light via the Philips Hue App available for both iOS and Android devices. Connected lighting in the IoT infrastructure let you control your lights from almost anywhere. With
wireless control
on your smartphone or tablet, you can play with 16.7 million colors and all shades of white light to create incredible outdoor accents. Highlight objects, trees or pathways to make your space stand out. Set the right ambiance on your patio, balcony or porch and relax. Create colorful scenes or slow-moving dynamic sequences for a personalized light show that adapts to your special moment.
The Philips Hue system simplifies lighting control from anywhere and allows for lighting customization. The smart light strip offers an array of smart lighting features including remote on/off and dimming control, light scheduling, lighting group management, color temperature tuning and special color settings. The light strips can be easily integrated with other ZigBee-based systems for additional home automation. The Philips Hue system works with Amazon Alexa, Apple HomeKit and Google Assistant, which allows you to enjoy the convenience of voice-activated, hands-free lighting control.