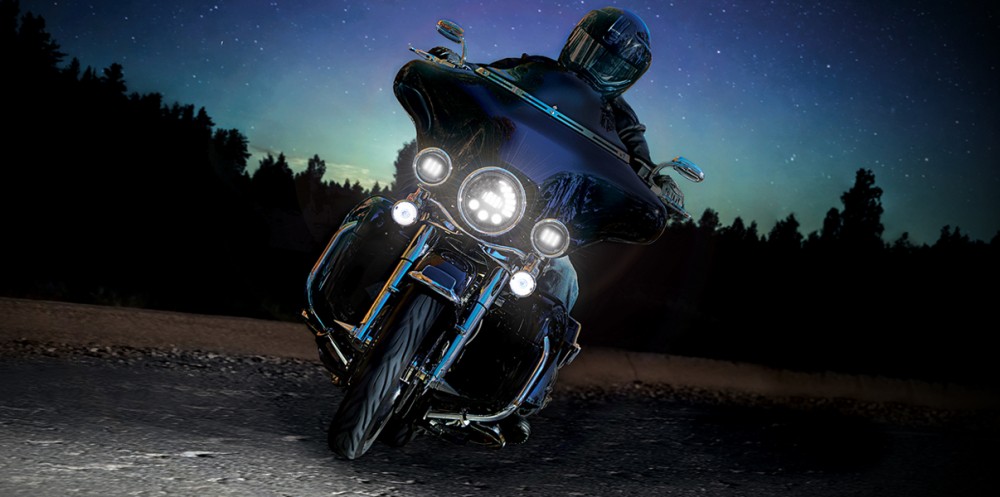 The weak, straight beam produced by your factory-installed headlight demands your utmost concentration and gets your nerves bundled. Fortunately, you can resort to the Adaptive 2 motorcycle headlight which allows you to see how the road unwinds far ahead and gives you excellent peripheral visibility during cornering or turning. Delivering outrageous beam performance and smart light distribution, J.W. Speaker's Adaptive 2 LED motorcycle headlight can be trusted to smash up darkness and carve out a bright path for a more comfortable and exciting nighttime ride. No longer do you have to strain to see the terrain ahead, nor will you worry about driving on winding roads where dangerous corners pose a significant risks for nighttime activities.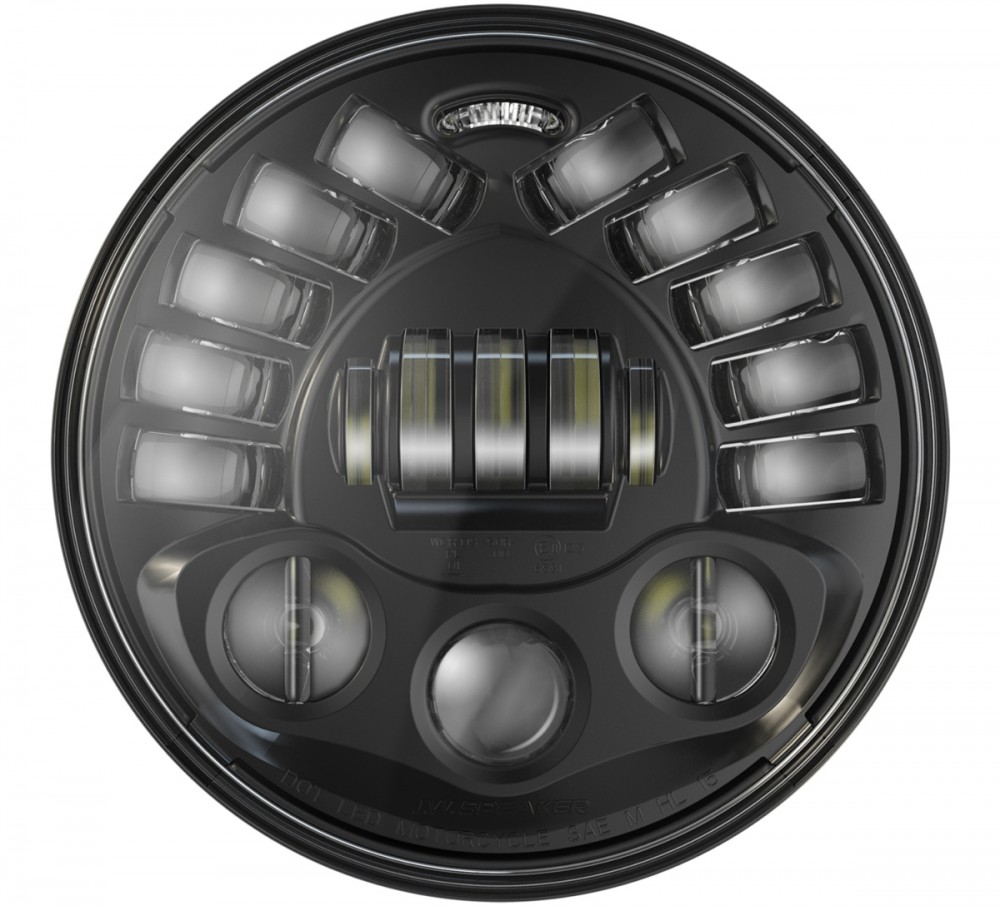 The Adaptive is the world's first intelligent motorcycle headlight that can dynamically adapt to driving directions, which addresses a longstanding shortcoming of traditional motorcycle headlights. There is a tight a relationship between accident frequency and road bends. Single-vehicle run-off-road collisions on bends, particularly at curvatures below radius lengths of 200m, tend to be more than that on straight roadways even though drivers have been educated to take defensive driving. When negotiating a bend in the road, standard motorcycle headlights continue to illuminate straight ahead rather than to bend along the curve. The inner side of the curved road remains in the dark while most of the illuminated part of the road is located at the oncoming vehicles' glare zone. Poor corner visibility is dangerous especially on unknown and twisting country roads as the driver has no time to react to possible dangers ahead.



The Adaptive 2 motorcycle headlight is an upgrade of its first generation and provides ditch-to-ditch illumination to eliminate dark corners on sharp turns. The new headlights have been improved to feature adaptive technology on both the high beam and low beam modes. An on-board sensor is used to detect tilts which occur when the motorcycle turns a corner. The embedded electronics will calculate bank angles on a real-time basis. Upon detection of a tilt, the LEDs which are designed to illuminate the corner area toward which the driver's vision should be directed will be instantly activated. Dynamic bend lighting keeps the forward beam as parallel to the curved road as possible to provide a better view into the corner, thereby filling in the gaps to the left or right of the motorcycle that traditional headlights can't.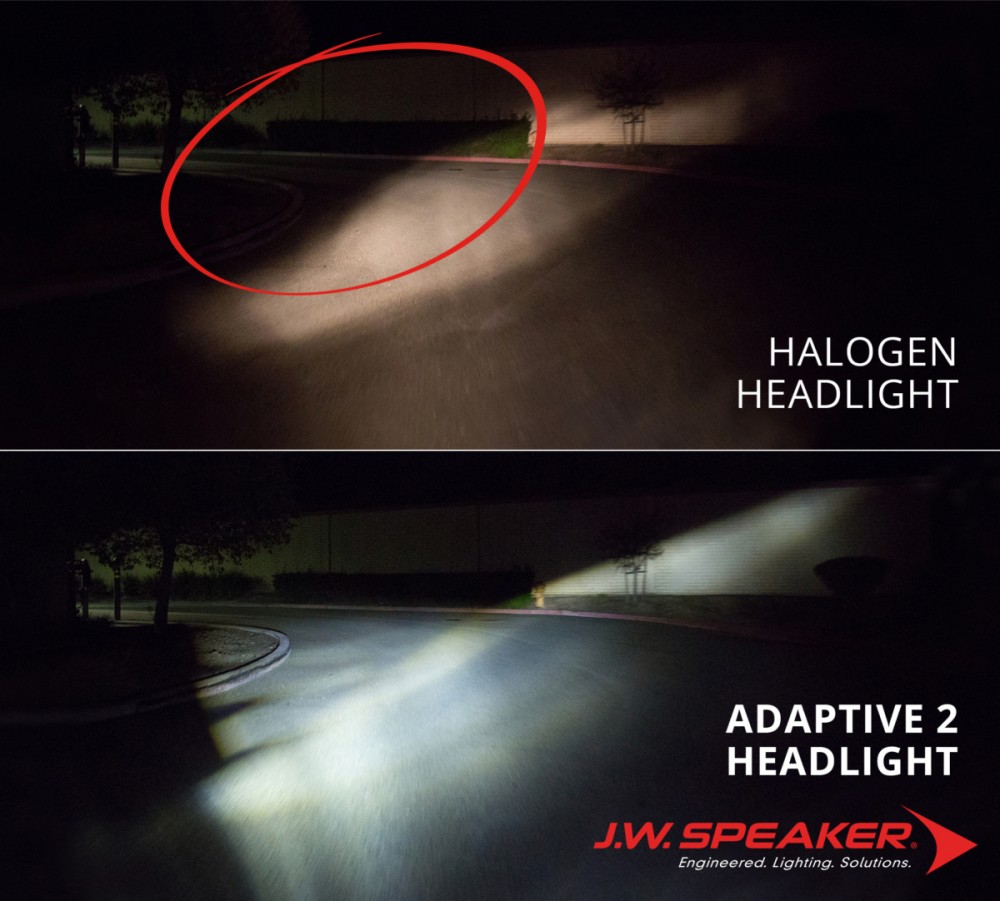 J.W. Speaker's Adaptive 2 Series lights are available in many different configurations, including 7" round (PAR56) and 5.75" round (PAR46) headlights in pedestal mount and bucket mount versions. A dual-light PAR46 model is available for direct plug-and-play retrofit for the 2013 and older Road Glide motorcycles. The Adaptive 2 Series also offers a model designed to fit Victory® motorcycles, featuring the diamond shape unique to this application. These headlights are DOT and ECE dual-compliant (except that the Victory® motorcycle headlight is DOT-compliant only). To address the challenge of retrofitting LED headlights into certain motorcycle buckets, J.W. Speaker offers 18 easy-to-use fitment kits that allow seamless installation on a variety of motorcycle models from popular brands such as BMW, Ducati, Harley Davidson, Indian, Kawasaki, Moto Guzzi, Triumph, Victory, and Yamaha.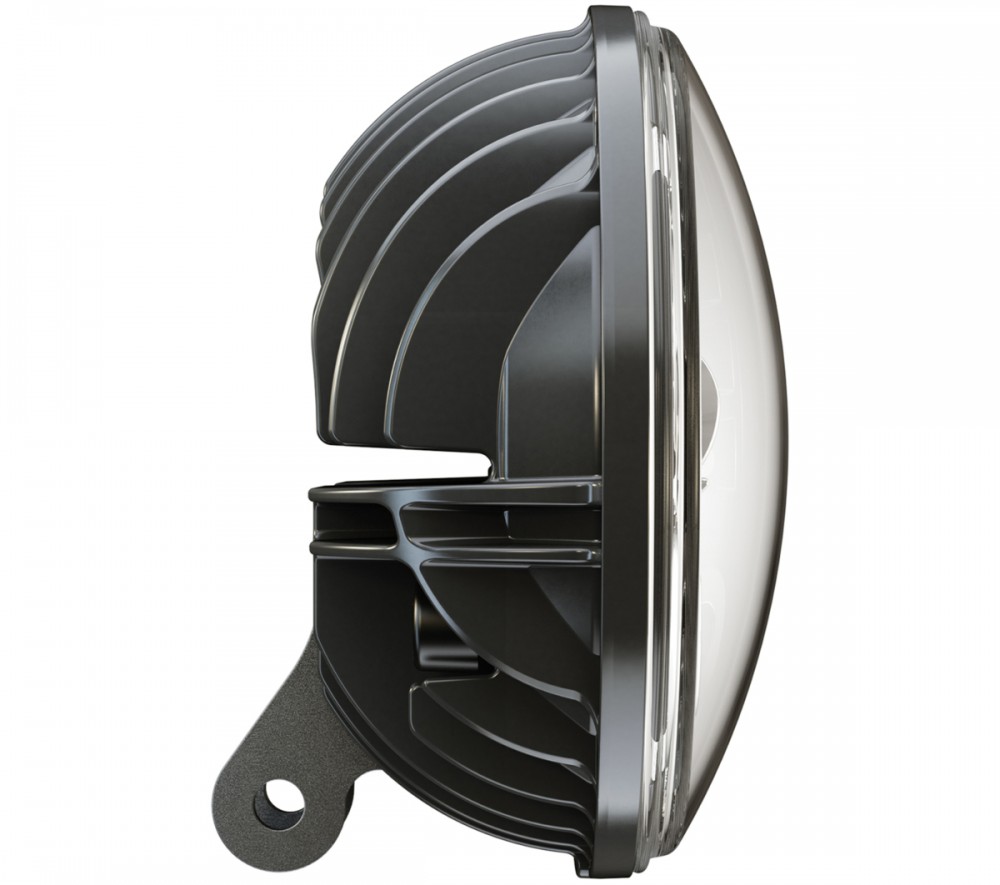 The Adaptive 2 features J.W. Speaker's innovatively designed optics that have been tooled specifically to extract the their full potential of high performing LEDs and provide light distributions far superior to traditional halogen headlights. The high efficiency lenses harness every lumen produced by the LEDs and create precise beam patterns that deliver the highest punch possible. Thanks to J.W. Speaker's ComfortLite® technology, Adaptive 2's high beam casts an incredibly bright and focused light far into the distance for maximum forward distance and high-speed visibility. The low beam provides ample peripheral illumination along road edges over short distances, while providing a sharp horizontal cut off to minimize glare for the oncoming traffic. The Dual Burn® technology enables the headlight to combine the force of high and low beams for both a wide field of view and a far-reaching beam that helps locate hazards or obstacles from a long distance.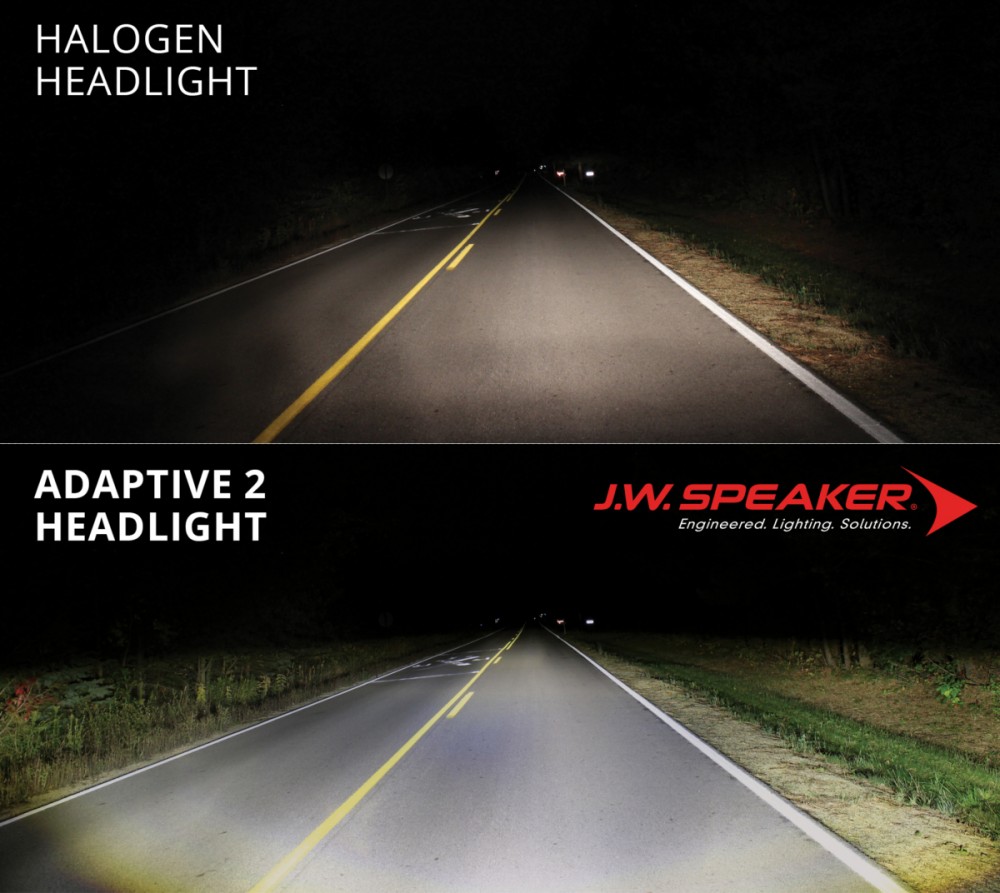 The headlight uses premium-grade LEDs to provide dependable, powerful illumination with far less power consumption than halogen bulbs. The ultra-bright LEDs deliver high lumen density for exceptional beam control and give you up to 1,500 feet of punch down the road from the headlight's high beam. Adaptive 2 offers a peak beam intensity of up to 60,000 candela from its high beam LED engine which produces 3,520 raw lumens and up to 8,300 candela from its low beam LED engine which produces 2,120 raw lumens. Shining in a color temperature of 5000K, these high power LEDs produce blistering brilliant white light that cuts out your way through the dust and wicked weather. The high beam at full lean draws only 5.5A @ 12V DC, placing minimal strain on the motorcycle's electrical system.
In addition to significantly reduced current draw, the LED headlight boasts of an ultra-long operational life and extremely low degradation of performance thanks to its exceptional thermal management and state-of-the-art power electronics. The low thermal resistance circuit assembly effectively eliminates heat flux concentration at the LED junction. A die cast aluminum heat sink with integral radiation fins provides efficient thermal conduction and spreads the heat flux over a sufficiently large enough area. Maintenance of the p-n junction temperature below the maximum operating limit prevents the LEDs from accelerated lumen depreciation and color shift as well as shortened lifetime. Adaptive 2 can operate with high output in environment with an ambient temperature of up to 65 °C (149 °F). A built-in driver circuit with overvoltage and transient spike protection delivers high quality output current and voltage to the LED load for optimal performance. The cold start driver works in extremely cold area where the ambient can be as low as -40 °C (-40 °F).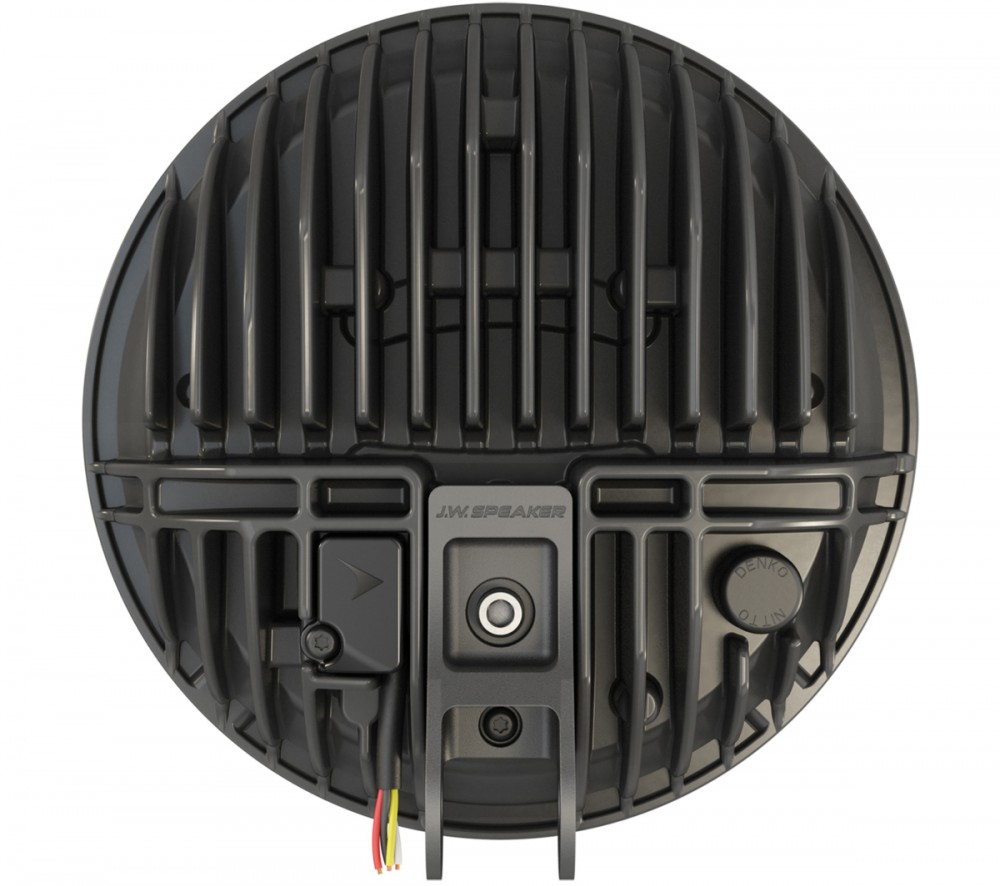 The Adaptive 2 is ruggedly built to withstand the rigors of outdoor driving. Solid circuit construction with high reliability interconnects between the PCB board and LEDs ensures extreme vibration resistance. The die cast housing and impact resistant polycarbonate lens offer robust durability. The powder coated aluminum housing delivers excellent resistance to chemicals, acids and chlorides. The hermetically sealed headlight holds high enclosure integrity against dust and moisture ingress.