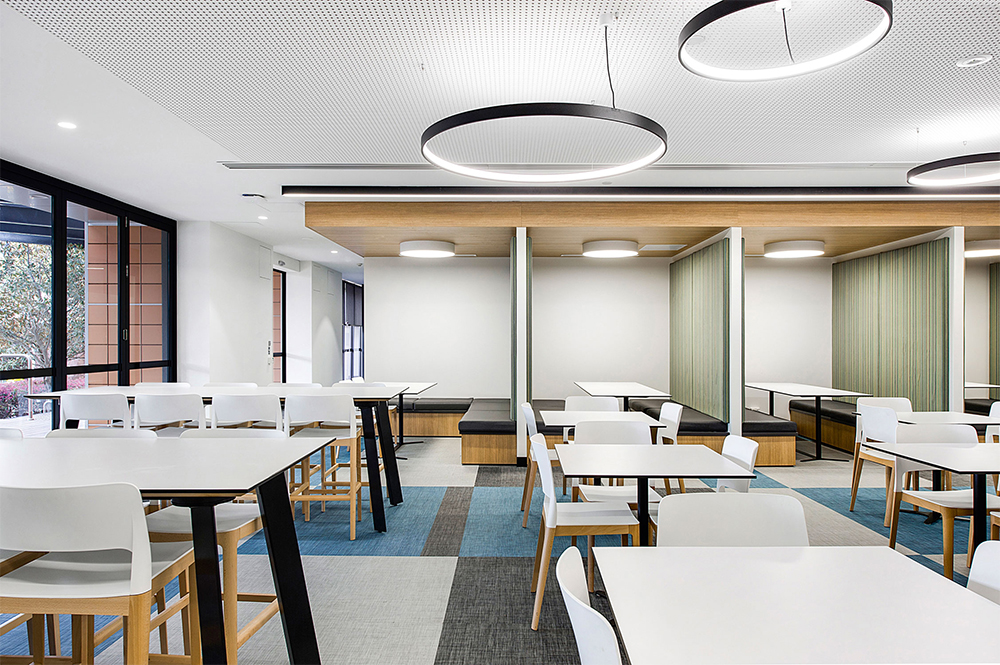 A dramatic blend of art and engineering, Superloop from Delta Light is an expandable lighting system that is infinitely flexible. Scalable both in functional versatility and visual effects, this pendant lighting solution is capable of turning any modern interior into an upscale showroom. Everyone loves straight lines. Their minimalism and clean nature are a statement-maker for modern homes and commercial interiors. But at some times straight lines are too formal and simple. They fail to deliver design sensibilities and fill a room all on their own. Superloop is designed to inspire your contemporary decor and evoke a space-inspired personality. Its simple curvy geometry is a celebration of minimalist styling. A compelling decorative quality stands out as an inspiring addition to contemporary decor.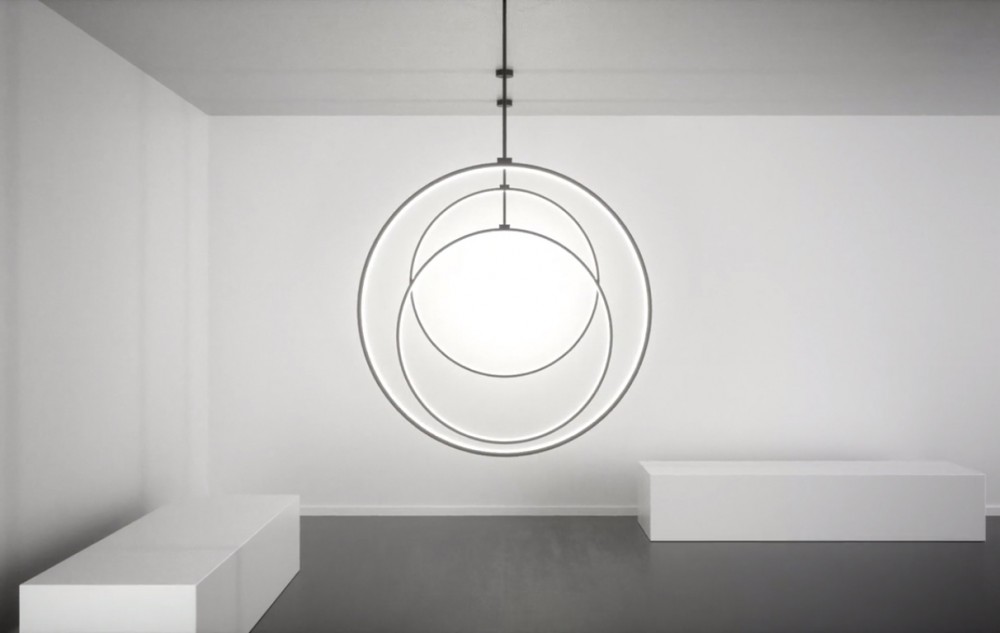 The Superloop family is a range of slim circular, square and rectangular fixtures that challenge to create an incredible scale of depth and visual interest in a variety of commercial, retail, institutional and residential applications. Characterized by a great flexibility in lighting configuration, Superloop offers limitless possibilities in design and invites architects and interior designers to participate in its creation. Its architectural plasticity allows the light fixture to bring a grand scale of visual dimension to even the starkest minimalist interiors. This feature is particularly valuable in corporate showrooms, retail stores, art galleries, and commercial facilities where the plain architectural spaces are exhausting in contributing to the overall visual composition. Bringing spatial definition to interiors, Superloop is a true artwork of its own which is bound to impress.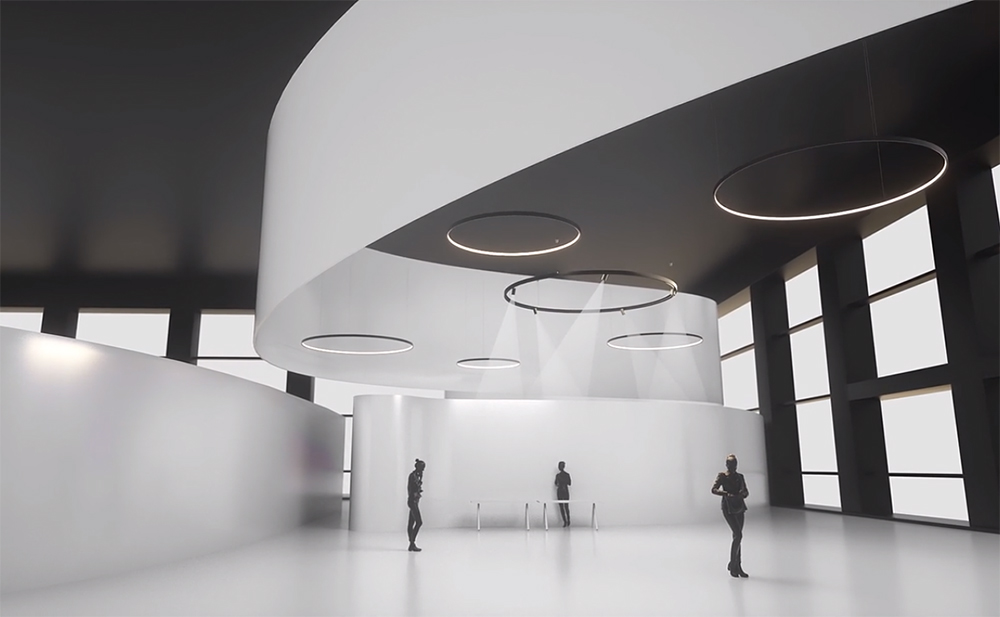 Available in diffuse illumination and track lighting versions, the pendant lighting system can be used to accentuate the vibe of a room, highlight signature elements, and create engaging ambience. Sophisticated technology meets architectural form in this versatile fixture. The modern lighting collection is designed to be of aesthetic value while providing extraordinary utility. Cutting edge LED technology enables light to act as its expressive element and transform any bland room into a captivating space. No matter where it is placed, its exceptional combination of visually stunning illumination and intriguing design is sure to stir up conversations between people and points of interest. The pendant light gives your home a fashionable flourish with its soft lighting scene and open, delightfully inviting design. High impacting accent lighting from its directional spots reinforces design aesthetics of the space, strengthens brand identity, adds interest and emotional appeal to merchandise and displays in hospitality environments, retail stores, museums and galleries.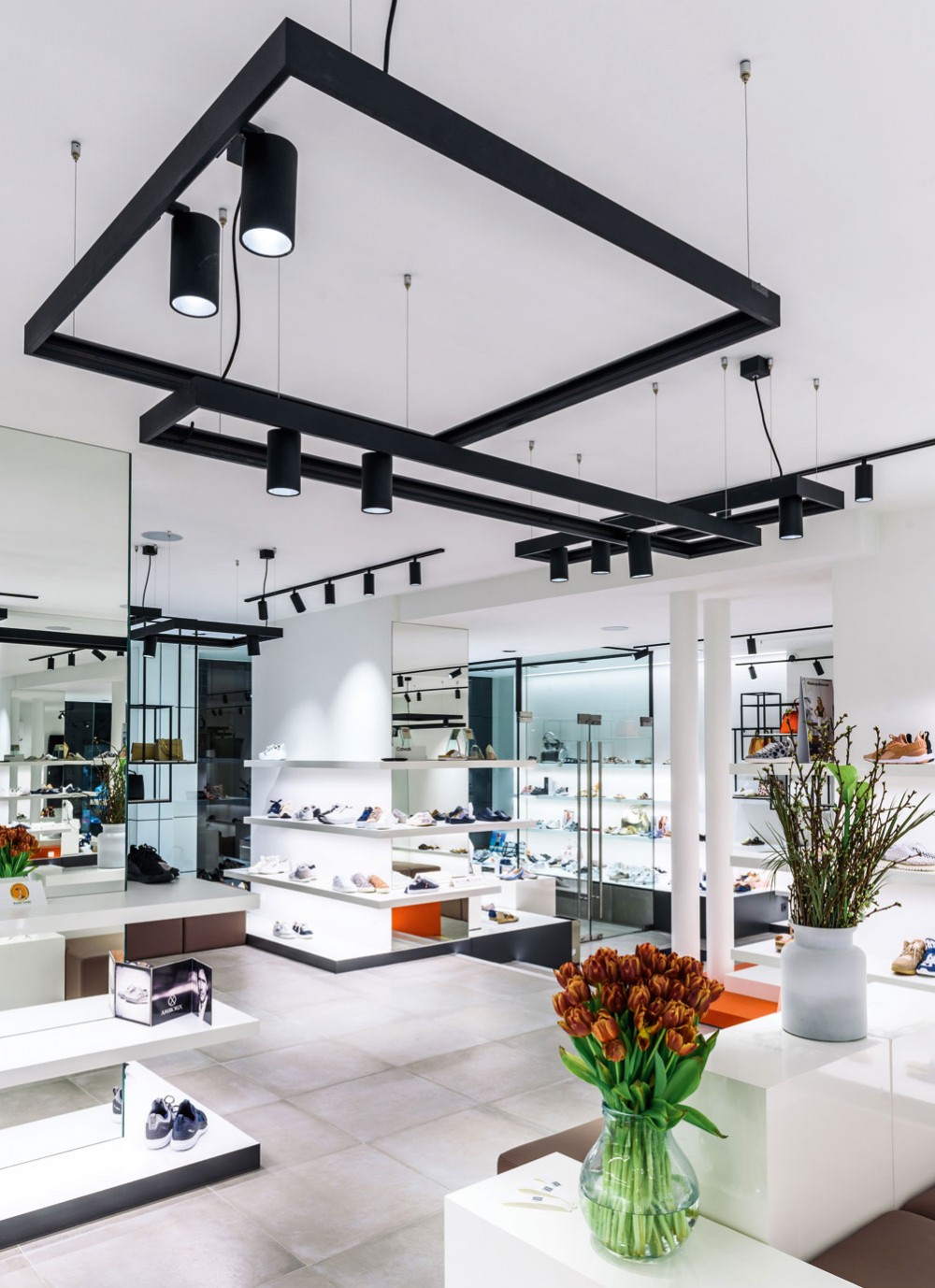 Superloop circular lights with diffuse illumination creates ring of light that appears to float gently in space. The slim round aluminum profile is lined with an opal polycarbonate diffuser to soften the array of light. This rounded, contemporary pendant light glows subtly and creates aesthetic harmony that makes it complement all kinds of interiors at homes as well as public spaces. Thanks a unique prismatic diffuser geometry, the Superloop ring radiates LED illumination in both up and down directions between a 50-50 even spread for up- and downlight, or a 60-40 balance. These Superloops can be arranged in horizontal, angled or even vertical positions to invite a dynamic look to the space. The horizontal loops evoke a formal language. The angled loops create playful rings of radiant light. And the vertical Superloops adds a flair of fashion. Whether hung as a single element or in a dynamic grouping, Superloop circular lights create a spectacular installation that enlivens any space.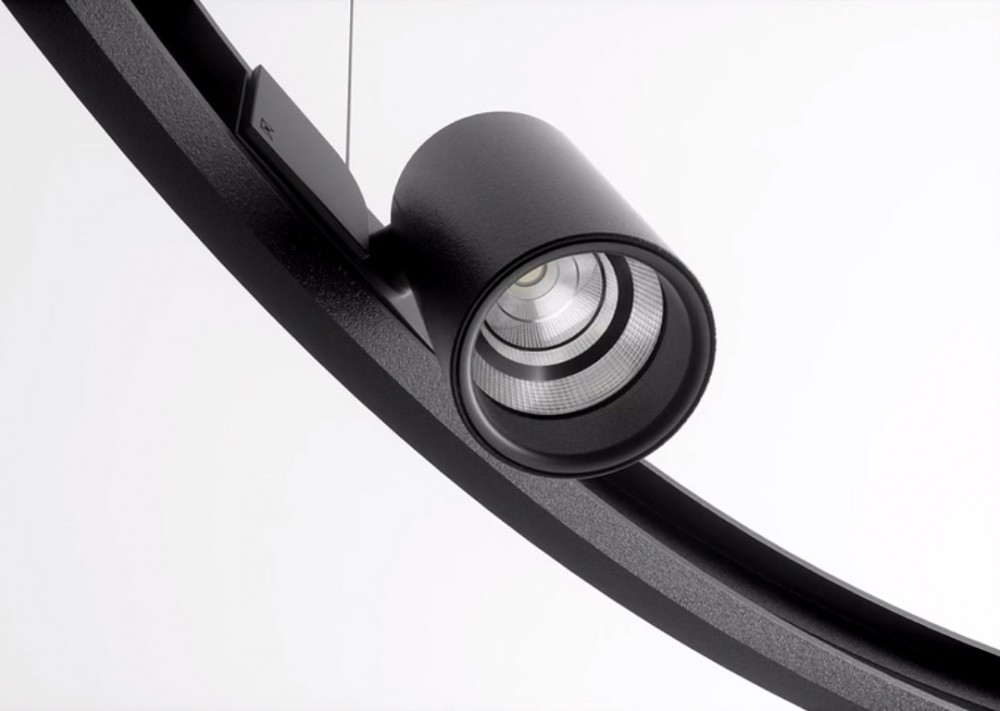 Superloop track lighting systems provide versatile, adaptable lighting for purposes such as illumination of artwork, accentuation of merchandise, and emphasis of distinctive architectural features. The fixture comes in square versions (600mm x 600mm, 900mm x 900mm), rectangular versions (1100mm x 250mm, 1700mm x 250mm), and circular Superloops with diameters from 700mm up to 1700mm. This modular, universal lighting solution makes differentiation and zoning simpler in shops, showrooms, studios, restaurants and bars. The aluminum track systems integrate 48V low voltage electrical conductors for communicating electrical current to the luminaires held within the fixtures. A revolutionary plug and play system allows field mounting of modular LED luminaires. Adjustable aiming with 355° rotation and 90° tilt lets you direct light where it is needed. An array of spot modules are available, be it as adjustable accent lighting (Spy, Vizir, Hedra) or as fixed modules with down or bidirectional lighting. The spotlight modules are available in a variety of lumen packages and beam angles. The Spy Focus spots come with an adjustable beam design which allows the luminaire to emanate in light distributions between 11° and 44° by simply rotating the front ring.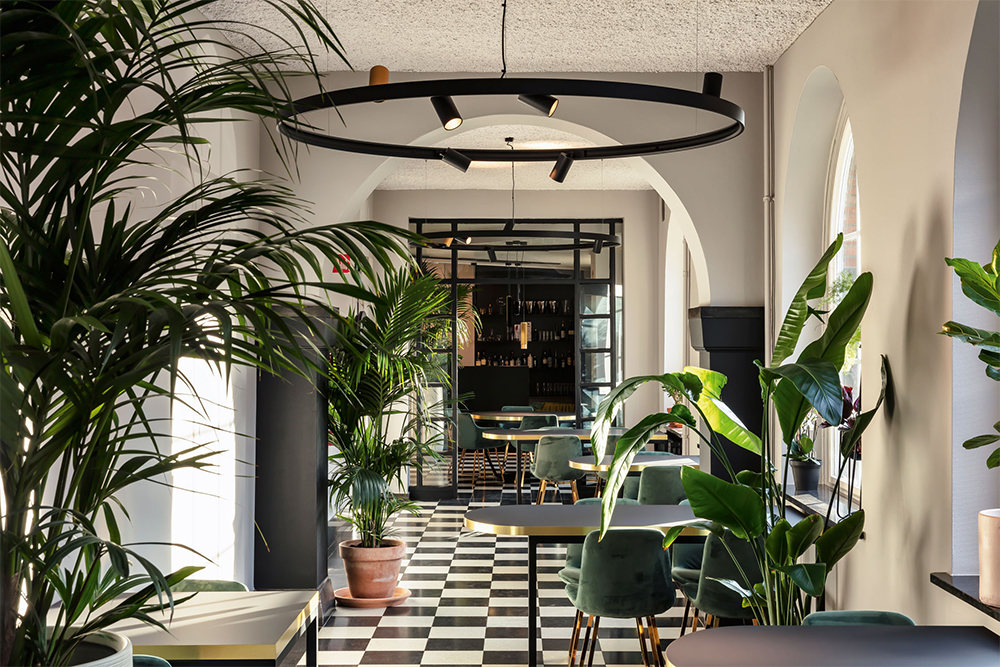 Incorporating state-of-the-art LED technology in a compelling design, Superloop provides a low maintenance, long lasting, and energy efficient lighting solution that is not only highly aesthetical in visual appearance, but also offers high quality illumination with versatile photometric performance for any room layout. The diffuse illumination loops are equipped with flexible LED tapes which deliver high efficacy illumination. The LED tape features a heavy copper board core that offers excellent bending stability and thermal conductivity while helping maintain voltage over the length of the entire run for uniform illumination. The aluminum profile provides efficient heat dissipation for the LEDs and thus prevents the LEDs from thermal-induced color shift and lumen depreciation. The directional spotlights are built with aluminum housing that effectively routes heat away from the LED junction. High efficiency optics deliver intense CBCP for spot distributions and exceptional unformity for floodlighting.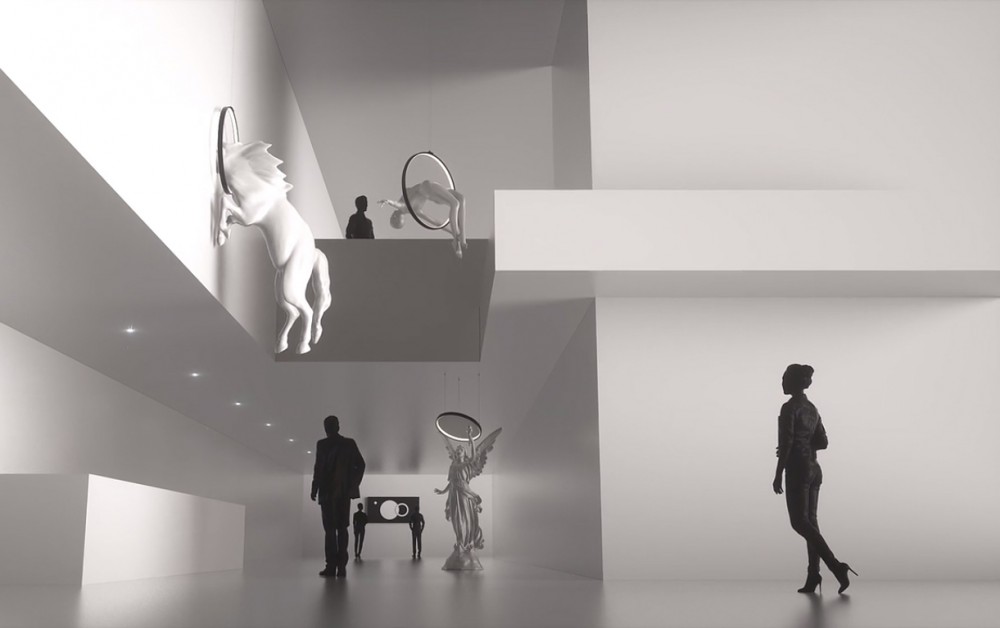 The diffuse illumination loop fixtures are powered by a ceiling mounted power supply box that accommodates utility power input. Both the horizontally and vertically mounted track light fixtures offer a choice between power supply box and separate 48V power supply. The 2-wire conductor in the curved or rectangular Superloops creates a closed 48V circuit that not only drives a variable number of luminaires, but also works with a 48V dimmable modulator for DALI, 1-10V or touch dimming. Dimming can also be done wirelessly using a Bluetooth modulator, based on CTRL Delta, a wireless control solution that enables user to control and manage a selection of light fixtures via smartphones or tablets. The combination of Superloop-Spy SOFT with the dimmable modulator allows for dim-to-warm operation which provides smooth dimming on the warm side of the scale.
Superloop exhibits high attention to detail and quality, making a lasting impression. All Superloop housings are rolled out of an extruded aluminum profile and seamlessly welded together to create a smooth look. The fixture is finished off with a black, white, gold or bronze finish which is appealing to the eyes. Superloops can be hung using steel cables or steel rods through one fixation point or multiple suspension points.