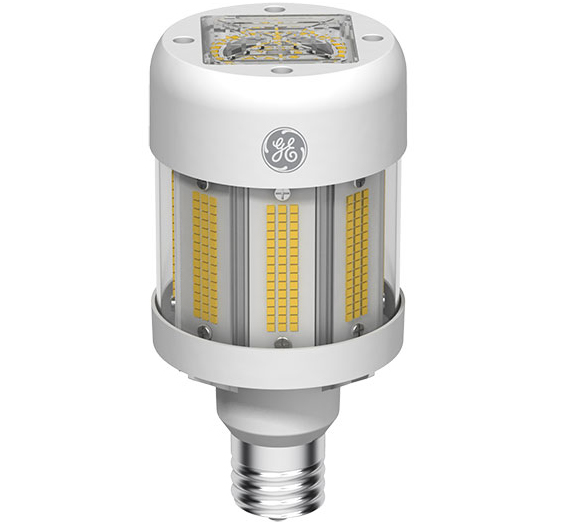 GE LED retrofit bulbs are a high ROI, long lasting and maintenance-free solution to replace traditional high intensity discharge (HID) lamps easily and operatively. HID lamps, e.g., metal halide (MH) or high pressure sodium (HPS) lamps, are arc-type emitters which produce light by passing an electric arc through a gaseous mixture of vaporized mercury and metal salts. Maxwellian distribution of the energy of electrons/ions in a plasma prohibits efficient use of input energy to excite the metal atoms to the quantum states necessary to produce visible light. In HID lamps, only about 20% of input energy is converted to useful light radiation. The negative flipside of HID lamps is further underlay by their short operating life, long start-up and hot restrike times, poor color rendering, ultraviolet light emission, fragility, and environmental concerns with the disposal of such bulbs, in particular due to the use of mercury.
GE high output LED bulbs have been engineered in every way possible to accommodate the latest technology while providing a solution to retrofit existing HID fixtures with the lowest cost possible. These corn-style bulbs work correctly within the existing electrical form factor of legacy light fixtures and provide incomparable parameters such as: lifespan, efficiency, brightness, and light quality. In other words, these LED replacement bulbs bring the energy efficiency and long lifetime benefits of LED lighting to technologically obsolete light fixtures. A low initial investment delivers instant savings, fast paybacks and long-term high return. GE LED replacement bulbs are a one-of-a-kind choice to revitalize your outdated lighting systems, including parking garage fixtures, high bay and low bay warehouse fixtures, exterior wall packs, post tops, shoe box fixtures, walkway lights, etc.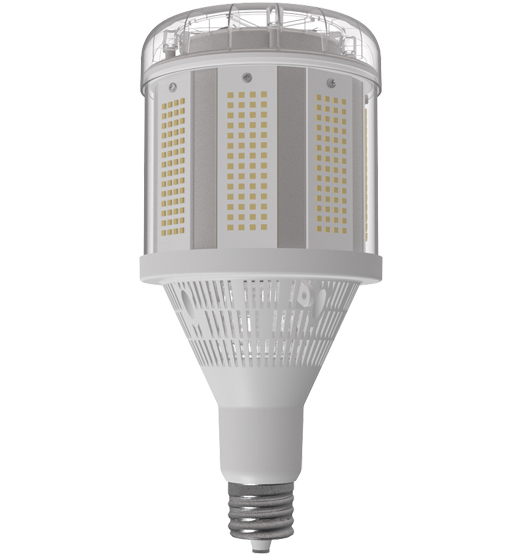 GE Lighting offers the retrofit lighting market both UL Type A and UL Type B LED bulbs. The UL Type A LED retrofit bulbs, which are offered in 175W, 250W and 400W HID replacements, are ballast-compatible LED lamps that allow the simplest installation process. These bulbs are a truly plug-and-play light retrofit solution requiring no electrical or structural modification of the existing HID fixture. Available in a choice of HID replacements including 50W, 70W, 100W, 175W, 250W, 400W, and 1000W, the UL Type B LED retrofit bulbs are ballast-bypass LED lamps which are powered directly from the main voltage supplied to the existing HID fixture and involve electrical modification to the existing fixture in order to connect the LED bulb to the power supply.
Although the UL Type B bulbs require a certified electrician to do the rewiring work and will incur extra labor cost, we strongly suggest to upgrade your fixtures with this type of LED bulbs. The lifetime of a UL Type A solution is limited as it is dependent not only on the design life of the LED bulb, but also on the HID ballast life. When an old ballast fails, a new ballast will have to be installed in order to keep the ballast-compatible LED lamps working. Also, compatibility with various HID ballasts on the market may vary. The GE Type A lamps are compatible with ANSI ballast type M59, M135 and M155, but do not work on reactor or electronic ballasts. All these lead to complicated maintenance and generate additional cost that will preponderate over the initial installation cost savings by changeover to the UL Type A lamps, especially when there is a large quantity of fixtures throughout a facility. On the contrary, the UL Type B AC mains-operable LED bulb does not require a ballast to operate. From energy saving point of view, the UL Type B is inherently more efficient than UL Type A because the latter operates on a ballast which constantly draws power as long as it connects to the AC power, even when the UL Type A LED bulbs are dead or not installed.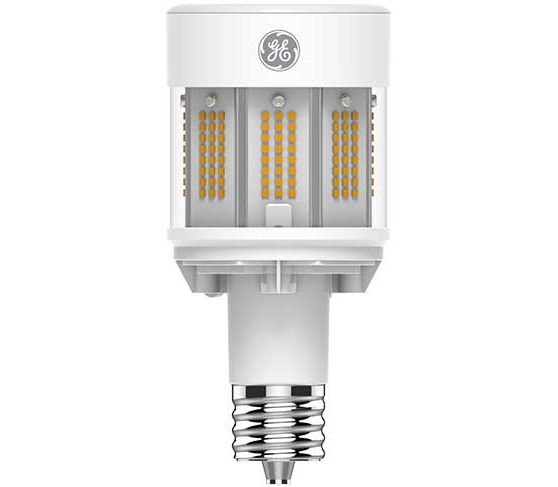 Both GE UL Type A and Type B LED corn bulbs are self-ballasted and require no external drivers. They're designed to match HID ANSI profile and have the same 360° llight distribution as well as E26 medium base or E39 mogul base of the HID bulbs. GE LED corn bulbs put out a staggering amount of lumens and a high system level efficacy of up to 144 LPW. High efficiency operation enables the retrofitted fixtures to meet strict energy codes and be qualified to receive possible utility company rebates and tax incentives in the United States. With 60% energy savings over comparable HID lamps and 50,000 hours of rated life (L70) that lasts 2.5X longer than HID (20,000 hours), GE LED corn bulbs offer a superior payback. For example, the 450W GE LED replacement bulb produces a light output of 65,000 lumens which are equivalent to that of a standard 1,075 watt HID lamp system (1000W lamp and 75W ballast). This LED bulb will deliver saves $3,437 in energy costs over the rated life of the lamp vs. the 1075W HID lamp based on $0.11 per kWh electricity cost.
GE LED retrofit bulbs are rated for use in either enclosed or open fixtures and suitable for both indoor and outdoor applications in -4°F to 122°F (-20°C to 50°C) ambient conditions. Available in 4000K and 5000K color temperatures, and a minimum 70 CRI, the LED bulb delivers consistent light output with excellent lumen maintenance and chromaticity stability thanks to exceptional thermal engineering. The high wattage LED bulbs feature active cooling technology and passive thermal management to keep the LED junction temperature below the maximum acceptable value. Linear LED modules are attached onto a heat sink constructed with a plurality of internal fins which enhance the radiative and convective heat dissipation. A built-in cooling fan with 50,000-hour rated life (B10) provides convective heat transfer to draw thermal energy out of the internal chamber.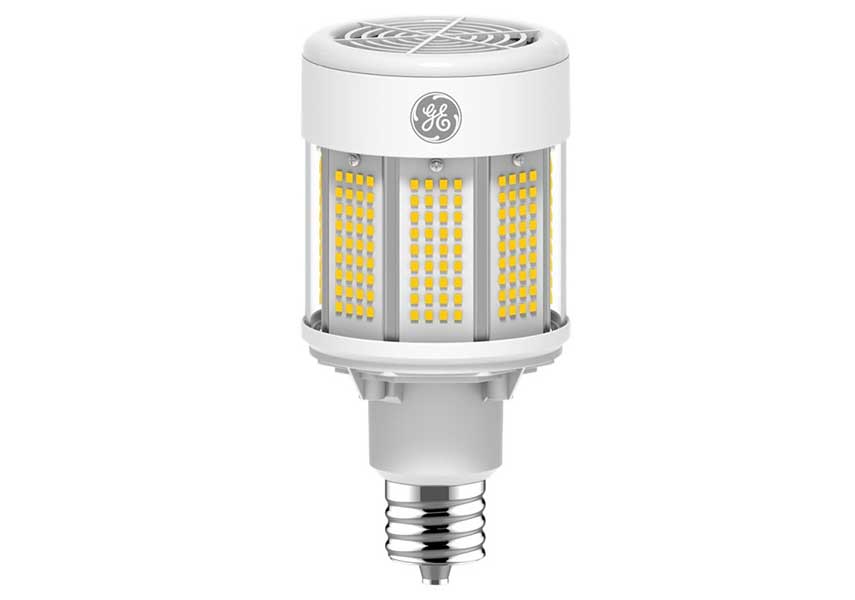 The LED retrofit bulbs run off of the universal voltage of 120V-277V except for the 1000W LED replacement bulb which operates on the 277V-480V input. The LED driver housed within a hollow region of the heat sink includes a bridge rectifier which has a plurality of diodes for delivering a rectified voltage. A buck circuit is connected to the bridge rectifier for lowering the rectifier DC output to a desired DC output for LEDs. The driver circuit has PFC/voltage regulation capacitors that improve the luminous efficacy of the LEDs and reduce output ripple. The driver maintains accurate current regulation that ensures optimal lighting performance over the entire lifetime of LED modules. The driver with internal fuse provides integrated surge protection up to 6kV.
GE LED retrofit bulbs are backed by a five-year warranty. Tether, support kit, and in-line fuse are included. These lamps are non-dimmable. Most of the UL Type B models are DLC qualified. This line of products additionally has a UL Damp Location rating. All lamps are compliant with material restriction requirements of RoHS.