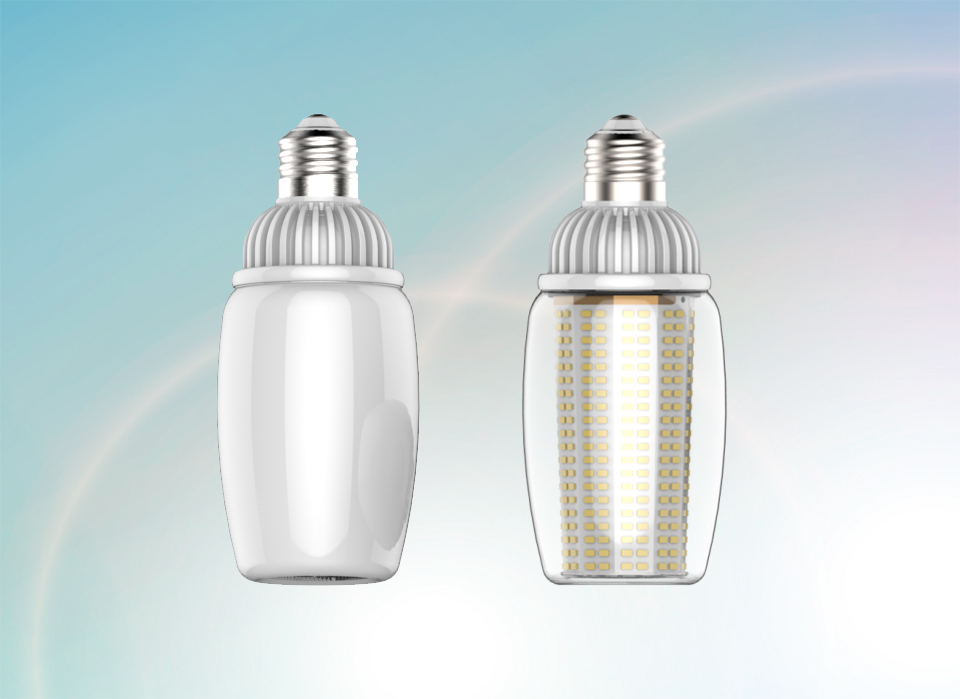 Designed to fit in existing high-intensity discharge (HID) fixtures in area and street light applications, the
IcePipe Omni OB and OBB series
high output LED bulbs use significantly less wattage to deliver lumens comparable to energy-draining legacy lamp sources. These high wattage LED replacement bulbs are intended for retrofitting E26/E27 medium base and E39/E40 mogul base light fixtures which are previously illuminated by mercury vapor, metal halide (MH), high pressure sodium (HPS), or compact fluorescent light bulbs. With a low initial investment and hassle-free installation, Omni LED bulbs deliver instant savings in electricity bills by as much as 80% and virtually eliminate lamp replacement cycles with their incredibly long lifespan.
The Omni H/O bulb family offers an array of wattages to choose from between 18W and 100W with lumen packages ranging from 1,620 to 14,500. Featuring a
color rendering index (CRI)
of 83, these LED bulbs shine omni-directionally at a beam angle of 330 degrees in either daylight 5700K or warm white 3000K. Its optical design emulates the light center and distribution pattern of an HID bulb and delivers uniform light distribution throughout the coverage area. The clear lens enables maximum light output while the frosted diffusion lens conceals LEDs and softens the glow for maximum visual comfort. Omni LED bulbs can be mounted horizontally or vertically in pole or wall mounted fixtures to provide energy efficient lighting for building perimeters, parking lots, pathways, walkways, parks and pedestrian areas.
For a powerful, efficient and long lasting solution that easily integrates energy saving
LED technology
into totally enclosed post top, wall pack, flood light, shoebox and cobra head fixtures, look no further than this high performance LED bulb which is rated for operation in ambient temperatures up to 122° F. Patented passive cooling with active temperature control allows the high power LED bulb to remain fully operational with excellent lumen maintenance and chromaticity stability for an exceptionally long period, beyond the specified 50,000 hours. An innovatively engineered heat sink draws heat away from the thermally-sensitive LED packages at significantly high efficiency with a heat transfer rate of 40,000 KW/m2 ·˚C while delivering a substantially lower component weight than a conventional passive thermal managment system. The ceramic coated aluminum pipe system weighs only 1/5 - 1/20 of what an aluminum heat sink weighs yet provides 130% higher heat dissipation capacity. Combined with forced convection cooling that utilizes fans to increase heat transfer from the heat sink to the ambient, the LED junction temperature is invariably kept below the maximum acceptable limit.
The self-ballasted
high output LED bulb
outshines the competition with an industry-leading system efficacy of up to 153 lm/W. The
high flux density LEDs
are operated by an integrated driver that provides high efficiency power conversion. The non-dimmable, constant current LED driver supports AC 100 - 277V or AC 90 - 305V operation with a high power factor (PF > 0.96) and low total harmonic distortion (THD < 15% ) through the entire load range. The driver circuitry uses long-life, high temperature resistant electrolytic capacitor to smooth out the large output current ripple delivered to the load. High quality output with superior power factor correction and minimal line current distortion enables the Omni to achieve a high luminous efficacy, extended LED life as well as excellent quality of light with lowest flicker values.
Cutting edge thermal engineering, along with proprietary, robust
LED driver circuitry
having built-in overvoltage and overcurrent protection, contributes to great dependability and long life of this high power HID retrofit solution. Its high lumen output, exceptional efficacy and field upgradability make the IcePipe Omni LED bulbs an ideal solution to facilitate the transition into the forefront of
LED lighting
at the lowest
retrofit
cost among all available solutions.