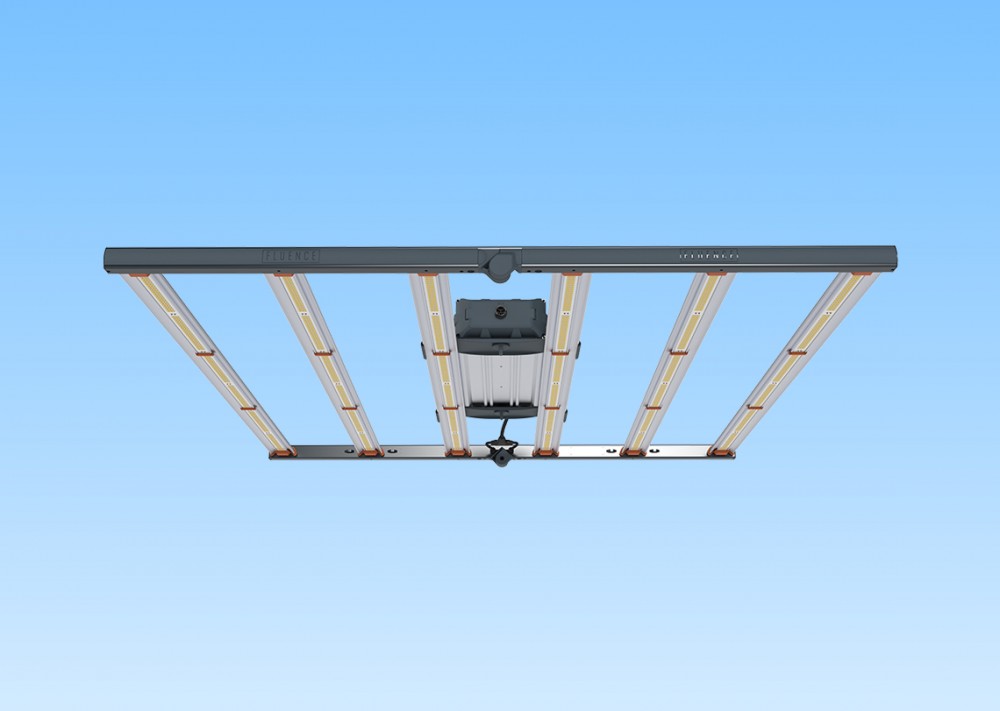 The
Fluence SPYDR Series
LED grow lights are designed for controlled environment agriculture (CEA) applications requiring efficient, precise, and uniform levels of photosynthetic flux density (PPFD). Tailored for growing plants from propagation to harvest (germination, clones/cuttings, mothers, vegetative and flowering applications), these full cycle
horticulture lights
deliver high photosynthetic photon flux (PPF) in the wavelengths suited for all phases of plant growth and production. Proven in commercial growing facilities, the SPYDR Series is ideal for both single and multi-tier applications which include vertical farms, growth cambers, tissue culture laboratories, tables with adjustable aisles, and tents.
The SPYDR Series includes three lighting systems: the SPYDR 2p, SPYDRx and SPYDRx PLUS. SPYDRx is a full-cycle top-lighting solution catering to residential applications without CO2 supplementation. It is also developed for commercial cannabis cultivation with targeted wavelengths for vegetation and early bloom growth stages. SPYDRx PLUS is designed for full-cycle commercial cannabis cultivation in close-proximity CEA and vertically structured farming environments with optimal photosynthesis at ambient atmospheric CO2 levels between 800-1400 ppm. SPYDR 2p which builds on the previous generation's SPYDRx PLUS performance is a high PPF top-lighting solution for full-cycle, close-proximity cultivation of cannabis cultivation, with the power to scale from vegetative growth to higher light intensities in bloom. All these fixtures are designed to cover a 4'x4' area at only 6 inches above canopy.
Scientifically engineered as a complete solution to deliver all the proven
benefits of LED technology
to the horticulture industry, the SPYDR Series
horticultural lights
boast cutting edge thermal and mechanical designs for a level of performance, efficacy, deployability, and reliability unparalleled in the niche world of horticultural lighting. With a low profile aluminum alloy chassis optimized for vertical growing applications, the SPYDR Series minimizes the total system's footprint that enables cultivators to deploy effortlessly in any commercial-scale environment while maximizing volumetric area for plant growth in vertical stacking applications. The foldable light fixture with an array of parallel mounted 1.4 inch thin ultra-low aluminum profiles creates a more uniform distribution of photosynthetic photon flux density to each plant and delivers higher crop yields per square foot of plant canopy. The aluminum profiles are adequately dimensioned to effectively dissipate heat generated at the LED junction, thereby preventing degradation of materials utilized in the LED, such as phosphor or encapsulate, for guaranteed excellence in PPF maintenance and system reliability.
SPYDR uses state-of-the-art, energy efficient and spectrally optimized LEDs to create a powerful stream of light for in-depth penetration into plants. These high PPFD
horticultural LEDs
deliver high PAR (photosynthetically active radiation) values and exceptional optical emission uniformity. With power input from a
constant current LED driver
which has best-in-class AC/DC power conversion efficiency, the SPYDR Series effectively converts energy into photosynthetic photon flux and achieves a system efficacy of typically 2.5 micromoles/Joule (µmols/J). The SPYDRx, SPYDRx PLUS and SPYDR 2p produce a photon flux (PF) of 810, 1530 and 1580 µmol/s while consuming 330, 660 and 632 watts of power respectively.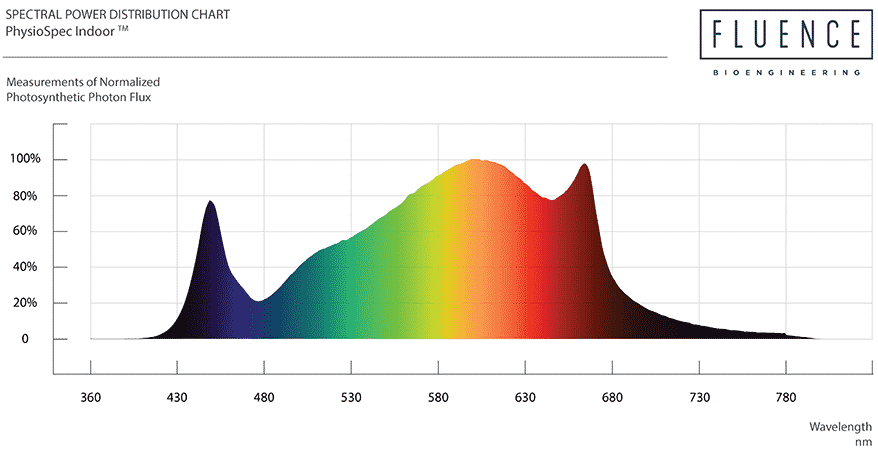 The full spectrum LEDs emit precise wavelengths and color for superior photosynthetic response to obtain greater yield, increased crop quality and consistent growth. Fluence Bioengineering utilizes proprietary phosphor technology to create an advanced LED solution. The PhysioSpec Indoor LED spectrum delivers an ideal mix of colors in the light that perfectly matches the chlorophyll absorption peaks for intense photosynthesis. An optimized ratio of chlorophyll A and chlorophyll B concentration ensures maximum plant growth. The specially designed wavelength formula delivers spectra throughout the photosynthetically active region. In addition the 450 nm and 660 nm photosynthetic peaks, the spectrum includes wavelength bands that provide strong influences on other key photoreceptors and pigments. Phytochrome pigments regulate seed germination, root development, stem growth, photosynthetic structuring, tuber and bulb formation, leaf building, flowering (photoperiodism) and fruit production. The cryptochromes are involved in mediating a variety of light responses, including pigment synthesis, germination of seeds, elongation of seedlings, photoperiodism (circadian rhythm), enzyme synthesis, and the size, shape and number of leaves.
With a
high color rendering index
of 85, PhysioSpec Indoor offers a beautiful work and research environment with vivid colors and enables easy and safe observation and assessment of the plant growth. As opposed to metal halide and high pressure sodium lamps,
LEDs
produce virtually no radiant heat towards the plants. This feature allows the
LED grow lights
to produce maximum PAR photon irradiance at close proximity to plant canopy without burning the leaves, while also improving space utilization.
The SPYDR Series is operated by a remotely mountable LED driver which accommodate an autosensing 100-277V input. 347V, 400V and 480V power supplies are available for the SPYDR 2p models. The
constant current LED driver
produces tight line and load regulation with high efficiency, high power factor and low harmonic distortion through the entire load range. The dimmable driver can be controlled from a variety of commercially available 0-10V low voltage dimming controls. Smooth 0-100% dimming makes it possible for precise control over PPFD, maintaining a high coefficient of utilization (CU) by increasing light-use efficiency, and offering flexibility to instantly accommodate a new crop with varying light requirements.
The light fixtures are built to withstand watering and nutrient dispersal in the harshest cultivation environments. They come with an IP66 ingress protection rating and are UL1598 wet-location rated. The power and dimming cables are equipped with push-lock connectors that enable quick and easy connection with a light push while still retaining their IP66 wet-location rating. The SPYDR Series LED grow lights offer great installation flexibility with a choice of mounting hardware, including short V mounting brackets, long V mounting brackets, solid decking mounts, lance hangers, and adjustable suspension kit.