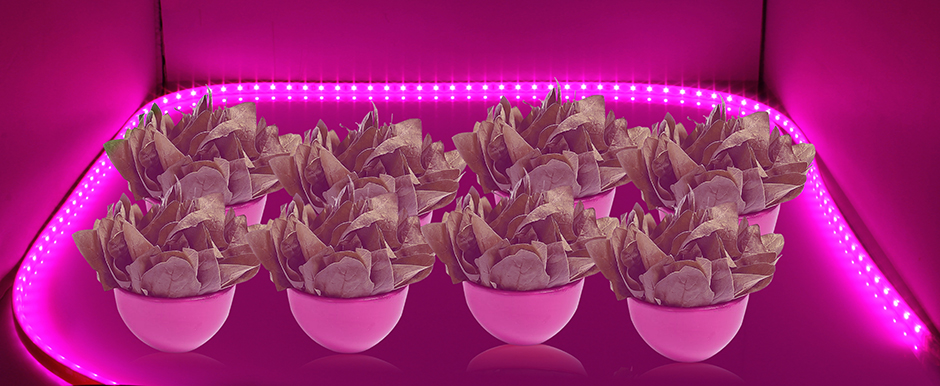 Surmountor SUR-2835FSP60-24V full spectrum LED strip lights produce a blend of full spectrum light in the Photosynthetically Active Radiation (PAR) region to ensure fast, full plant growth. The LED grow lights has an optimized spectrum that maximizes the most needed wavelengths of light to promote photosynthesis and plant growth. The full spectrum light not only targets the blue and red portions of the PAR region that perfectly match the chlorophyll absorption peaks, but also significantly increases the rate of photosynthesis with the addition of small amount of green light. Balanced photosystem stimulation allows for efficient photosynthesis and deep canopy penetration. The presence of green light also contributes to a visually acceptable spectrum of a horticulture lighting system with improved color rendering, which enables growers to effectively monitor plant development and makes accurate visual assessment.
The small footprint, flexible linear lights offer a horticultural lighting solution that can be integrated into a vast array of toplighting and interlighting projects for small scale, full cycle grows. The ability to make sharp turns around corners and conform to curved or irregular mounting surface makes it a good choice for installations in space-constrained grow rooms, grow containers, growth chambers and vertically stacked layers. Unlike conventional horticultural light fixtures require dedicated electrical wiring and additional spaces to accommodate the lights, Surmountor LED strip lights offer simple installation and can fit in even the smallest of mounting spaces. With high density mounting and continuous row illumination, SUR-2835FSP60-24V LED grow light strips provide uniform spectral distribution throughout the entire installation. The extremely uniform levels of PPFD across an entire canopy assist in yielding consistent, highest quality crops.
Surmountor's linear growth lighting solution leverages the company's engineering depth to offer a number of benefits that LED technology delivers to the horticulture industry. The light strips incorporate 60 spectrally optimized 2835 LED packages per meter to produce high PAR values with superior light utilization and color uniformity. Proprietary phosphor coatings generate the precise PAR spectrum with higher conversion efficiency, better color stability, and improved thermal performance for guaranteed long lifetime and minimal light output depreciation. The SMD LED packages are reflow soldered to a 2-ounce 10mm wide rolled-annealed copper PCB to disperse heat effectively while offering excellent bending stability.
The flexible LED strip is silicone sleeved to IP67 rating for complete protection against water immersion as well as water spray in any direction. The unique properties of the silicone molecule offer the waterproofing extrusion high optical transmission across a broad spectrum. The chemically inert polymer does not yellow over time. Its flexibility, malleability and temperature resistance are superior to other waterproofing materials such as PVC, PU and TPU.
Product features
Full spectrum output for both the vegetative growth and flowering cycles.
Optimized spectrum for efficient photosynthesis and deep canopy penetration.
Flexible linear strip lighting offers installation flexibility.
Slim design minimizes fixture weight and mounting space.
Doplighting and interlighting applications with excellent light uniformity.
Energy efficient, high photosynthetic photon flux (PPF) 2835 SMD LEDs.
Flexible PCB board made of double layer rolled-annealed (RA) copper with high ductility and high thermal conductivity.
Cuttable every 100mm or in segments of 6 LED nodes.
Silicon encapsulated for IP67 level watertight integrity.