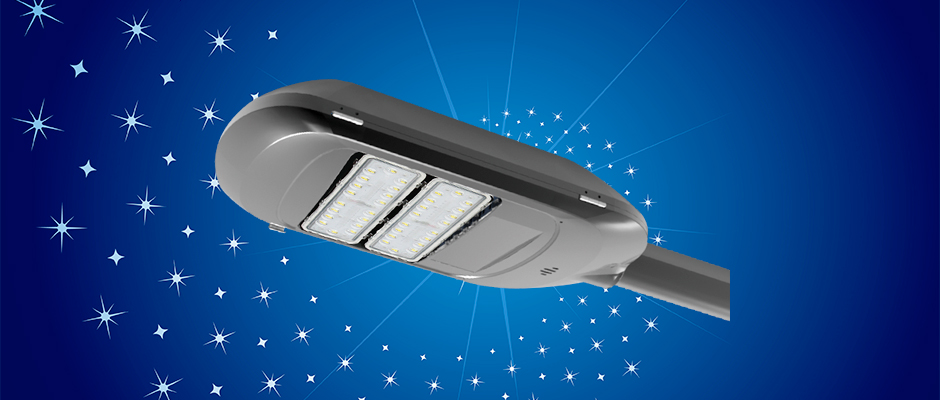 The T1B Series LED street lights from HPWINNER are available in 40W, 50W, 60W, 80W, 100W and 120W models, with lumen output ranging from 4,600 lm to 13,200 lm (standard efficacy version) or from 6,200 lm to 18,000 lm (premium efficacy version). Equipped with exceptional HPWINNER modular LED light engines to provide superior performance and dependable efficiency in a scalable architecture, T1B will meld seamlessly into any retrofit or new construction roadway lighting project.
The T1B Series is assembled with a variable combination of HPWINNER M1A, M2A, or M8B light engines to provide dozens of customizations and options that can be implemented without much hassle. Modular LED platform delivers flexibility to change over photometric distribution as per application requirements. Injection-molded optics provide IESNA Type I, Type II, Type III, Type IV and Type VS distributions with accurate coverage and excellent uniformity. The unique features of the light modules allow for great serviceability, ease of maintenance and effortless upgrades to future LED generations.
T1B modular LED engines incorporate LUXEON flip-chip LEDs to simultaneously achieve superior efficacy, color reproduction and color consistency. Direct bonding of LED chip onto a metallized ceramic substrate eliminates the possibility of electrical open circuit due to broken wire bonds inside the package and provides a highly efficient thermal conduction path to dissipate heat from the LED junction. Power serialization prevents catastrophic failures of entire modules in the event of an electrical short of single or multiple LED chips.
The fundamental architecture of T1B provides advanced passive thermal management which enables low junction temperatures at the chip level, thereby resulting in excellent system reliability and efficiency. Modular heat sinks of lighting engines are architecturally wedged with the luminaire housing to provide systematic thermal conduction for the LED chips. The honey comb thermal ventilation design dramatically increases the convective heat transfer coefficient, thereby ensuring superior cooling by natural air flow pattern.
The optical assemblies of T1B feature an IP68 rated ingress protection to block the penetration of water and environmental contaminants. An UV-stabilized, impact-resistant lens is sealed to the MCPCB with a double-lock coupling silicone gasket. Tool-less entry with a hinged door provides convenient access to the drivers and terminal block.
Product features at a glance
Scalable and modular design allows for a myriad of customizations and configurations
Lumileds LUXEON 3030 LEDs provide high lumen density and luminous efficacy.
Flip chip LED packaging for a higher efficiency thermal path and less proneness to open circuit failure
Power serialization prevents catastrophic failures of LED strings upon an electrical short of single or multiple LED chips.
Screwless gasketing between optical lens and LED array provides the highest ingress protection against water and environmental contaminants.
Integrated thermal conduction through a wedge design that provides a thermal link between light engines and luminaire housing
Honeycomb flow-through ventilation, facilitating convective heat transfer.
Precision engineered TIR optics ensure uniform photometric distribution patterns and maximum spacing's between columns
Waterproof Inventronics LED driver with accurate LED current matching capability and maximum level of circuit protection
Integral 10kV/5kA surge suppression protection.
TGIC polyester powder coating for excellent salt and corrosion resistance
Tool less access, hassle-free field maintenance and effortless luminaire upgrades.