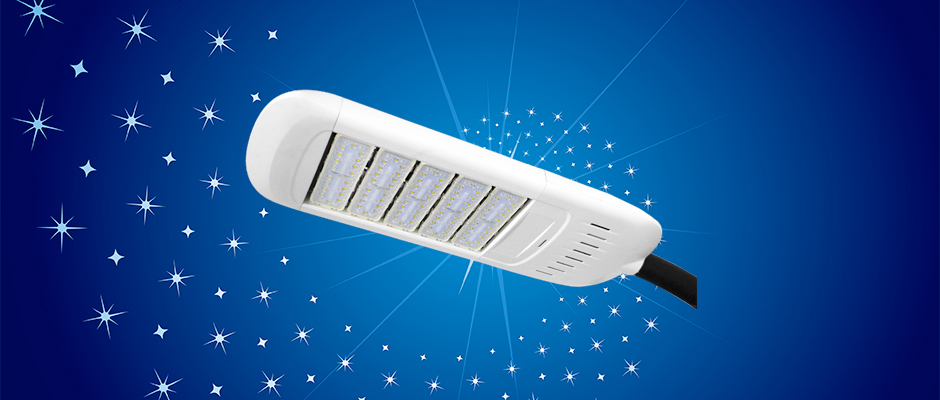 The HPWINNER T11A Series offers a comprehensive modular family of
roadway lighting solutions
that provide outstanding performance and competitive ROIs to meet various application standards and market requirements. By providing industry-leading efficacies and reliability for years of maintenance-free, energy efficient operation, the T11A gives DOT project owners, municipalities and utility customers the opportunity to address the most stringent standards of performance and efficiency codes with impressive operational benefits.
T11A Series LED street lights are available in a wide selection of standard or premium efficacy models, ranging from 40 watts to 350 watts, with lumen output from 4,600 lm to 40,250 lm (standard efficacy version) or from 6,200 lm to 54,250 lm (premium efficacy version). Modular design accommodates different application lumen requirements, provides ease of maintenance and enables effortless upgrades in the future. Customized secondary optics produce IESNA Type I, Type II, Type III, Type IV and Type VS distributions, offering exceptional coverage and uniformity with minimal light trespass and light pollution.
T11A Series LED luminaires incorporate HPWINNER's core technological innovation, modular LED light engines, to facilitate great product design and application flexibility in addition to superior photometric performance, thermal management and mechanical integrity. HPWINNER's future proof LED light engines utilize Lumiled's flip chip technology which attaches the LED chip directly to a metallized ceramic substrate for enhanced thermal performance, while eliminating the concerns of open-circuit failure typically associated with conventional packaging technologies that use gold bonding wires. Patented power serialization ensures the failure of a single LED will not affect the operation of other LEDs in the circuit. These compact high flux density light sources deliver a breakthrough combination of consistently high lumen output and efficacy in a small footprint.
The ceramic-based LUXEON LEDs are mounted on a thermally efficient MCPCB and overmolded with a highly durable double-lock coupling silicone gasket to shield the LED array from the environment. The screwless sealing technology blocks potential vapor penetration through the screw holes that frequently occurs in conventional screw-in type optical lens assemblies. Unique ingress protection design offers the highest level of watertight integrity. T11A Series LED street lights that incorporate these IP68 rated light engines can survive a long time water immersion test and have a proven track record for reliable operation in wet environments.
T11A embraces an integrated thermal design utilizing both convection and conduction methodology for optimum heat transmission and thermal performance. Die cast, finned aluminum heat sinks of modular LED engines feature a high thermal coefficient and efficiently transfer thermal energy from the LED junction into the surrounding ambient air. These highly engineered heat sinks include integral cast flutes designed to mechanically interlock and thermally interface with the aluminum ridges of luminaire housings, thus enhancing the thermal connection between the LED engines and the structure upon which the LED engines are mounted. T11A is uniquely configured to provide superior air convection by taking advantage of honeycomb effects to facilitate the vertical air flow.
T11A is equipped with a constant current Inventronics LED driver that provides high performance regulation over a wide range of operating conditions. The efficient and intelligent LED drivers combine sensing and control capabilities to maximize system reliability and enhance lighting management. The Inventronics drivers have a built-in a surge protection module (SPD) to withstand 10kV/5kA of transient line surge.
Product features at a glance
Scalable and modular design allows for a myriad of customizations and facilitates future technology upgrade.
High lumen density Lumileds LUXEON LEDs deliver long L70 lifetimes at both high temperature and drive current.
Flip-chip packaging technology eliminates weak bonding between the electrode and the substrate.
Power serialization prevents catastrophic failures of LED strings upon an electrical short of single or multiple LED chips.
Wedge interlocking design integrates thermal heat sinking between the LED modules and heavy duty aluminum housing.
Aerodynamic vents accelerate natural air flow and convective cooling.
Screwless gasketing between optical lens and LED array provides the highest ingress protection against water and environmental contaminants.
Precision engineered TIR optics ensure uniform photometric distribution patterns and maximum spacing's between columns.
High power factor Inventronics LED driver with accurate LED current matching capability and maximum level of circuit protection.
Integral 10kV/5kA surge suppression protection against common (line-to-ground) and differential (line-to-line) mode surges.
TGIC polyester powder coating provides excellent salt and humidity resistance.
Tool-less entry for easy installation and field maintenance.