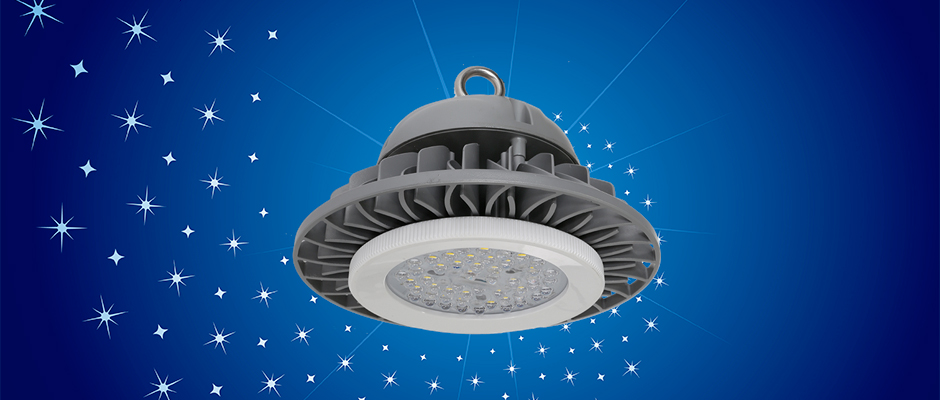 The TF9 Series
LED high bay lights
are built on a modular LED platform which has been developed by HPWINNER to maximize both performance and reliability while facilitating ease of maintenance and future technology upgrade. This product family is engineered to handle all application challenges typical found in industrial facilities, warehouses and logistics centers, without compromising on light quality, energy efficiency and operation life. Featuring a rugged construction, weathertight design and thermally efficient architecture, the TF9 range provides reliable and durable protection against rust and water penetration, vibration and mechanical impacts as well as performance degradation in high ambient temperatures.
The innovations of TF9 LED high hay lights revolve around HPWINNER's M15 series LED engines. The highly engineered LED module integrates top-tier LED technology, patented optical engineering and excellent heat sinking design to deliver superior optical performance and system reliability. The ceramic-based LEDs with optimized thermal and electrical paths radically lower thermal resistance for dependable high drive current system performance and eliminate risks of open circuits. A highly reflective solder mask around the anode and cathode pads maximizes chip-level total light output. An MCPCB that incorporates a high thermal conductivity dielectric layer provides an excellent combination of thermal performance, electrical breakdown strength, and the solder joint performance. Wiring the LEDs in series enables the system to be exempt from catastrophic failures of entire modules in the event of an electrical short of single or multiple LED chips.
The LED array is overmolded with a high efficiency, heat resistant and UV stabilized optical lens to enhance light extraction, provide uniform photometric distribution, and shield the chip array from dust ingress and rain/water invasion from any direction. A double-lock coupling silicone gasket screwlessly seals the lens with LED assembly for accurate optical alignment. The screwless sealing completely blocks the water penetration path that typically exists in conventional optical assemblies which use screws to fix the optical lenses, giving the optical engine the highest ingress protection (IP68) in its class.
A wedge structure interlocks the modular heat sink and aluminum luminaire frame. This design provides the structural strength to resist vibration and ensures an integrated thermal path to systematically conduct the heat away from LED junction to the ambient air. Unique flow-through vents created by the innovatively designed aerodynamic vertical fins accelerate natural air flow through the die cast aluminum heatsink of the luminaire.
The TF9 LED high bay lights are available in a range between 50 and 200 watts. The luminaire delivers system level efficacies of up to 150 LPW. The TF9 range is operated by a high efficiency Inventronics driver which is mounted in a separate compartment for dust and water resistance.