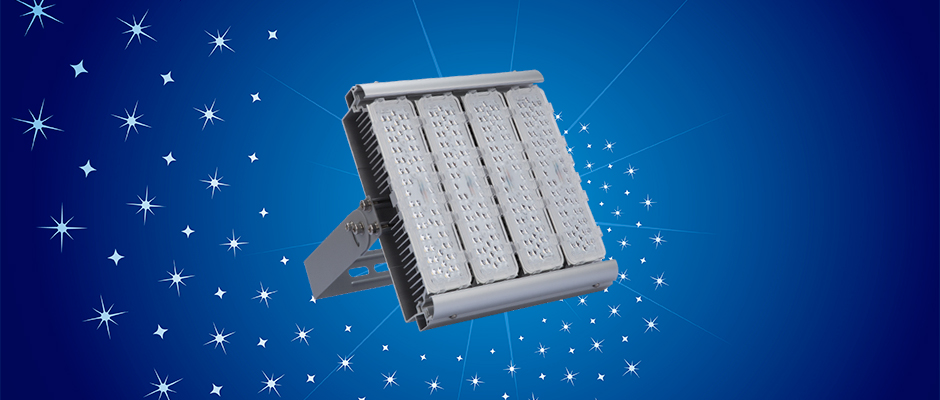 The HPWINNER FL2H Series
LED flood lights
provide solutions for a wide variety of lighting projects including architectural floodlighting, landscape lighting, public lighting, residential security lighting, area and street lighting. FL2H is offered in a variety of wattages, lumen packages, optical distributions and mounting options to provide maximum flexibility in all small, medium and large scale area or surface lighting applications. The FL2H range combines cutting edge LED technology with a future-proof scalability that is sure to complement any budget conscious projects without sacrificing quality and performance.
FL2H is a robust and flexible system, comprised of self-contained, highly weatherproofing modular light engines, delivering exceptional lighting performance and long-term system reliability, while allowing variability in both lumen delivery and light distributions. The modular configuration allows the FL2H Series to be scaled from 40 watts to 480 watts in power consumption and from 4,600 lm to 72,000 lm in lumen output. HPWINNER's LED modules are highly engineered optical assemblies that deliver high efficacy and high flux density with tight beam control. These light engines utilize high flux-density chip scale packages from Lumileds to ensure high packing density on an MCPCB. The chip level optimization of thermal path results in a high light extraction efficiency at high current density, offering real world luminous efficacy and operating reliability. An IP67 rated waterproof Inventronics driver accurately regulates LED current under wide temperature and electrical ranges, while improving power efficiency, system reliability and cost/performance.
The integrated LED modules provide precise optical control for the floodlighting system with their highly functional optics. Available in a range of flood and spot optical distributions (12°, 25°, 40°, 60°, 90°, 110°, 110x40° beam angles), the injection-molded optical lenses maximize optical efficiency and application spacing while ensuring beam uniformity. These UV-, heat- and impact-resistant lenses are tightly sealed to LED boards with HPWINNER's proprietary screwless double-lock coupling silicone gasketing technology, protecting these robust light engines with the highest ingress protection rating (IP68). This unique design sets FL2H apart from other outdoor light fixtures and provides unrivaled reliability that is critical for demanding outdoor applications.
FL2H integrates thermal heat sinking between the LED modules and heavy duty aluminum housing to maximize the performance and reliability of critical components. The pass-through heat sink design provides optimal air ventilation for convective cooling and reduces wind load to minimize safety risks of pole mounted lighting. The aluminum surfaces of FL2H are electrostatically applied with a super durable polyester powder coat finish for lasting durability. FL2H come standard with a stainless steel swivel bracket with +/-60° rotation for easy angle adjustment. Other mounting accessories include slipfitters, adjustable arms, yoke mounts, and wall mounts.
Product features at a glance
Modular LED system for simple installation and ease of maintenance.
High lumen density Lumileds LUXEON LEDs featuring high efficacy at high drive current.
Flip-chip packaging technology eliminates weak bonding between the electrode and the substrate.
Serial LED wiring prevents catastrophic malfunction of LED strings upon an electrical short of single or multiple LED chips.
Integrated thermal conduction through wedge interlocking mechanism.
Aerodynamic vents increase the convection heat transfer coefficient.
Optical assembly hermetically sealed for IP68 ingress rating using double-lock coupling silicone gaskets.
Injection molded reflective optics optimize application efficiency and minimize glare.
High efficiency constant current Inventronics LED driver with 91% driver efficiency.
10kV/5kA surge protection per IEEE / ANSI C62.41.2
Thermoset TGIC polyester powder coating provides optimal color and gloss retention.