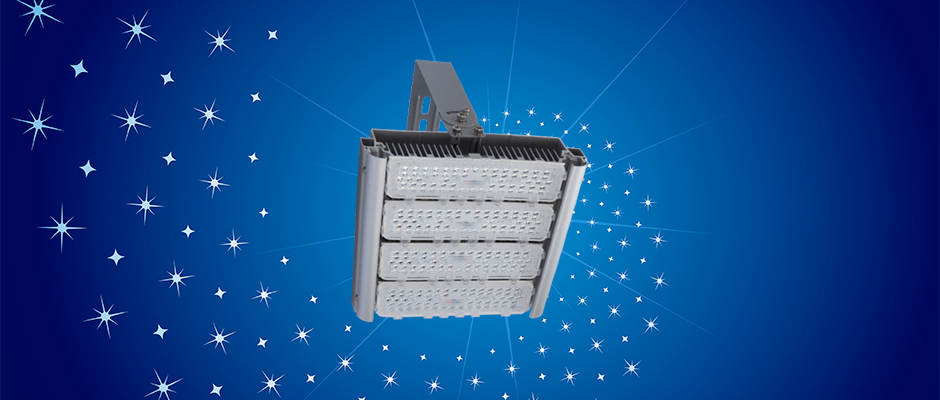 The TF2H Series LED high bay lights leverage HPWINNER's core technological innovation in modular LED lighting that systematically integrates the company's engineering talents across all critical fields - optical design, thermal management, electrical and mechanical engineering. The versatile TF2H LED high bay boasts a modular platform which enables luminaires to be individually configured to customer-specific lighting requirements. The result is the uttermost design flexibility for lighting contractors and the maximum performance at the lowest possible cost that an end-user expects to have.
TF2H high bay luminaires incorporate the very latest chip scale packaging technology to eliminate the weak wire bonding between the electrode and the substrate. The correspondingly improved thermal path and electrical reliability allow the LUXEON LED to operate at much higher current density than a typical high power LED grown on wire-bonded substrates, without degrading the light output efficiency and reducing the life of the LED. The LED ceramic submounts are soldered to an aluminum MCPCB with a redundantly matched coefficient of thermal expansion (CTE) for an effective conduction of the heat generated within the LED chip to the integral heatsink of the LED module.
The
modular LED high bay light
features an integrated thermal transfer mechanism to route the heat away from LED junction to the entire structure. The self-contained LED modules are designed with high efficiency die cast heat sinks that are adequately dimensioned and thermodynamically optimized for enclosed applications. They are mechanically wedged and thermally interfaced to the aluminum beams of the luminaire housing. In this way the heat sinking of the LED modules and luminaire housing are integrated, resulting in a consolidated thermal path. The heat sinks with aerodynamic fin shapes and vertically ventilated flow-through luminaire structure collaboratively maximize air flow to facilitate convection cooling.
The modular design enables TF2H to be scaled from 40 watts to 400 watts with initial delivered lumens ranging from 5,200 lm to 72,000 lm. With excellent efficiency maintained over a wide range of operating conditions by Inventronics divers and high transmittance reflective optics, TF2H strikes an industry-leading efficacy of up to 160 lm/W. The optics of TF2H are offered with 12°, 25°, 40°, 60°, 90°, 110°, and 110x40° beam angles. These precision-molded optical lenses maximize the luminous flux output from the LUXEON LEDs while providing uniform light distribution.
TF2H is a truly waterproof high bay luminaire with the use of IP68 rated optical assemblies and IP67 rated LED drivers. By leveraging HPWINNER's double-lock coupling silicone gasketing technology, the modular optical engines are protected from total dust ingress and can operate in long term immersion environments. The waterproof Inventronics drivers are mounted in a thermally and structurally isolated stainless steel enclosure for weather tight operation in any dusty and wet locations.
Product features at a glance
Modular construction allows for great serviceability and upgradability.
Chip scale packaging Lumileds LUXEON LEDs deliver high efficacy and flux at high current density.
Improved chip-level thermal path and electrical reliability.
Power serialization prevents modular catastrophic failures in the event of an electrical short of single or multiple LED chips.
Wedge interlocking mechanism integrates thermal heat sinking between the LED modules and heavy duty aluminum housing.
Aerodynamic vents maximize air flow to facilitate convection cooling.
Optical assembly hermetically sealed for IP68 watertight integrity using double-lock coupling silicone gaskets.
Precision engineered optics provide exceptional uniformity and vertical illumination without glare.
High efficiency Inventronics LED driver with overcurrent, short-circuit, overvoltage and overtemperature protections.
Thermoset TGIC polyester powder coatings formulated for optimal color and gloss retention.