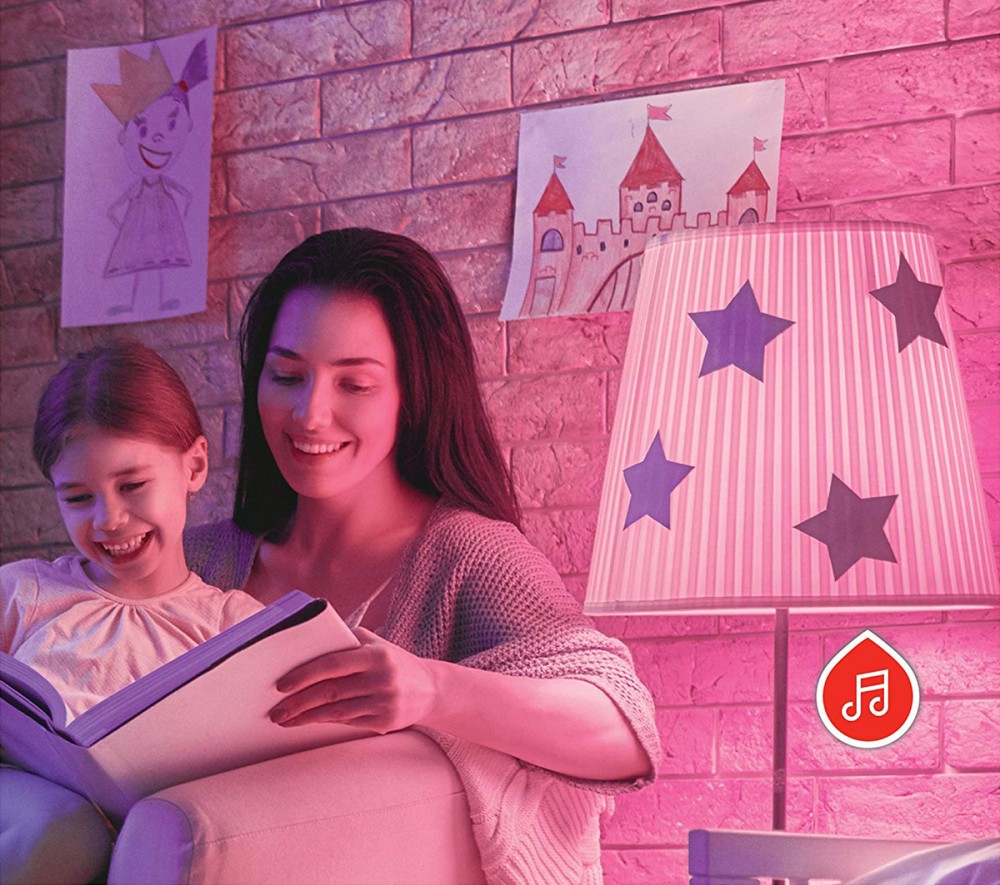 Sengled Solo Color Plus is a color-changing Bluetooth speaker bulb which combines a color palette of over 16 million color options with a high-quality audio speaker. The
smartphone controlled smart LED bulb
offers an infinitely variable selection of light schemes that correspond to the beat of music. Solo Color Plus makes it easy to sync sound and light to suit a variety of occasions and moods, whether it is to pump up your party with vibrant dynamic lighting or soothe your night with soft music and calming shades in the bed and bathroom after a long day of work. You can play your favorite music straight away and customize color, volume and brightness – from any Bluetooth-compatible device using the free Sengled Pulse app.
Sengled Solo Color Plus LED bulbs incorporate RGB LEDs with each color delivering 256 intensity levels, which translate to a full 16.7 million true and 24 bit color changing effects. Advanced optical engineering provides a very precise color mixing and homogenous light output with no striations or color separation. Extra-wide beam angle of 280° ensures omni-directional light spread from the socket base in all directions. A built-in 1.58-inch high-fidelity Bluetooth speaker fills any room with rich audio and brings premium sound experience with high volume, rich and deep bass effect. The Bluetooth module for audio speaker operates to BT 3.0 and BLE 4.0 specifications and supports a host of Bluetooth profiles such as EDR, A2DP, GAP, and GATT, etc. The 4-dBm Bluetooth module operates at frequencies between 160 Hz and 20 kHz with a range of 10 meters or 33 feet. An integral driver provides high efficiency load regulation and accepts a universal power input range of 100 to 240 VAC at 50/60Hz.
Connect to Bluetooth from your iOS and Android devices, install the Sengled Pulse app and enjoy customizable music and light. The intuitive app gives you the convenience of adjusting the volume, brightness and color settings from the palm of your hand. You can use the app to pick from 16 million colors or select from 5 pre-loaded dynamic light modes to watch changing colors dance to the beat of the music. Launch your favorite media app and play your favorite saved or streamed audio from Pandora, Spotify, Netflix and more directly from the Pulse mobile app. Solo Color Plus can also be connected to Amazon Alexa and add as a Bluetooth speaker to conveniently control music on/off with your voice.
Sengled guarantees its products to deliver consistent performance and lifetime reliability with sophisticated system integration. A thermally conductive construction provides substantial volumetric thermal capacity which ensures the system's ability to draw heat away from the LED junction. The high quality RGBW LEDs have a rated service life of 25,000 hours during which no efficiency degradation and premature failure will occur. Patented thermal management design also reduce thermal impact on driver electronics and audio speakers for excellent long term reliability of these components.
Product features
Use the app to pick from 16 million colors or select preset lighting modes to add an extra level of entertainment.
Wirelessly stream your favorite music, broadcast and other audio from Bluetooth-enabled devices.
Control music on/off from the app or with Amazon Alexa voice control.
Fall asleep gently with soft music and relaxing light by using the App's sleep assistant.
Designed with quality components, the LED bulb delivers extreme efficiency, long service life and color brilliance.
Excellent thermal management ensures a lifetime of system reliability and optimal performance.
High-fidelity loudspeakers provide premier sound experience.