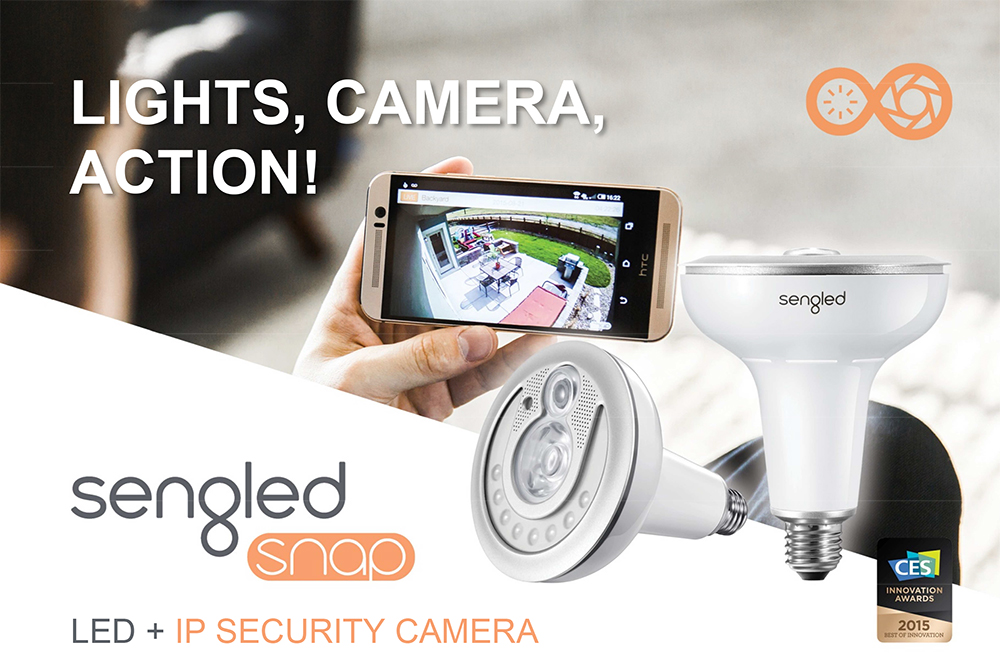 Sengled Snap combines a wireless HD camera with energy-efficient LED lighting to provide a high-performance, easy-to-install, low-maintenance, dependable and reliable security lighting solution that gives you peace of mind with remote control convenience. The PAR38 security floodlight bulb provides continuous video surveillance with a 140-degree wide-angle FOV through the mobile app. The value-packed product provides superior security integrating sustainable LED lighting, high-quality video streaming and recording, night vision, motion alerts, cloud storage and 2-way intercom functionality in compact, weatherproof package. Whether you are at work, playing in the park or away on vacation, Snap captures unexpected events, sends real-time alerts and allows you to respond instantly.
The feature-rich Snap PAR38 LED bulb delivers impressive intelligence, superior brightness, significant energy savings and long lasting performance to make the most of your indoor and outdoor living spaces. Specifically designed to facilitate a home's transition into the cutting edge
smart LED lighting
, the security light effectively integrates engineering excellence in lighting, electronics and IoT. The LED directional bulb produces 850 lumens of light at a color temperature of 3000 Kelvins. Precision designed optics and high quality LED packages allow Snap to project a focused 36° beam that creates a pool of light with the intensity and color rendering required for facial identification. An ultra-wide HD camera inside the weatherproof bulb housing provides 1080P (1920x1080 maximum) resolution at full frame rate. The 1/2.7″ progressive scan CMOS sensor offers accurate color rendition through a wide variety of lighting conditions. The integrated IR-LED lighting provides long range night vision. A built-in speaker and microphone supports two-way audio.
Sengled Snap is equipped with an 802.11a/b/g/n radio that connects to 2.4 GHz and 5 GHz network, allowing you to stream the camera feed live on your mobile device and store recorded footage in the cloud. The 2.4 GHz network is recommended by the manufacturer as it provides a longer range and penetrates wall better for outdoor setup. Snap requires robust Wi-Fi signal strength (-65 dBM min.) and sufficient upload bandwidth for live video streaming (1 mbps for 720p streaming and 2 mbps for 1080p streaming). All Snap audio and video are transferred with 128-bit Advanced Encryption Security (AES) encryption. Snap only works with WiFi routers that support WPA or WPA2 for wireless network security and cannot connect to unsecured wireless networks that don't require passwords. Networks WEP encryption are also not supported.
To set up features such as on/off light switching, motion alerts, night vision, schedules and cloud storage download the Snap app from the iTunes App Store for iOS devices or from Google Play for Android devices. The free Sengled Snap app allows you to watch live 1080p video and access recorded cloud videos from anywhere. The two-way intercom enables you to start live conversations with the delivery man or other uninvited people. However, the standalone device does support If This Then That (IFTTT) applets, as well as Amazon Alexa and Google Home voice commands. Sengled offers free 24-hour cloud storage. Optional 2, 7, and 30-day subscription plans are available for an additional monthly fee. The paid program allows the user to create up to 3 motion zones and receive alerts when motion is detected within designated zones. Human detection is another feature available to cloud storage subscribers.
With superior mechanical engineering and thermal management Sengled Snap delivers exceptional reliability and functionality throughout the bulb's long, 25,000-hour rated life span. Patented thermal design ensures adequate heat sinking to keep the LED junction temperature lower while reducing thermal impact on other sensitive components. Sengled Snap comes with an IP54 rated housing that protects the bulb from water spray from any direction, making it an ideal choice for use in locations where water spray may be present. The LED bulb is powered by a high efficiency LED driver that has outputs accurately matched to the electrical characteristics of the array of LEDs.
Product features
WiFi security camera with nighttime visibility.
Live streaming, motion alerts, scheduling and 2-way intercom via the app.
Free 24-hour cloud storage, optional 2, 7, and 30-day subscription plans.
Motion detection & intelligent alerts.
High efficacy LEDs with excellent lumen maintenance and chromaticity stability.
Exceptional thermal management maximizes reliability and longevity.
IP54 rated housing, shatter resistant construction.