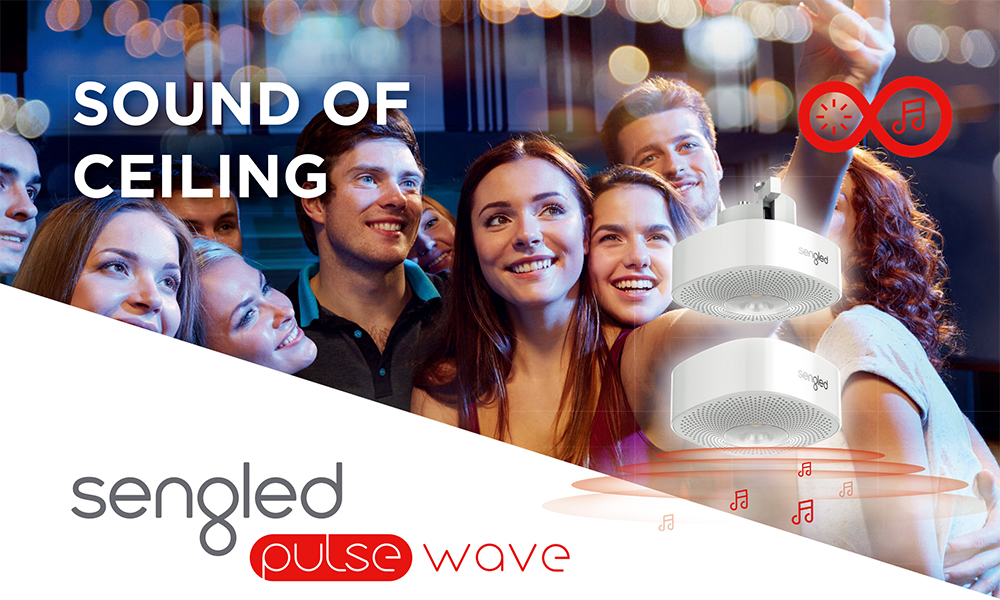 Sengled Pulse Wave is a smart Bluetooth downlight that delivers endless pleasure of light and sound. The smart LED downlight utilizes the latest LED technology to light up any living space with superb energy effi¬ciency and dependable long life performance. A built-in JBL Bluetooth speaker brings premium sound experience to your home. Whether it's in your kitchen, dining room, bedroom, living room, study room, corridor, or office, just pair the downlight with you smart devices, you can enjoy the convenience and leisure which Pulse Wave offers. With Pulse Wave, you can adjust brightness to customize lighting and suit your mood or stream effortlessly your favorite music, broadcast and other audio.
The Pulse Wave family consists of two models: Pulse Wave Master and Pulse Wave Satellite. The Master downlight is what your iOS or Android devices connect to via Bluetooth to control lighting and music for the whole system. Satellite downlights are connected to Pulse Wave Master and operate to the control commands sent from the Master downlight. The Master downlight receives the signals entered by a user and sends them along to the individual satellites. A Master downlight can sync up to 7 Satellite downlights. The Satellite downlights can also be connected to a Sengled Pulse Link adapter which can support both Bluetooth connection as well as input from a 3.5mm auxiliary cable. Through the Pulse Link adapter audio signals from your TV, computer or media player can be transmitted wirelessly to all Satellite downlights. Using a Pulse Amp subwoofer adapter you can connect a subwoofer and add bass to the Pulse Link system.
The Pulse app allows you to automate hard-to-reach fixtures. The iOS/Android mobile app gives you complete control of light intensity, sound volume, and audio equalizer modes. The intuitive app offers you the ability to customize light and sound parameters independently for individual or whole groups of lamps. You can even build a multi-channel audio system by assigning a left or right audio channel to each downlight in the system. Pulse Wave works flawlessly with all apps that allow audio to be transferred via Bluetooth. Launch your favorite media apps such as Pandora, Spotify and Netflix directly from the Pulse mobile app. Stream the media directly to Pulse Wave and enjoy the rich stereo sound of JBL speakers combined with warm, dimmable lighting.
Pulse Wave downlights are available in surface mount and recessed versions. The LED downlight incorporates cutting edge lighting technology, premium components, thoughtful engineering and architecturally sensitive aesthetics. Integrating Cree or Nichia LED arrays which delivers high efficacy and high reliability in a thermally optimized package, Pulse Wave provides spectacular light output with low power consumption. The 8W LED module produces 500 lumens of high quality light with maximum visual comfort. Precision optical control allows Pulse Wave to deliver efficient light on target (36° beam pattern). Superior thermal management eliminates potential risks associated with excessive heat build-up in the LED junction and within the electronic circuits of driver, audio speaker and other electronic components. Pulse Wave is equipped with a constant current diver that provides excellent load regulation with low total harmonic distortion (THD) and a high power factor (PF) across the entire universal input voltage range of 100 to 240 VAC at 50/60Hz.
Product features
Clean aesthetics complement contemporary lighting design.
Wirelessly connection to any Bluetooth-enabled phone, tablet or PC up to 30 feet away.
Intuitive app offers seamless control controls light/sound intensity and audio equalizer modes.
Compatible with all music streaming apps hat allow audio to be transferred via Bluetooth.
Hi-Fi 13 watt JBL Bluetooth loudspeakers provide premium sound experience.
Easily pair up to 8 lamps for a multi-channel audio system to create full surround sound.
High efficacy, long life LEDs deliver superior quality of light.
Excellent thermal management ensures consistently optimal performance and prevent premature failures.
Supports the Bluetooth v2.1 specification along with Enhanced Data Rate (EDR).