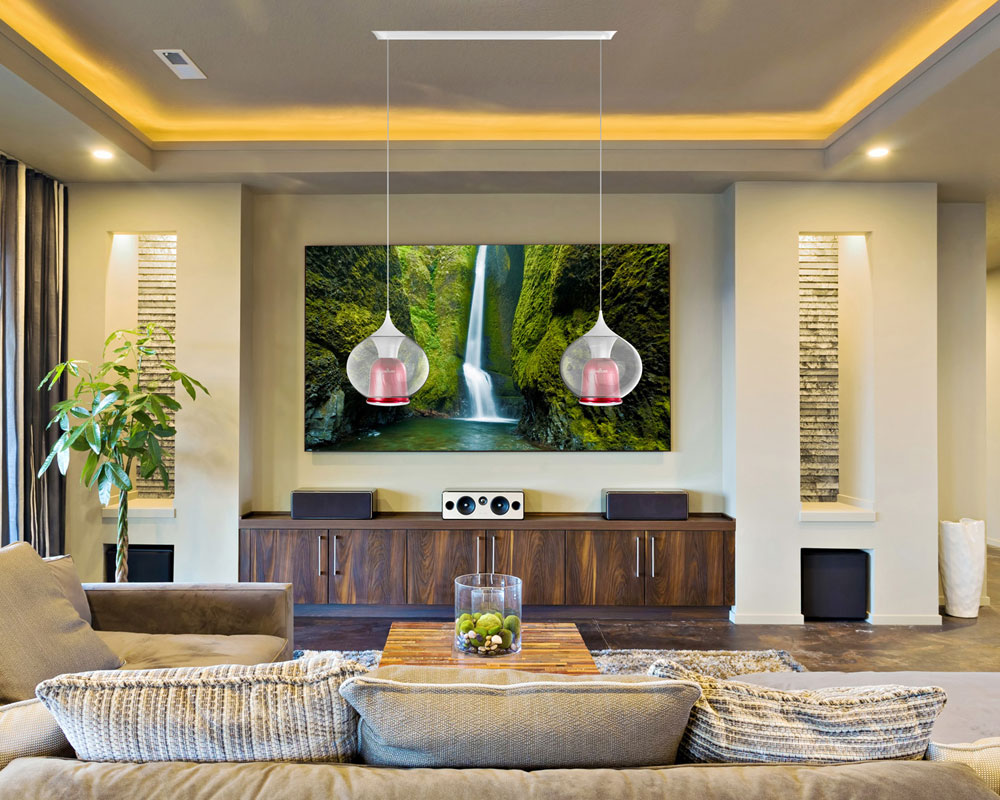 Turn your everyday lighting into an extraordinary experience with Pulse, a
smart LED light bulb
that combines the energy efficiency of solid state lighting with the high-quality audio of a JBL Bluetooth speaker. The LED speaker bulbs are designed to provide you a premier home entertainment experience you can easily control with a free app on any Bluetooth enabled device, including your iPhone, iPad, or iPod touch. The BR30 bulb offers you the convenience of customizing your light with warm, dimmable lighting. Enjoy your favorite streamed music or media while illuminating your house with a perfect ambiance that is effortlessly set with a touch of your fingertips. The bulb fits best in 5" or 6" standard E26/27 base lighting fixtures and recessed cans.
The Pulse LED speaker bulbs include Master bulbs and Satellite bulbs which combine to form an integrated lighting and sound system. The Pulse Master handles the command and control signals that are communicated through a Bluetooth device. It also controls and supports up to 7 satellite bulbs (or 6 Satellites and 1 Pulse Amp) so you can enjoy surround sound right out of the box. The Pulse has a built-in 1.75" multi-channel, full-range, high-fidelity JBL loudspeaker with dual light and audio capabilities. The embedded 9.74 dBm Bluetooth module operates in the 5 GHz band without suffering from Bluetooth/Wi-Fi mutual interference and supports the Bluetooth v2.1 specification along with Enhanced Data Rate (EDR). It is compatible with the subset of Bluetooth profiles including A2DR, AVRCP, and SPP. With Bluetooth technology, the bulb is completely wireless without the fuss of speaker wires, dimmer switches, power cords, or an independent remote control.
The intuitive Pulse app which can be downloaded from the iTunes App Store for iOS devices or from Google Play for Android devices gives you complete control over light/sound intensity and audio equalizer modes. The app not only allows you to switch on or off the light, adjust brightness, and control the sound volume, but also works flawlessly with all apps that allow audio to be transferred via your favorite media apps (e.g. Pandora, Spotify, Netflix, Tune In Radio, etc.). The speaker and light can be controlled independently via the Pulse app. The bulbs can be connected to the Echo, Echo Dot, Echo Plus and Echo Show through the Amazon Alexa mobile app as a Bluetooth audio device for music streaming but the lighting and sound volume control features will not work.
The BR30 LED bulb delivers 600 lumens of 80 CRI high quality light using only 8 watts of energy. The white light in a warm color temperature (2700K) creates a relaxing ambience, similar to incandescent. With a rated life up to 25,000 hours and shatter resistant construction, these LED flood bulbs outlast incandescent bulbs. A solid aluminum housing and patented thermal design provide excellent heat dissipation. The temperature at the junction between the diode's positive and negative layers is maintained below the maximum operating temperature to prevent degradation of materials utilized in the LEDs, such as phosphor or encapsulate. The thermal management design does more than simply protecting the light source from accelerated phosphor thermal degradation to maintain consistency in color quality and lumen output. Other electrical components such as the driver as well as the Bluetooth speaker maintain their long-term peak performance without suffering from excessive thermal stress.
Pulse's accessories include a Pulse Link adapter and Pulse Amp adapter. The Pulse Link adapter is designed to connect Pulse bulbs to a TV or AV receiver via a 3.5 mm auxiliary cable and can be paired with up to 7 Satellite bulbs. The Pulse Amp adapter allows you to add a subwoofer to the Pulse sound system for added bass. Using the Pulse app, a left or right audio channel can be assigned to each bulb in the system, making it a true multi-channel audio system that is distributed over multiple speakers.
Product features
Sleek design with pearl white, pewter or candy apple housing finish complements a variety of interior decors.
Wirelessly connection to any Bluetooth-enabled phone, tablet or PC up to 30 feet away.
Intuitive app controls light/sound intensity and audio equalizer modes independently for individual or whole groups of lamps.
Compatible with all music streaming apps. Launch your favorite media apps directly from the Pulse app.
1.75" full-range high-fidelity JBL Bluetooth loudspeakers with surround sound effect.
Easily pair up to 8 bulbs for a more enhanced and balanced sound experience.
High efficacy, long life light source projects a warm glow in a 105º beam spread.
Excellent thermal management prevents performance degradation and premature failures of all critical components.
Supports the Bluetooth v2.1 specification along with Enhanced Data Rate (EDR).