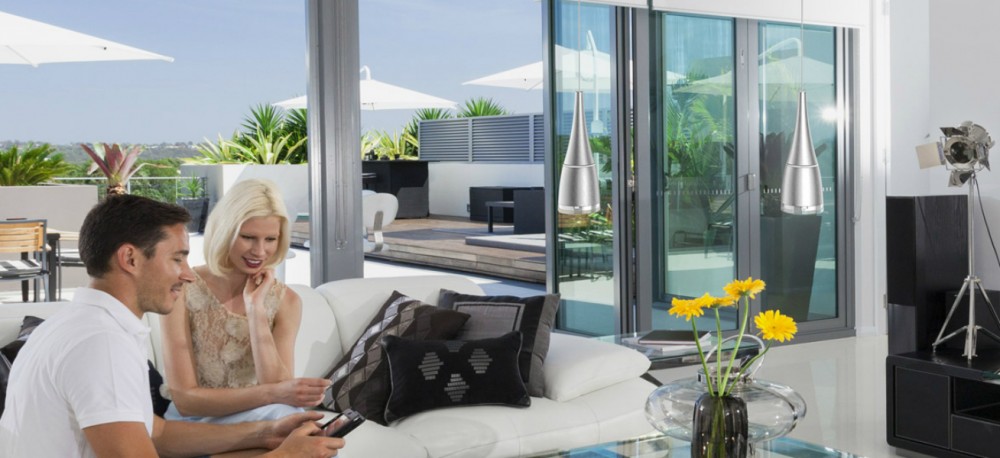 Sengled Pulse Horn + Flex is a smart pendant light that delivers stylish interpretation of the simplicity with sophisticated touches. A harmonious blend of smooth lines with a clean silhouette captures the best attributes of contemporary minimalism. Available in the uber-chic champagne, sliver and white finishes, the stunningly sleek
pendant light
is perfect for accentuating a variety of modern architectural interiors. Sengled Horn's sleek and simple look makes a subtle statement wherever it's installed without detracting from the rest of your carefully styled space. The integration of connected lighting technology which enables high degrees of automated configuration makes Horn + Flex not only a high performance, intricately designed light that delivers lighting and visual value to the interior design, but also lets you enjoy unprecedented convenience and leisure with app-based remote control.
The
pendant light
consists of two parts:
the Pulse Flex smart bulb
and the Horn holder which is custom designed for the bulb. Superb craftsmanship and stylish design in understated simplicity of both the holder and bulb combine to create this contemporary and sparkling pendant. The Flex smart bulb is the essence of this Red Dot Design Award product. The Wi-Fi enabled LED light bulb allows you to enjoy high quality illumination and the high-fidelity stereo in one product with the utter simplicity of installation and operation. The bulb produces 470 lumens of 2700 Kelvin soft white light that is uniformly distributed by a high quality polycarbonate lens precision engineered to provide efficient glare control and maximum visual comfort. The soft pool of light in 100° beam spread is enough to fill your space. The novel integration of a high-quality 1.75" full range JBL loudspeaker allows Flex to fill your room with rich audio. Simply twist or screw the bulbs into the Horn holders and enjoy the endless pleasure of light and sound in your living rooms, bedrooms, dining rooms, and kitchens!
The intuitive Sengled Pulse app offers seamless control of both light and sound. Once the Pulse wireless speaker bulbs are connected to your iOS or Android device you can use the app to independently control the speaker and the light. Turn on/off or dim the light from your phone or tablet without the need to walk to the light switch. Create custom lighting schedules that automate your lighting to suit your lifestyle. Set the sound volume and adjust the audio equalizer modes for a rich and powerful audio experience. Play your favorite saved or streamed audio from Pandora, Spotify, Deezer, or other media directly from the Pulse mobile app. You can also create individually controllable groups with multiple bulbs to create lighting zones and build a multi-room environment that brings you whole home surround sound experience. The Flex is equipped with a dual band 802.11a/b/g/n Wi-Fi radio which offers you robust network connectivity and wide signal coverage.
Excellent electrical, optical and mechanical engineering combined with high quality componentry ensures the long lasting optimal performance and refined appearance of the smart pendant light. The high flux density LEDs deliver high lumen output and high efficacy in thermally optimized packages to achieve a high degree of reliability. Efficient thermal management not only addresses the concern of rapid degradation in lumen output and chromaticity stability, but also ensures that the temperature of all other components is maintained within functional and absolute maximum limits. An integrated
LED driver
accommodates input voltages from 220 to 240 volts AC at 50/60Hz provides high efficiency regulation with outputs matched to the electrical characteristics of the LED module. A high temperature powder coat paint process provides a durable finish with excellent corrosion resistance. Flex is IP43 rated for use in damp locations.
Product features
Sleek minimalist design offers a sophisticated, contemporary look.
Seamless control of light and sound with the iOS/Android app.
Dual band 802.11a/b/g/n Wi-Fi module provides robust network connectivity.
Supports the network standards DLNA and AirPlay, which enables seamless interaction with internet media.
Built-in JBL speaker delivers premium sound experience to your home with high volume and deep bass effect.
High quality LEDs delivers high lumen output and high efficacy with excellent lumen maintenance.
Visually comfortable illumination thanks to exceptional optical control.
Superior thermal engineering ensures system reliability.
Durable, corrosion resistant finish offers years of lasting beauty.