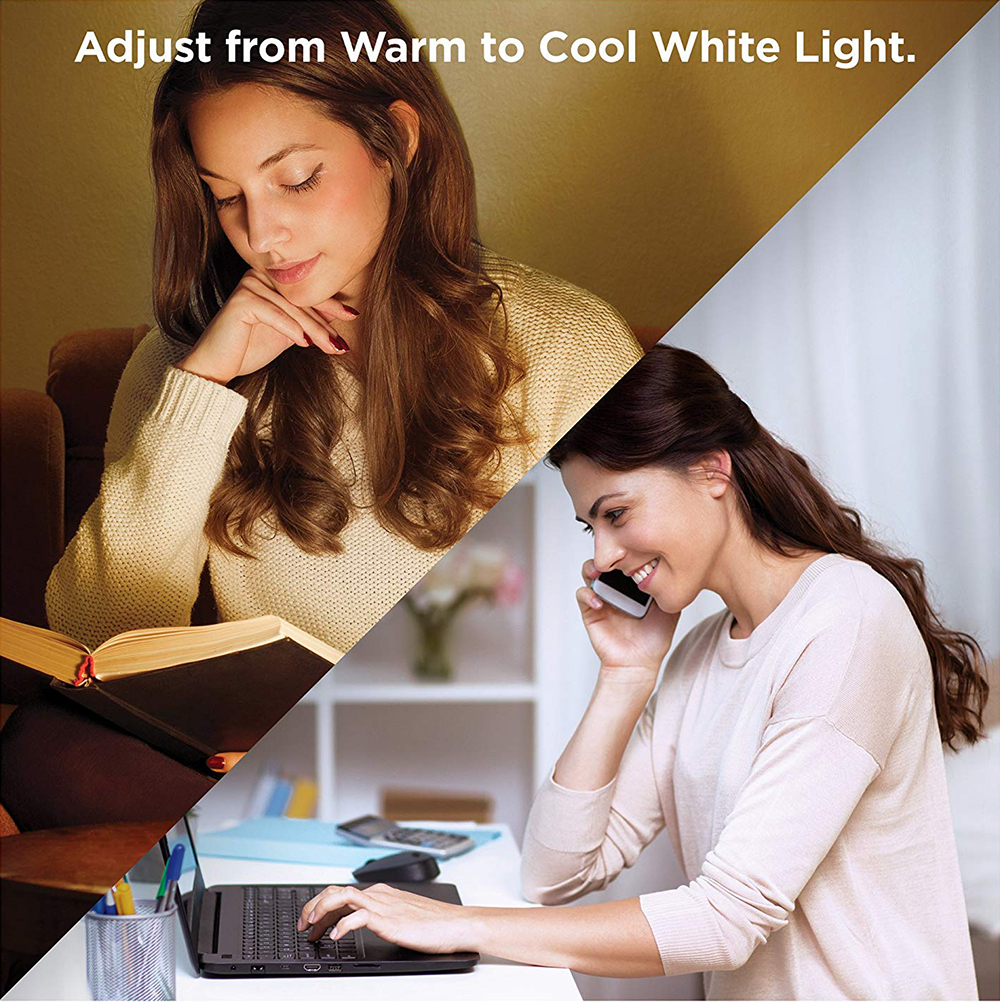 Experience intelligent, connected solutions that deliver adaptable light in a solid state lighting package. Sengled Element Plus
smart LED bulbs
allow users to wirelessly fine-tune the correlated color temperature to the exact requirements of the space and the visual preferences of the building's occupants. Element Plus combines the unmatched energy efficiency and color temperature tuning performance of LED lighting with sophisticated ZigBee network mesh networking technology to offer app-controlled lighting customization with an array of smart lighting features. Set the right ambiance for every occasion and activity, experience guaranteed smooth dimming, or program the lights to turn on and off at chosen times, all from the palm of your hand. The smart bulb can be dimmed by using the Element Home app, a wall dimmer or with voice commands by connecting it to Amazon Alexa.
Sengled Element Plus utilizes a
tunable white LED module
to provide a continuously adjustable range of color temperatures from soft white (2700K) to daylight (6500K). The CCT changes along the black body curve align with the changes seen in the sunlight throughout the day and simulates various real-life environments. The circular LED module consists of an array of high quality Cree or Nichia SMD packages in a range of CCTs. Whether to establish a comforting or relaxing environment with warmer white lighting or to enhance concentration and maximize human productivity with cool or neutral lighting at higher color temperatures, Element Plus enhances your everyday life with perfect shades of white light that correspond closely to human color perception. The LED bulb delivers up to 800 lumens of high quality light while consuming only 9.8 watts. Tight correlated color temperature control ensures lamp-to-lamp consistency in system color point
Sengled Element Plus leverages ZigBee Home Automation 1.2.1 wireless mesh networking protocol to create robust wireless installations with scalability, interoperability, reliability, and energy efficiency. A ZigBee compatible hub is required to pair and control Element Plus smart bulbs. Sengled's Element hub brings your smart home lighting experience to the next level. The Wi-Fi compatible Element hub provides secure, instant access to your system wherever and whenever you need it. Up to 50 Element Plus bulbs can be connected to a single Element hub for whole home lighting that you can tune, dim and schedule - all from the Element Home app. The free Element Home app for iOS or Android lets you create schedules and automations that fit into your daily routine, adjust color temperature from warm to cool white, dim brightness to customize luminance, and track energy use. For hands-free lighting control connect Element Plus bulbs to Amazon Alexa or Google Assistant. These bulbs work perfectly with a variety of smart home platforms and can be connected directly to Amazon Echo Plus, SmartThings or Wink hubs.
The Element Plus bulb features a robust design that not only improves its efficiency and look, but also extends durability and reliability to provide constant bulb performance. The superior quality LED bulb is engineered to deliver up minimum 25,000 hours of light with minimal light output degradation and chromaticity shift. The light bulbs are equipped with a 270° beam angle that directs bright light omnidirectionally with uniform intensity over a wide angular range. The shatter-resistant aluminum construction dissipates heat and ensures the LED junction temperature never reaches its maximum while keeping the temperature of other electrical components as low as possible. A built-in LED driver produces a stable constant current output from the 100-120V or 220-240V, 50/60Hz AC mains power input. The driver provides high performance regulation to achieve high efficiency, low harmonic distortion and current ripple through the entire load range and provides smooth, continuous, flicker-free dimming.
Product features
ZigBee Home Automation (ZHA) wireless mesh networking technology offers enhanced operating functionality.
App-controlled color temperature tuning, customizable scheduling and energy tracking.
Smooth, flicker-free dimming with app, wall dimmers or voice commands.
Hands-free lighting control through integration with Amazon Alexa or Google Assistant.
Works with compatible ZigBee hubs including Amazon Echo Plus, SmartThings and Wink hubs.
High efficacy, long life LED light sources in full CCT range (2700K-6500K).
Excellent lumen maintenance and chromaticity stability through advanced thermal management.
Remotely controllable with Wi-Fi compatible Element hub.