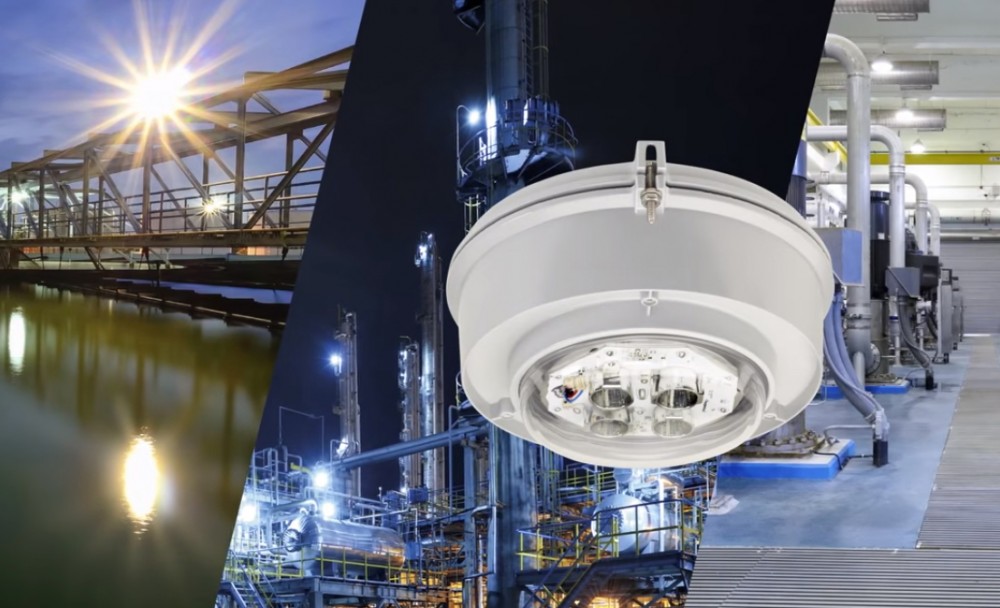 Emerson's Appleton Mercmaster LED Low Profile is a versatile hazardous area luminaire delivering a lighting solution that performs reliably in the toughest conditions, all the while reducing energy and maintenance costs by up to 65%. This utility type luminaire with a compact, lightweight, low profile design offers general area lighting workhorse for walkways, catwalks, stairwells, grain elevators, tunnels, pipe racks, hallways, stairwells, access tunnels, offshore rigs, vessels, cooling towers, processing areas, access tunnels, mechanical rooms, and areas of low clearance, low ceiling heights or where fixture weights must be minimized. Providing a true one-to-one retrofit solution, this luminaire can be mated with a wider range of mounting hoods using retrofit adapters and hence enable facilities to consolidate hazardous location lighting with a single luminaire. The Appleton Contender LED, Mercmaster's sister model, mounts directly to Cooper Crouse-Hinds Champ VMV Series mounting hoods without using an adapter.



Mercmaster LED Low Profile is designed to enhance safety and productivity in locations made hazardous by the presence of flammable vapors, gases, or combustible dusts. This luminaire is NEC/CEC certified for Class I, Division 2, Groups A, B, C, D; Class I, Zone 2, Group IIC; Class II, Division 1, Groups E, F, G; Zone 21 and 22, Group IIIC; Class II, Division 2, Groups F, G; and Class III hazardous locations. It is listed for simultaneous exposure to combustible dusts and flammable gases or vapors. Mercmaster is also globally rated for ATEX Zone 2 and 21-22; Ex II 2 D; Ex II 3 GD; and IECEx Zone 2 and 21-22; Ex ec IIC; Ex op is tb IIIC; Ex tc IIIC. The enclosed and gasketed LED luminaire offers IP66 level ingress protection and is rated for installations in Type 3R, 4, 4X areas. Typical Mercmaster applications include pulp and paper mills, chemical plants, petrochemical facilities, oil refineries, drilling rigs, foundries, marine loading terminals, waste and sewage treatment facilities, mining and steel mills, fuel serving areas, utility gas plants, grain storage facilities, cotton seed mills, and flax processing plants.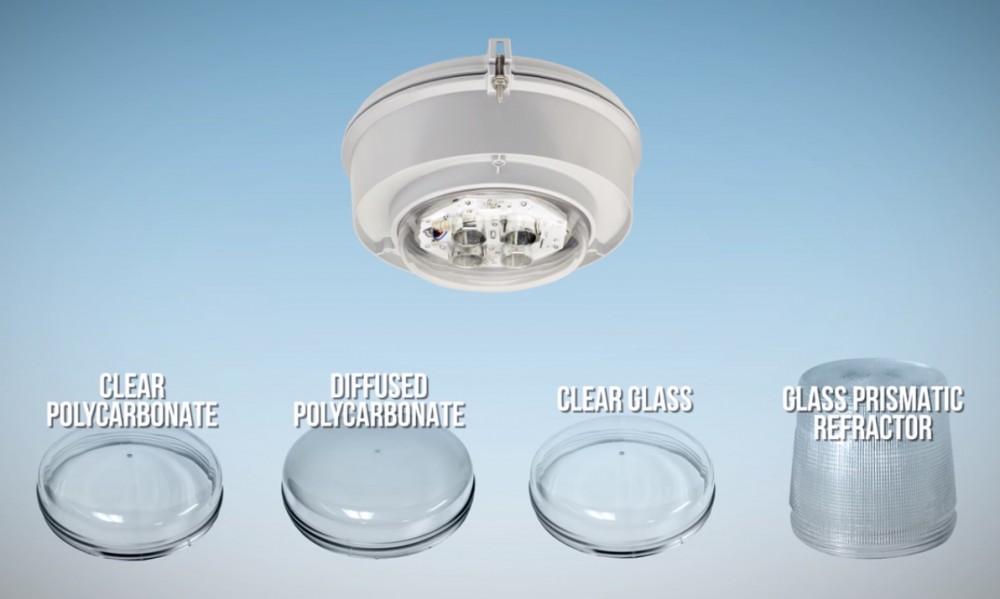 The Mercmaster LED Low Profile Series offers three lumen packages (3300 lm, 4400 lm, 5500 lm) in color temperature options of warm 3000K, neutral 4000K, and cool 5000K CCT with a minimum 70 CRI. The luminaire is comparable to the light outputs of HID fixtures in the 70-175W range while consuming only 28-48 watts. Mercmaster utilizes Cree's high performance LEDs which deliver high lumen output and high efficacy in thermally optimized packages. Mercmaster LED Low Profile Cree LEDs have surpassed 18,000 hours of testing and report an L70 life of over 100,000 hours at +55 °C (+131 °F) and 200,000 hours at +35 °C (+95 °F). The high caliber LED packages are mounted onto a metal-core printed circuit board (MCPCB) with high reliability interconnects to facilitate assembly and handling as well as prevent fatigue or stress cracking in the presence of thermo-mechanical loading. The solid state of the light source combined with strong mechanical interconnection between the LEDs and PCB gives Mercmaster high resistance to mechanical shocks or vibrational stresses and an ability to endure high thermal loads.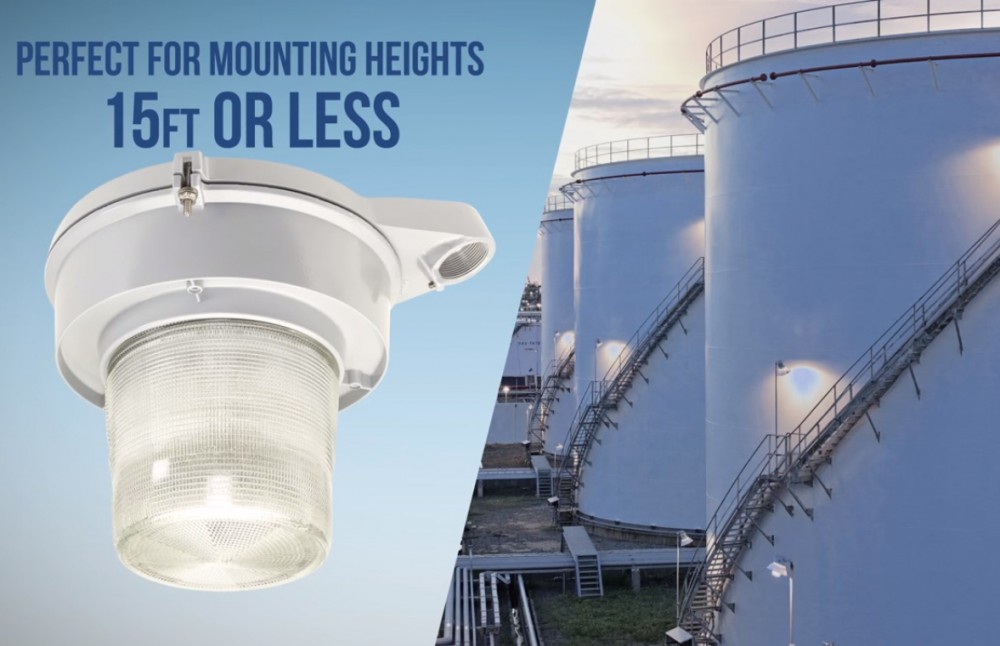 The high efficacy and high luminance LED module is operated by an integral LED driver which accommodates inputs of 120-277 VAC, 125-300 VDC or 347-480 VAC and has internal 6kV surge protection. Photocontrols are available to maximize energy savings with daylight harvesting (not including ceiling and pendant cone mounting hoods). The field-replaceable, high efficiency driver is built from components with thermal stability for high temperature operation so as to match the long lifetime of the LEDs. Exceptional thermal performance of the LEDs and driver combined with a coherent thermal design that expedites system level thermal efficiency allows Mercmaster LED Low Profile to provide rated illumination through its full ambient operating temperature range of -40 °C to +65 °C (-40 °F to +149 °F). Mercmaster's cold-start capability and high ambient temperature operability without end-of-life degradation or premature failures make it possible to provide an all-season, cross-industry lighting solution that is universally installable regardless of the operating temperatures.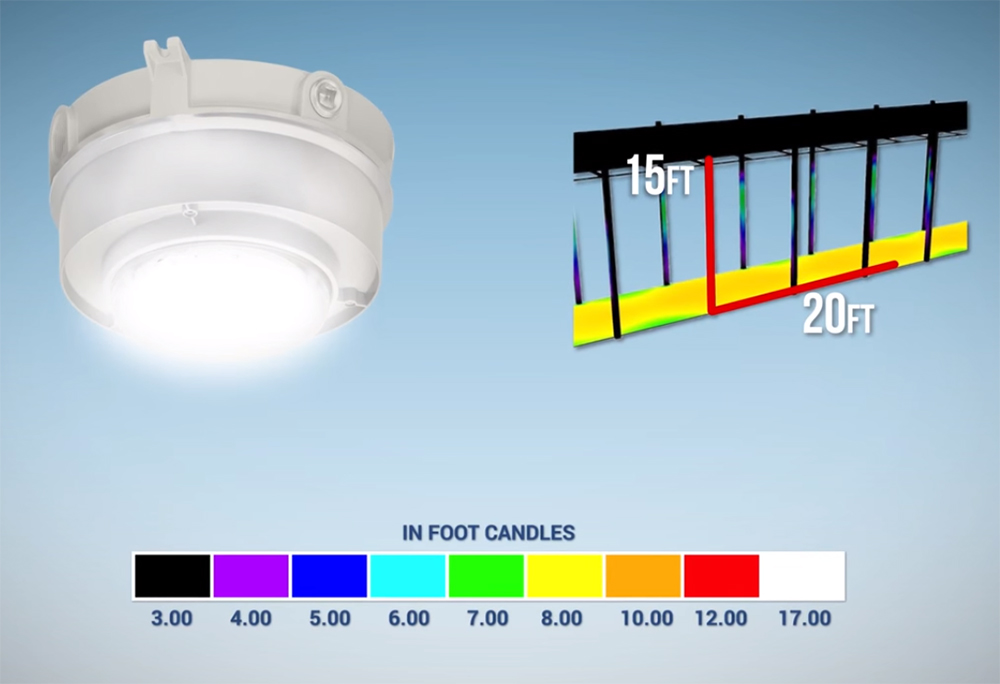 Mercmaster provides a broad, evenly distributed pattern that can be tailored in the field. The explosion proof luminaire is equipped with interchangeable lenses in a clear finish for high intensity illumination or in a frosted finish for a low glare ambience. The luminaire is available with a choice of four field replaceable protective lens options, which include the low profile clear and diffused polycarbonate globe, low profile clear glass globe, and cylinder prismatic glass refractor. An optional 30° metalized reflector maximizes optical efficiency of each individual LED and ensure precise light distribution. These heat-resistant lenses thread directly into luminaire housing and are sealed against water, moisture and dust ingress using a high-temperature silicone rubber gasket.
The Appleton Mercmaster is a durable, weather-proof lighting solution engineered to meet the most demanding task and area application requirements in harsh onshore and offshore environments. Rugged, thermal conductive and corrosion-resistant, the heavy duty yet lightweight housing, mounting hoods and guards are made from die cast, copper-free aluminum. The rugged aluminum construction provides high mechanical strength and delivers high volume heat transfer to consistently control the LED junction temperature below the maximum operation limit. A baked gray epoxy-clad finish electrostatically applied after a tightly controlled multi-stage pretreatment process provides superior resistance to corrosion and weathering for maximum retention of finish gloss and luster without cracking or peeling. The mounting hood and luminaire housing are gasketed using a high temperature silicon seal. Hinge and bolt construction assures 360° uniform gasket compression. Swing away design of captive, stainless steel latch assembly (bolt and nut) simplifies installation and servicing. High enclosure integrity combined with the intrinsically safe LEDs eliminates the risk of explosion hazards that may exist due to the presence of flammable gases or vapors, flammable liquids, combustible dust, ignitable fibers or flyings.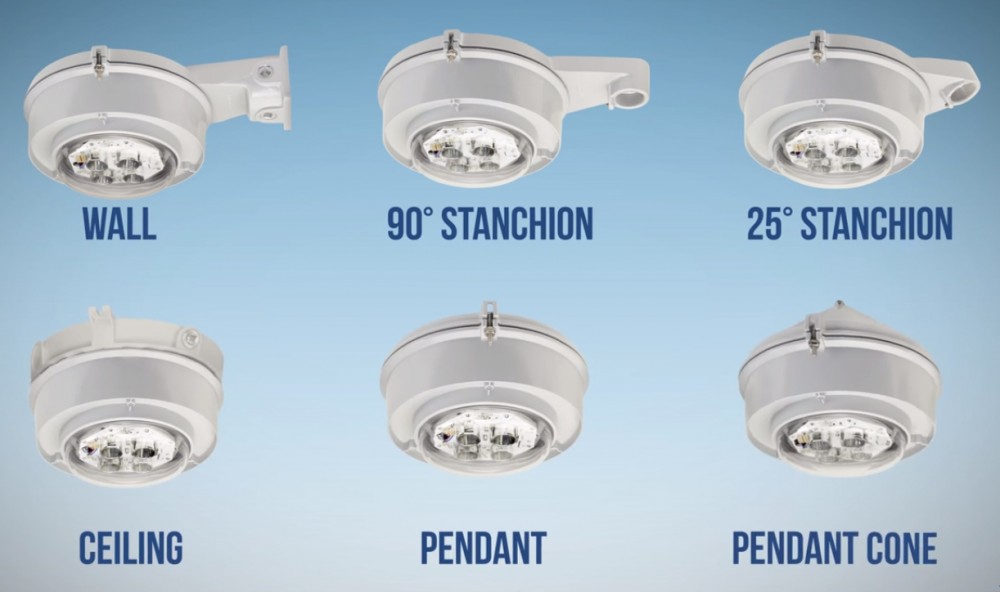 The versatile LED luminaire is designed with a choice of mounting options including pendant, watertight pendant hood, ceiling, pendant cone hood, 90° stanchion, 25° stanchion, trunnion, and wall mount. Retrofit adapters for Crouse Hinds, Killark and Mercmaster II hoods are available. The watertight pendant hood is designed for installation in water prone conduit systems. Safety cable is slipped around the aluminum housing through the integrally casted retention points. Standard screw-type terminal block can accept UL/CSA 26-10 AWG wire.