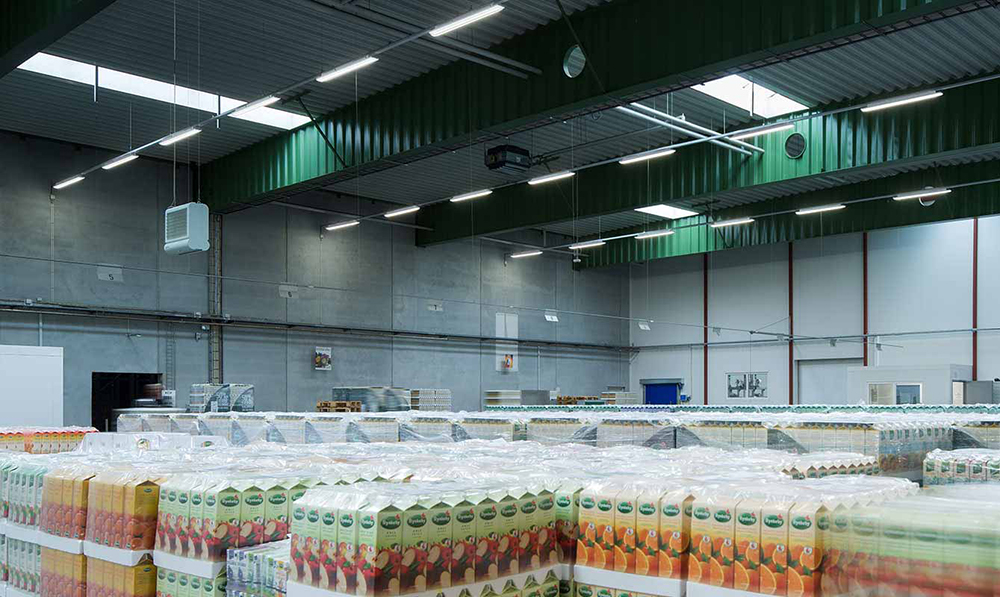 Araxeon LED tri-proof lights from Trilux GmbH bring a contemporary appeal and upgraded value pack to industrial facilities which were previously illuminated by energy-hungry, aesthetically tedious, and short-lived HID and fluorescent light fixtures. Araxeon addresses every frustrating aspect of legacy lighting technologies through a systems approach to design and engineering. The industrial light fixture is a complete technology switch to LED lighting and redefines the limits of fixture design to deliver an exclusive combination of industry-leading performance, efficiency and reliability while providing a premium aesthetic that visually enhances every type of architecture.
Designed for ambient applications where durability and style are as important as efficiency, performance and dependability, Araxeon integrates state-of-the-art LED technology into a robust IP66 rated vapor tight housing. Its linear footprint shows off a streamlined aesthetic look in the open ceilings of retail, commercial, industrial and warehouse facilities. This durable LED fixture is designed to hold up to the toughest environmental conditions where weathering, humidity, splashing water, direct hose-down of powerful jets, and dust or corrosive fumes are present. Araxeon's clean lines, high enclosure integrity and maintenance-free operability makes it an excellent lighting solution for hard-to-reach, difficult-to-maintain, or hygienically challenged areas such as parking garages, car washes, food processing facilities, industrial production halls, supermarkets, shopping malls, warehouses, outdoor canopies, maintenance areas, utility rooms, stairwells, and tunnels.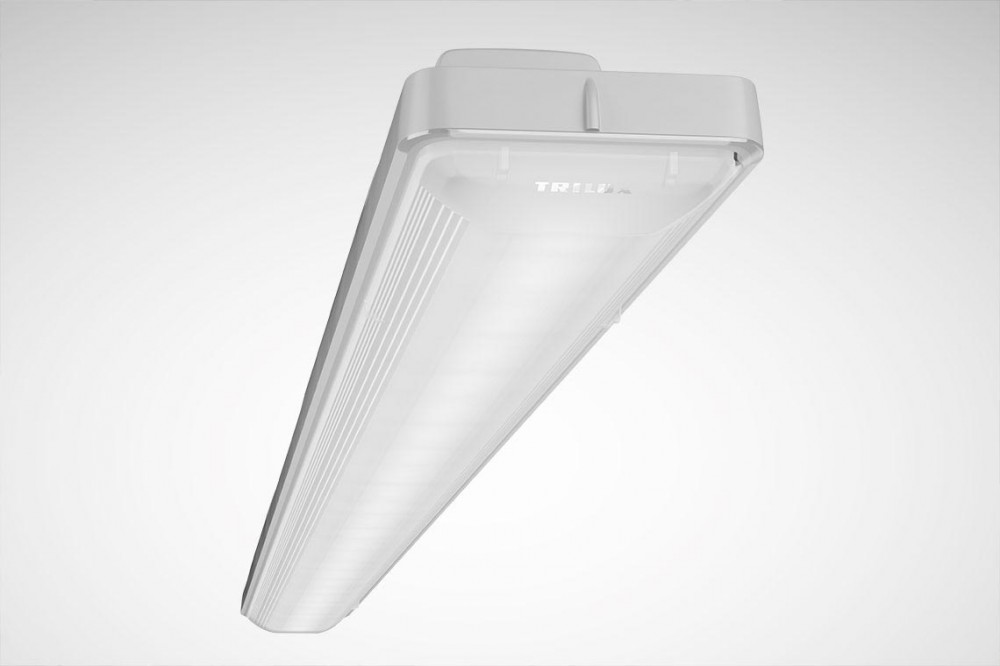 The Araxeon Series is available in two fixture lengths with each offered in two lumen packages - 2300 lm / 4000 lm (1200 mm); 4000 lm / 6000 lm (1500 mm). Thanks to a comprehensive engineering philosophy that combines best-in-class LEDs, driver technologies and optics, the tri-proof light delivers an impressive system efficacy of up to 146 lm/W. Market leading efficacy translates to the greatest value and shortest payback in its class. Araxeon's LEDs are rated to offer a minimum L80/B10 life of 50,000 with their system level light output remaining consistent throughout the product's life attributable to the implementation of CLO (contant light output) technology. A CLO control device which is built into the driver continuously compensates for the depreciation of luminous flux by gradually increasing the drive current over the fixture's lifetime. LEDs come standard in 4000K color temperature with a CRI of 80+.
Constructed of one-piece molded, fiberglass reinforced polyester rated to ASTM D635-74 as self-extinguishing, the durable housing is fitted with a UV stabilized acrylic (PMMA) or polycarbonate (PC) lens. The impact resistant lens (up to IK08) is integrally compressed into the gasketed retention channel of the housing for a continuous, seamless seal to provide total protection from dust and moisture penetration. High compression recovery of the poured-in-place polyurethane gasket ensures a solid seal with an IP66 ingress protection rating over the life of the fixture. Non-metallic construction enclosure provides superior corrosion resistance. A smooth exterior surface prevents any dirt deposits and keeps maintenance costs to a minimum. The Araxeon LED version with PC lens complies with the HACCP (Hazard Analysis and Critical Control Point) regulations and meets maximum hygienic demands for the food industry. The ability to withstand high pressure hose washdown and endure the corrosive effects of cleaning solutions makes Araxeon a perfect light fixture for cleanroom lighting.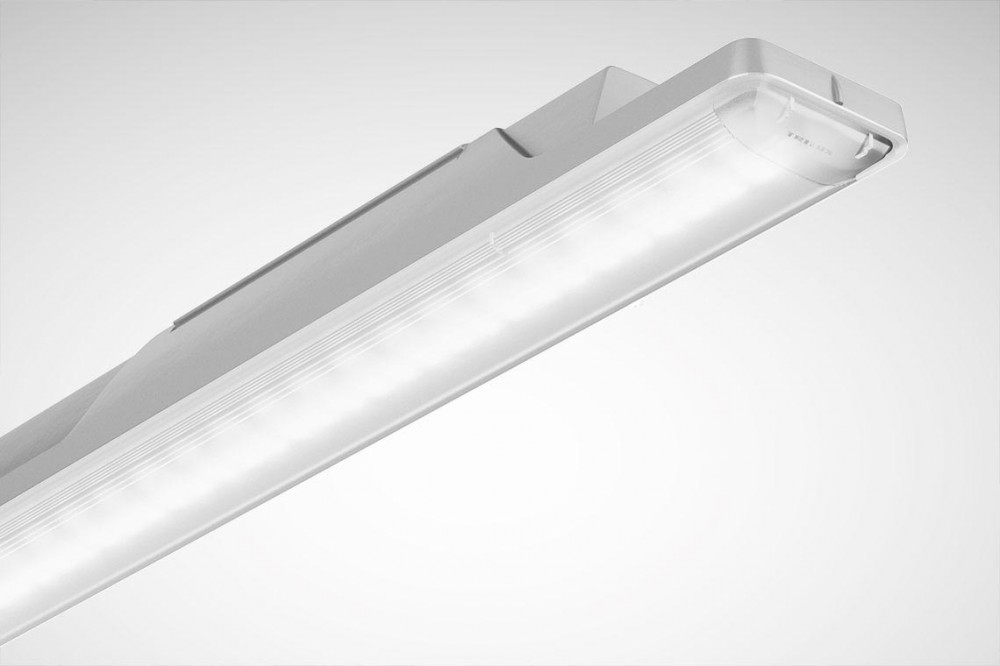 A linear LED assembly resides in the completely gasketed and sealed enclosure which also provides heat dissipation to maintain thermal equilibrium between the fixture interior and ambient environment. The light engine consists of a circuit of mid-power LEDs which are reflow soldered to an aluminum core printed circuit board. The aluminum LED strips are attached to a metal tray which serves as heat sink to draw heat away from the LED junction, maximizing the life and ensuring excellent lumen maintenance of the LEDs. The PMMA or PC lens engineered with longitudinal prisms delivers excellent light transmission and diffusion that facilitates maximum light control and glare reduction. Araxeon is available in narrow and wide light distributions which allow the fixture to be individually adapted to specific installations. The Araxeon LED tri-proof light equipped with a wide distribution (XB) or extremely wide distribution lens provides homogeneous ambient lighting in open areas such as parking garages, canopies, manufacturing environments, logistics facilities and warehouses without the use of rack systems. The narrow-wide beam (TB) version is designed for illuminating narrow traffic routes and high shelves in racked warehouses, corridors and walkways.
Araxeon is powered by a high-quality constant-current power LED driver which produces less than 20% THD and has a power factor greater than 0.90. The programmable electronic driver with a digital interface which enables interoperability with multiple sensors such as the IR micro embedded sensor, dual HF high frequency corridor sensor, infrared motion sensor, and daylight sensor. Araxeon can be operated hand-in-hand with Trilux swarm intelligence which provides synchronized light management of up to 15 luminaires through daylight harvesting and presence detection. In collaboration with sensor technology specialist STEINEL, Trilux developed the LiveLink system that enables a distributed intelligence architecture capable of satisfying various user needs via addressable lighting control.
LiveLink makes it easy to digitally assign automated lighting tasks to one or many fixtures using 2-core DALI control lines. The intelligent lighting control system decisively simplify the complex processes of designing, installation, commissioning and energy efficient operation. LiveLink integrated light fixtures can be controlled conveniently using commercially available push-buttons on walls. Araxeon is a monitoring-ready (MOR) light fixture of which the real time or historic energy usage data, system status, error notifications and temperature of the ECG can be tracked and analyzed via the LiveLink light management system. This advanced feature allows for high level lighting optimization and makes predictive maintenance possible.