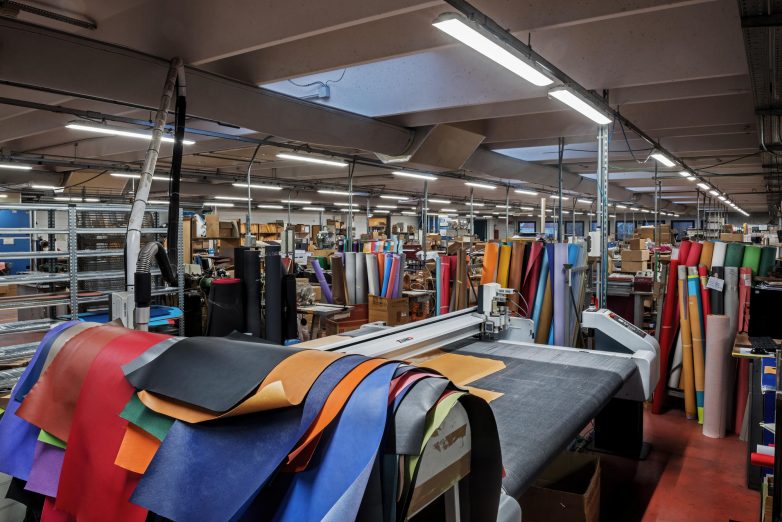 Gewiss Smart[3] is a completely enclosed linear LED lighting system with the highest degree of protection against the penetration of dust or liquid (IP69). This weatherproof and watertight LED fixture has been engineered to deliver endurance, dependability, high energy efficiency and maintenance-free operation in environmentally demanding applications involving dust, vapor, dirt, smoke, heavy impacts, high humidity, water jets, and risk of corrosion. Smart[3] has undergone intense testing in product development process and has proven its strength in handling the rigors in a variety of operating environments in commercial and industrial sectors. A rugged and durable construction combined with its premium neutral aesthetics makes Smart[3] a superior lighting solution for parking garages, car washes, manufacturing environments, hallways, utility rooms, cold storage areas, loading docks, horse barns, industrial kitchens, laundry rooms, stairwells and food processing facilities.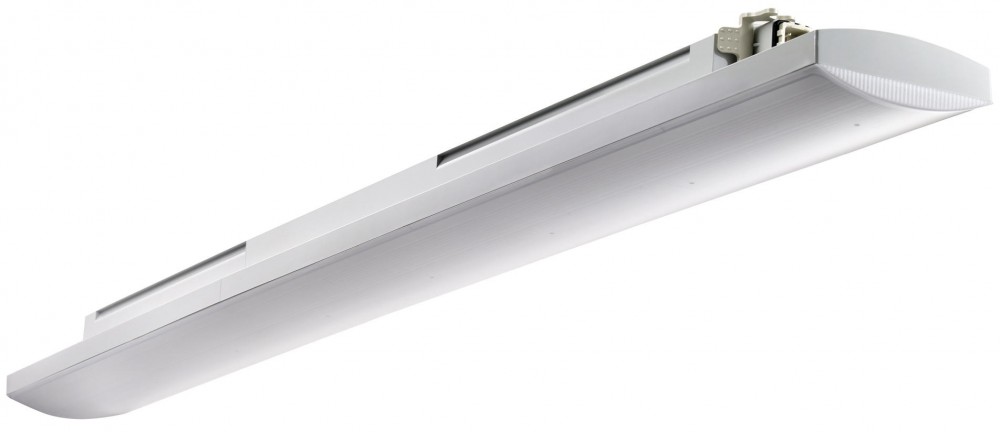 Smart[3] LED fixtures are available in 800mm, 1200mm and 1600mm lengths with each having 1-module and 2-module LED engine options. Delivering up to 6900 lumens at a system efficacy of 130 lm/W from just 53 watts of power consumption, Smart[3] offers a choice of lumen packages that accommodate various illuminance requirements and installation heights (up to 4m). The high efficacy LEDs are offered in 3000K and 4000K color temperature options with a minimum color rendering index (CRI) of 80 Ra. The LED's 85,000h L80/B20 lifetime and less than 2.5% failure rate (50.000h, Tq=25°C) enable the light fixture to consistently deliver volumes of lumens and superior efficacy. High lumen oupput with no-compromise performance stability translates into incredibly attractive ROI and payback periods that help customers achieve siginificant economic benefits and meet sustainability goals.
Featuring one-piece molded polycarbonate housing and lens, Smart[3] is constructed to provide lifetime resistance to impact, shock, corrosion, and UV exposure as well as offer excellent structural reliability, superior flame retardancy, and high temperature tolerance. The PC housing which is finished in light gray (RAL7035) offers a clean, universally adaptive look while providing optimal color and gloss retention. Available in clear and opal finish options, the PC lens which is tougher and more durable than acrylic is specially formulated to resist the exposure of high temperature and blue irradiation. This means that you can count on its minimal yellowing and degradation for consistent light transmission with uncompromised color stability over the product's lifespan. Molded with longitudinal prisms, the PC lens offers an exceptional combination of high light diffusion and high light transmission, ensuring maximum lumen delivery and homogeneous distribution of light with minimal glare.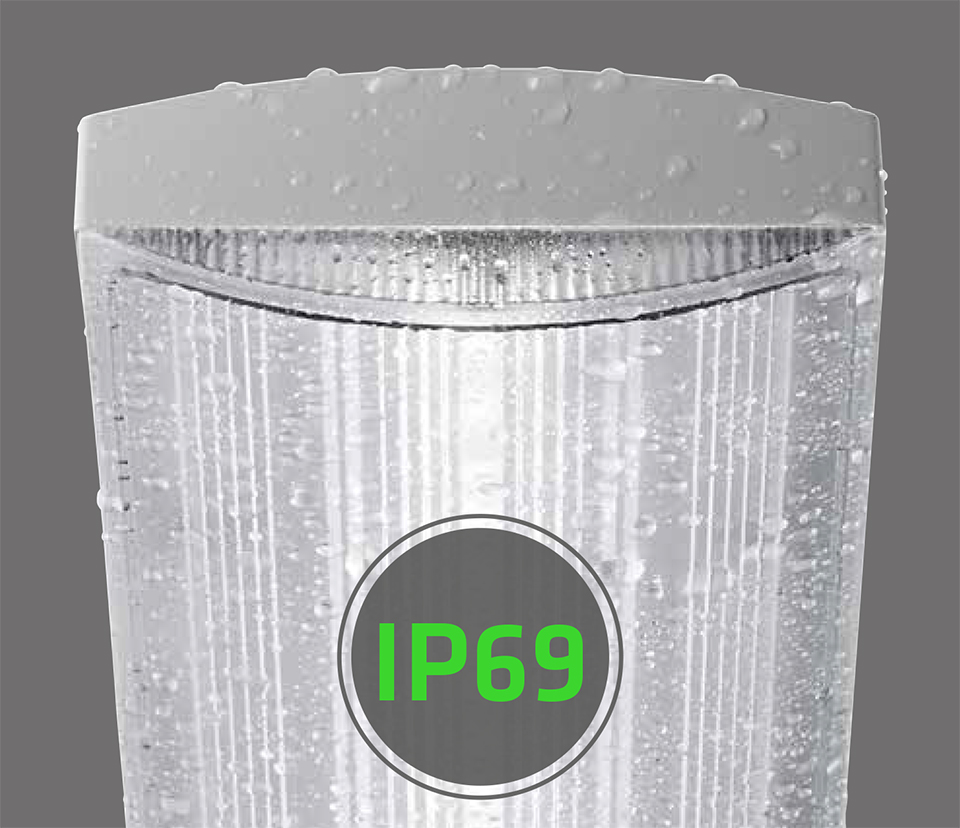 The polycarbonate housing and lens are snapped together with integral locking provided by the internal retainers. Hermetic sealing is implemented using a continuous poured-in-place gasket which is precision molded to provide maximum seal integrity against moisture, dust and water washdown. One-piece, closed cell gasket seamlessly fills the perimeter channel of the housing and allows the lens to fit snugly for a continuous seal. High compression recovery (memory retention) compensates for the coefficients of expansion and ensures a solid seal over life of the fixture. The light fixture comes with watertight cord connectors which complete its IP69 rated ingress protection. High specification system integrity ensures the light fixture is completely protected against moisture, contaminant, dust, and debris ingress as well as close-range water sprays from any direction even under elevated pressure and temperature. The high protection rating of the fixtures allows intensive hygiene cleaning using high-pressure cleaners for applications where extreme cleanliness is required as in food processing, pharmaceutical, chemical, and electronics manufacturing facilities.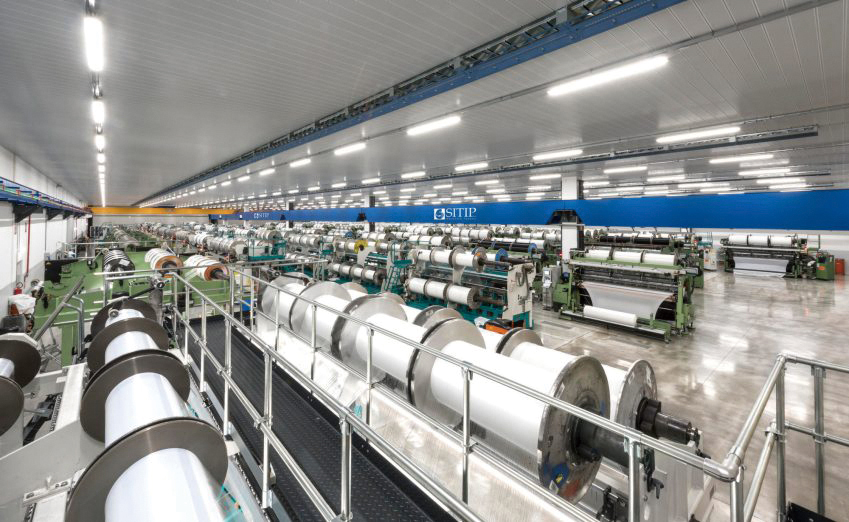 Smart[3] is equipped with high efficacy, thermally efficiet SMD LED packages which are reflow soldered to a high thermal conductivity PCB strip with a heavy copper board core. The LED strip is mounted to a heavy gauge steel plate heat sink to ensure optimal heat dissipation. Improved thermal management translates into superior lumen maintenance and chromaticity stability. Smart[3] is rated to perform within a wide temperature range from -30°C to +50°C without cold start problems or degradation of the phosphors. The LEDs are operated by a built-in driver that provides high performance regulation for excellent output characteristics, including low ripple content drive current which contributes to flicker-free lighting. In addition to stand-alone, one-way management with 0-10V interface, the optional integration of DALI interface enables addressable dimming that allows fully networked control of lighting in larger installations. The version with stand-alone feed-through wiring has a factory-installed integral emergency lighting option in which the rechargeable battery pack provides up to 3 hours of uninterrupted lighting. Smart[3] is a class II light fixture with reinforced insulation against electric shock.
Smart[3] can be direct mounted to either the ceiling or wall using custom designed stainless steel mounting brackets. The light fixture can also be suspended from a ceiling using steel aircraft cables, suspension chains or rigid conduits. Quick-connect wiring adapters on both ends of the fixture and mechanical linkage fittings allow continuous fixture installations.