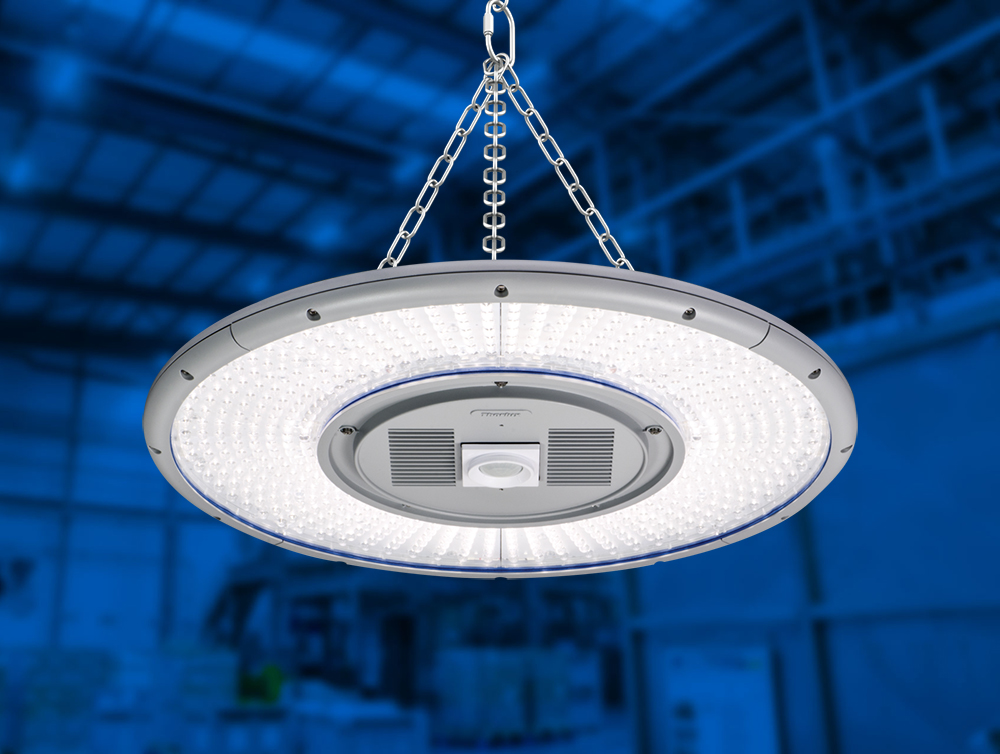 The outstanding performance and reliability of Comboseal Plus, combined with a premium aesthetic that complements many industrial and commercial facilities, come together to create a high bay light that leaves the competition in the shadows. Thorlux Lighting understands the everyday challenges of maintaining a good lighting system for industrial installations and takes an integrated approach to delivering exceptional levels of energy efficiency with dependable, superb optical performance. The pendant mounted circular LED luminaire is designed for low bay and high bay applications with light quality, luminous efficacy, system life and payback value vastly superior to high-pressure sodium (HPS) and metal halide light fixtures. And in particular, this IP66 rated, high temperature operable LED luminaire revamped the design concept and engineering disciplines of the ubiquitous UFO LED high bays which are practically not durable and reliable enough to withstand harsh environmental conditions.
Available in 171W, 251W and 326W with wide or narrow distribution capable of producing over 44,000 lumens of 80 CRI, 4000K white light, Comboseal Plus is a low profile ambient lighting product that features an infrequent balance of form and function. A cumulatively high efficiency of its LEDs, heat sink, driver and optics yields an industry-leading system level efficacy of 136.4 lm/W. Robust construction effectively addresses the environmental challenges unique to industrial lighting while providing more consistent light output and longer fixture life than competitors' products. Comboseal Plus brings across many benefits of utilizing LED lighting in industrial applications and thrives in the most rugged areas from wet locations, dusty spaces, corrosive environments to high ambient conditions. The high return on investment and survivability in unforgiving climates and demanding areas deem these fixtures the perfect choice for economical, sustainable ambient lighting in warehouses, manufacturing facilities, distribution centers, gymnasiums, big-box retail stores, exhibition halls and loading docks.
Measuring 737 mm in diameter and 91 mm in height, Comboseal Plus shows off a sleek contemporary appearance gained from its clean, minimalist design. The low profile high bay luminaire throws away the geometrically complicated, dust-trapping heat sink design that is typical of a dominant portion of UFO-style LED luminaries available on the market. All metal housing components, including the top cover, control gear enclosure and cover clamp, are constructed from high pressure die cast aluminum with high strength, thermal conductivity and corrosion resistance required for high power industrial lighting applications. The aluminum top casting has a smooth, slightly curved outer surface which ensures a lower density of dirt and debris to maintain the integrity of the airflow requirement. Conventional high bay LED lights rarely ever take dirt and dust buildup into consideration. Over time, the heat sinks with intricate external fins trap a huge amount of dirt and grime which are difficult to clean and remove because of the complicated heat sink geometry. Significant dust accumulation, which is a realistic concern in industrial environments, negatively affects thermal management and consequently the luminaire's reliability.


With Comboseal Plus, facility operators are no longer obsessed with dust accumulation, nor are they burdened with high frequency maintenance cycles. Not only the smooth top surface does not trap dirt, the entire lighting system is constructed to resist dirt and contaminant ingress. A 4mm thick toughened safety glass cover that has excellent chemical resistance protects the optical assembly from dust retention as well as deteriorative atmosphere that is harmful to plastics. Extruded one-piece, thermally stable silicone gaskets maintain the IP66 ingress protection rating for the life of the product. Aside from the watertight and dustproof design of the luminaire, an ultra-durable aluminum surface polyester powder coating provides excellent resistance to corrosion, ultraviolet degradation and abrasion. The completely sealed, corrosion resistant enclosure with a watershed design allows Comboseal Plus to withstand powerful water jets from any angle in car washes and intensive hygiene cleaning using high-pressure cleaners in food processing and cleanroom facilities.
A sleek aluminum construction architecturally coordinates with modern industrial and commercial interiors without compromising thermal performance. The smooth top casting has internal fins which maximize heat dissipation. This adequately dimensioned, high density aluminum cover provides robust heat sinking that effectively draws thermal energy away, prevents heat flux concentration in the LED junction, and mitigates the LED thermal impact on the driver and control circuitry. Superior thermal management ensures the light source delivers consistent luminous efficacy and chromaticity stability without suffering thermal degradation of phosphor and LED packaging materials. Besides tightly controlled LED junction temperature, Comboseal Plus is equipped with high specification electronic gear and thermally optimized PCBs that survive long-term excessive heat exposure and have excellent cold-temperature operability. Comboseal Plus can operate to specification under a wide temperature range from –40 °C to +65 °C (–40 °F to +149 °F) while maintaining a minimum 50,000 hours of L70/B10 life. High temperature tolerances make Comboseal Plus a dependable lighting solution for high ambient temperature (HAT) facilities, including iron and steel foundries, nonferrous foundries, vehicle manufacturing plants, rubber manufacturing plants, brick-firing and ceramic plants, electrical utilities (particularly boiler rooms), bakeries, confectioneries, commercial kitchens, industrial scale laundries, food canneries, chemical plants, and steam tunnels.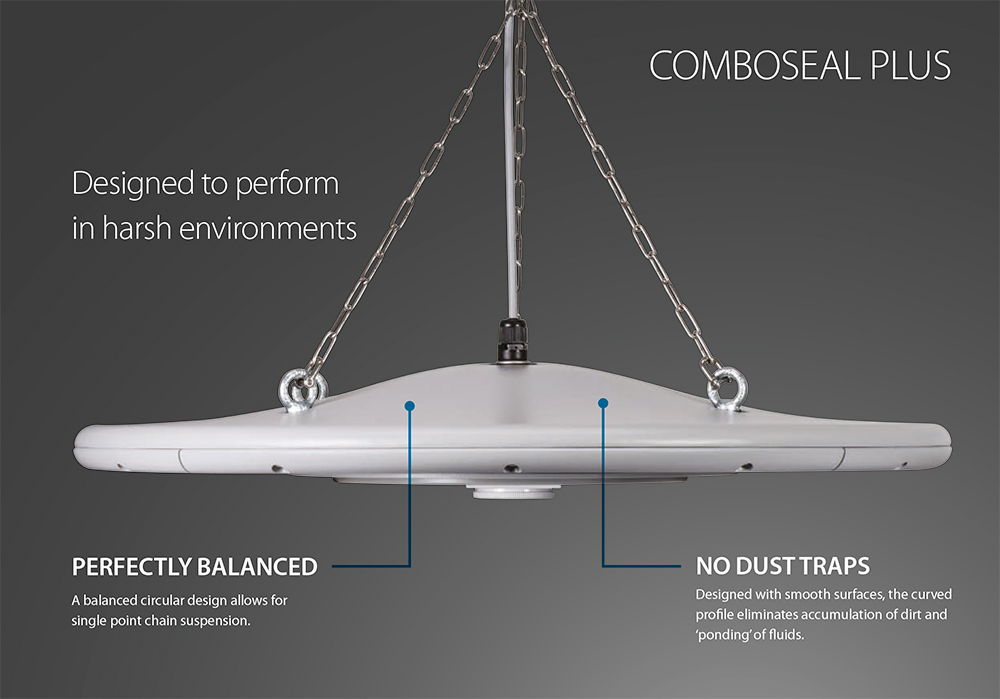 Comboseal Plus' circular LED assembly incorporates 576 mid-power SMD LEDs which are reflow soldered to the MCPCB with higher reliability, high operating temperature capable interconnects. Precision-molded acrylic optics are indexed to the board to ensure the TIR lens is installed over each individual LED with precise optical alignment. The acrylic lenses uniformly distribute luminous flux with high transmission efficiency while diffusing the intensive LED spots for improved visual comfort. A large circular emission surface offers a tremendous light coverage that maximizes fixture spacing. Strong metallurgical bonds between the LED packages and PCB board allow the LEDs to be operated at high drive currents without risks of open circuit failures due to high thermal loads. To guarantee consistent light output throughout the luminaire's life, Comboseal Plus is protected by LUX GUARD, Thorlux's patented current sharing PCB and circuit design philosophy. If an LED fails its current is shared via neighboring circuits and the luminaire's flux delivery remains unchanged. Comboseal Plus' intelligent circuit also automatically increases the LED drive current to compensate for the lost flux in the course of natural lumen depreciation.
A built-in constant current driver provides high performance load regulation with a driver efficiency of over 90% and power factor of over 0.90 across a wide range of operating conditions. Comboseal Plus LED luminaires are available in standard and smart versions. The standard version includes a DALI digital dimming option which enables network-ready addressable dimming. The smart version has a sensor assembly which is optimized for presence detection up to 18m while supporting daylight dimming for energy savings which often exceed 70%. Individual Comboseal Plus smart LED luminaires may be linked using a 'Motionline' two wire low voltage bus allowing luminaires to communicate within a group. Wireless SmartScan versions remove the need for control cabling. The energy performance data and operational status of the high bay LED luminaires can be monitored from anywhere via the SmartScan website (SmartScan Gateway required), or from the ground using the SmartScan programmer.