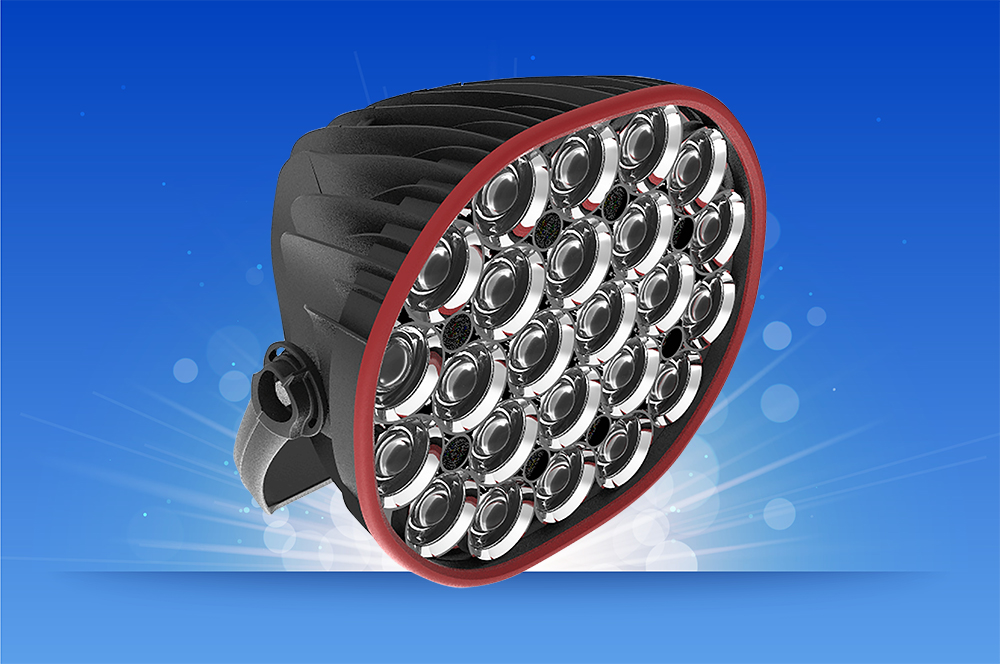 The Ephesus Lumadapt sports lighting systems unlock the full power and connectivity of solid state lighting to bring the spectacle of the game to life for sports arenas, stadiums and gymnasiums. Engineered for premium performance and unmatched efficiency, Lumadapt is a forward-thinking LED lighting system that runs parallel with a trend toward sustainability, controllability, flexibility, and superior visibility. Every athlete is entitled to play under a spectrum of visually pleasant light that calls attention to their talent and exciting action. Every spectator deserves to enjoy a thrilling live experience from any distance of view. Every footage of the game should be broadcast flawlessly to create an immersive experience for the TV audience. Lumadapt illuminates every dimension of the game with highest level of visual comfort for the human eye while allowing video cameras to capture vivid colors, crisp images, and fast movements.
A Complete Range of Solutions
The Lumadapt family of LED sports lighting systems comprises Lumadapt 4, Lumadapt 8 and Lumadapt 24 which provides optimal lighting solutions for virtually any and every outdoor and indoor sports event. The Lumadapt 4 is designed to illuminate small indoor venues such as squash courts, basketball courts and sports halls or provide pristine, glare-free lighting for fan seating. The Lumadapt 8 lighting system is built for indoor arenas such as gymnasiums, ice hockey rinks and multipurpose venues. Lumadapt 24 is an outdoor sports arena and stadium lighting system that delivers picture-perfect lighting for football, soccer, baseball, lacrosse and field hockey games. These highly adaptive LED floodlights illuminate all levels of athletic events from professional to youth sports with excellent visibility for player, spectators and television broadcasting as well as greater operational and financial benefits for facility managers and avenue owners.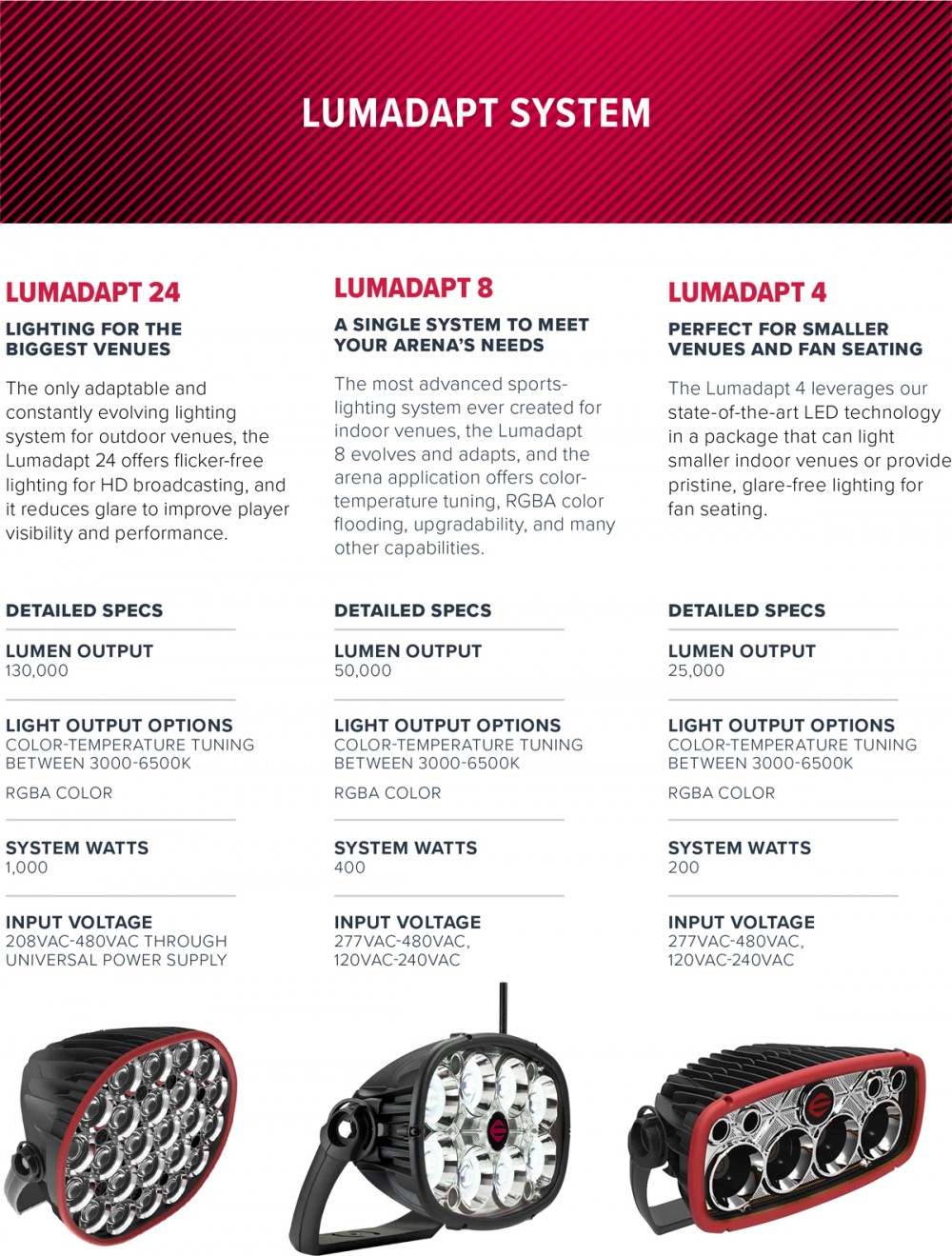 Exceptional ROI
Featuring the latest in LED technology and insight-driven engineering, Ephesus lights are guaranteed for ten years of operation with the industry's shortest payback of often less than 2 years! The Lumadapt 4, Lumadapt 8 and Lumadapt 24 LED floodlights produce 25,000, 50,000 and 130,000 initial delivered lumens while drawing only 200, 400 and 1,000 watts, respectively. On average, an Ephesus system can deliver a 70% reduction in energy consumption compared with metal halide fixtures. The exceptionally high light output, luminous efficacy and optical efficiency of a Lumadapt flood lighting system make it possible to maximize spacing and use 20-30% less fixtures than comparable LED alternatives in an installation. This dramatically reduces initial investment and makes Lumadapt a budget-friendly lighting solution that delivers economic benefits from the very beginning.
Built to Last
The luminaire's rugged all-weather construction is designed to withstand aggressive environmental conditions and provide high shock and vibration tolerance. The stylishly fashioned, heavy duty housing is aerodynamically optimized to reduce wind loads while accelerating natural convection to dissipate heat. Multi-stage metal surface pretreatment and an electrostatically applied, thermally cured, triglycidal isocyanurate (TGIC) polyester powdercoat finish provide superior corrosion resistance and survives extreme weather changes without cracking or peeling. An impact and abrasion resistant polycarbonate lens is sealed to the aluminum housing using a high temperature silicone gasket to protect the light source and electrical components from ingress of dust, dirt and humidity. The IP66 rated housing maintains lifelong watertight integrity. The floodlight has a pressure-stabilizing membrane breather which is designed to alleviate stress on the PC lens and prevent seal fatigue and failure.
Phenomenal Light Quality
Beyond substantial energy savings, significantly reduced maintenance and exceptional durability, Lumadapt is built to outperform expectations with its specification grade lighting performance. The sports floodlight uses high quality LEDs from top-tier manufacturers such as Lumileds to deliver compelling color quality, light output and luminous efficacy with an optically enhanced architecture to enable tight beam control in directional and high lumen applications. These high flux density LED packages are binned to a 3-step MacAdam ellipse to ensure color consistency from LED to LED and luminaire to luminaire. Tight correlated color temperature control enables Lumadapt to produce high luminance from a uniform source. A high color rendering index (80+ CRI) ensures high fidelity color reproduction that provides high visual acuity for on-site players and spectators. These LEDs are also rated with a high television lighting consistency index (TLCI) that allows the HD image sensor in the camera to capture true-to-life images without the need for any post-production corrections.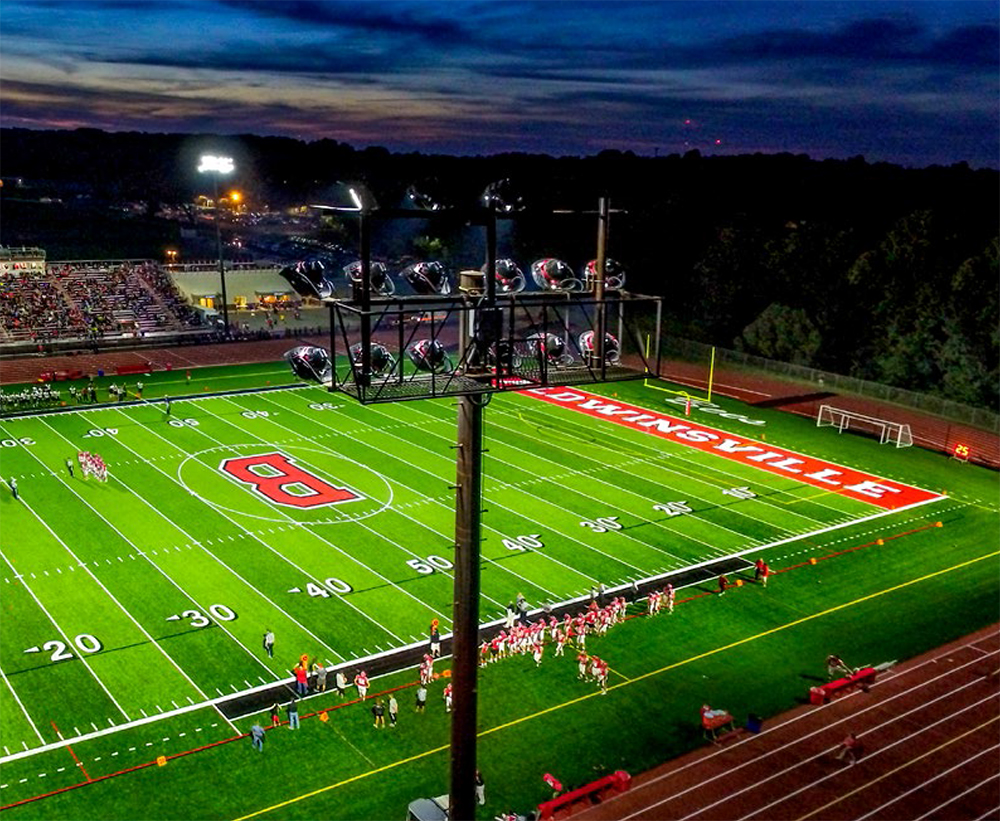 Advanced Lensing Technology
Lumadapt is equipped with precise optics that make the most of every lumen. The luminaire features state-of-the-art individual LED optical control based on total internal reflection (TIR) lensing technology. These small molded lenses direct light precisely where needed and distribute light uniformly onto the playing surface with minimal light spilled into the seating portion of the sports field. Precision engineered optics create an optimal intensity and uniformity ratio that ensures maximum lumen delivery and the ideal illuminance levels are maintained throughout the game. Excellent glare control maximizes visual comfort and minimizes distraction for both the players and the spectators while improving the appearance of moving objects during broadcasts. Improved visibility and uniform illuminance, with no unintended shadows, allow players to perform to their upper limit, creating more enjoyable, exciting games for fans. These high performance optical assemblies are available in a variety of NEMA beam configurations.
Unparalleled Reliability
System reliability and performance consistency are of utmost importance in high power sports lighting. Ephesus' engineering-centric approach yields a family of maintenance-free, high-performing LED lighting systems. The rugged housing is constructed from low copper die cast aluminum with integral heat sink fins that maximize its surface area in contact with the ambient air. A combination of high efficiency thermal conduction, convection and radiation contributes to high capacity heat dissipation. Thermally optimized LED packages are mounted onto a metal-core printed circuit board (MCPCB) with high reliability, vibration resistant interconnects to ensure a robust thermal path between the LED packages and circuit board. As opposed to many LED luminaires that achieve high luminous efficacies at the cost of shortened LED life due to overdriving, the high power LEDs incorporated in Lumadapt systems are optimally driven to avoid performance degradation and excessive heat generation at the LED junction. With integrated thermal management Lumadapt lasts longer than competitors' products and delivers excellent lumen maintenance and chromaticity stability.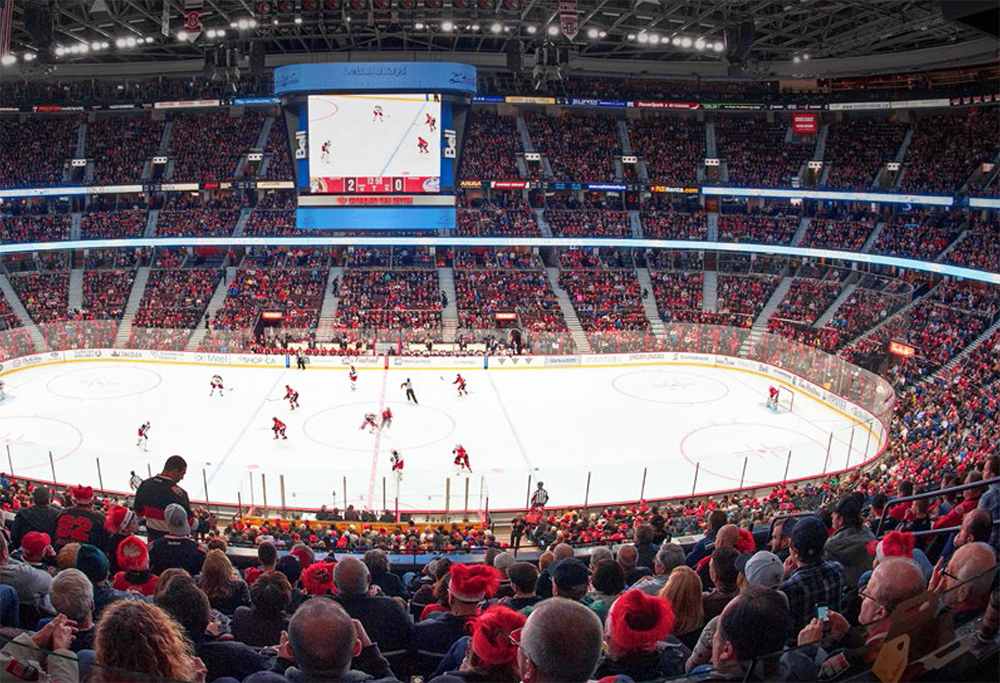 Sophisticated Driver Circuitry
Lumadapt comes with a built-in LED driver that operates over the universal line voltage range between 277 and 480VAC or 120 and 240VAC. The constant current driver provides tight regulation and control on the current output with power factor correction to maximize the efficiency of the power grid. The high power flood light operates at greater than 0.9 power factor and low total harmonic distortion (THD <20%) through the entire load range. The driver supports stepless and color-consistent dimming from 100% to 1%. Circuit reliability is maximized with robust specifications for overcurrent, short-circuit, overvoltage and overtemperature protections. An integrated surge protection device protects the lighting system from 10kV common mode and 4kV differential mode surges. Immunity to electromagnetic interference (EMI) eliminates radio disturbance that affects surrounding electrical systems.
Flicker-free Lighting
The flood lighting system delivers superior illumination with an extremely low level of flicker factor (FF) to eliminate the perceived flicker at virtually all frame rates used within the sports television industry. A ripple suppressor is included in the driver circuitry to smooth out the output waveform. This enables flicker-free broadcast, including and super slow motion recording, at frame rates far greater than any forthcoming 4K standards. Flicker-free lighting also eliminates stroboscopic effects, an unwanted side effect in sports environment where the motion of objects may appear to move in a noncontinuous manner, e.g. phantom array in motorsports and games with moving balls. Prolonged stay in environment high FF lighting severely strain the human eyes and causes great fatigue as the human visual system is forced to constantly adjust itself to maintain the clarity of the images at the retina. With strict control of light flicker, both spectators and players can enjoy a comfortably illuminated field of play.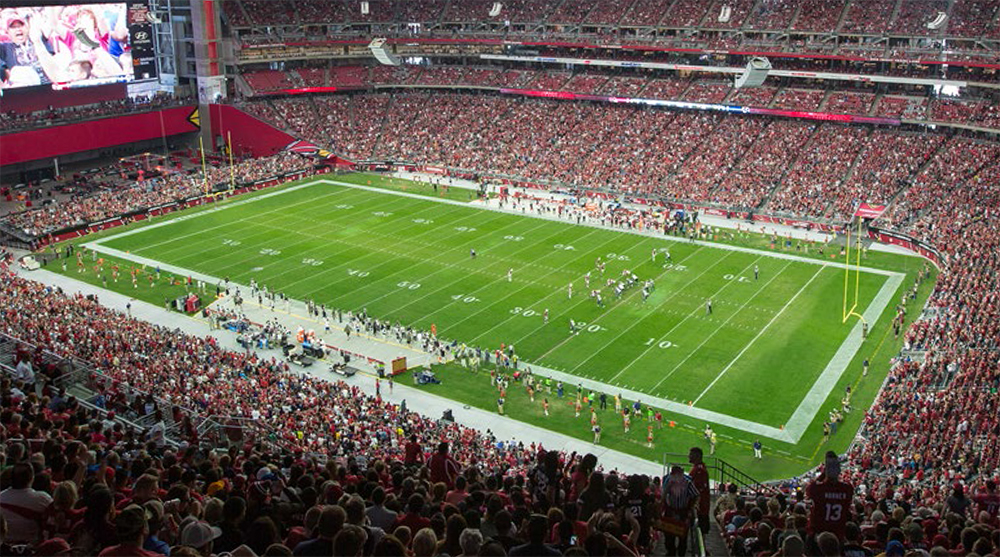 Geared Up for HDTV Broadcasting
Lumadapt is designed to produce the absolute best light for HDTV broadcasting, including both 4k and 8k capability. Through careful photometric layout, the high output Lumadapt systems can produce adequate illuminance, particularly vertical footcandles, that allows for lower gain levels in cameras, shorter exposure times, faster frame rates, and use of a smaller aperture (iris) in the lens. With precise optical design and multiple lensing options, high illuminance uniformity can be easily achieved to accommodate high definition broadcasting of fast moving sports. CCT tuning from 4000K to 6500K with no decrease in the total lumen output addresses the requirement from multipurpose venues where multiple sports games are played. Driver circuitry designed specifically for sporting events ensures flicker-free broadcast at frame rates over 2500fps for super-slow motion recording.
Everything in Effortless Control
The industry's first adaptive, fully customizable LED sports lighting systems can be controlled in ways that no legacy lighting system can match, with remote upgrades to keep the systems ready for the future. The system's adaptability is enabled by Lumadapt Core, an intelligence hub that controls and monitors Lumadapt luminaires via a secure network, and provides instant access to new features and firmware for system upgrades as needed. Lighting management can be remotely operated from a computer via the Lumadapt User Interface or from a smartphone with Lumadapt's app. Lighting zones and schedules can be created. Remote color temperature tuning and intensity control enable creation of the perfect tone of light and illuminance for any event. Two-way communications offer real time status of each fixture as well as predictive monitoring - rather than the conventional reactive monitoring. Cloud-based data storage makes it possible to review system performance and health to help facility operators run more efficiently year after year.