Wallwashing is a lighting technique that are utilized in a plethora of different spaces to achieve a variety of design goals. Quite often vertical surfaces are lit up to add visual appeal to a space, visually expand the space, or perform a task on the vertical plane. Wallwashers are used to deliver a distribution of illuminance/luminance on a wall that, though not invariably uniform, commonly changes gradually from high values at the top of the wall to lower values down the wall. Wallwashers are thin-profile illumination systems which project oblique illumination beams with symmetrically and asymmetrically collimated light with the intention of lighting a specific wall mounted object, or designed for providing a wash of light over a selected region of a wall. Wallwasher luminaires can be recessed or surface mounted.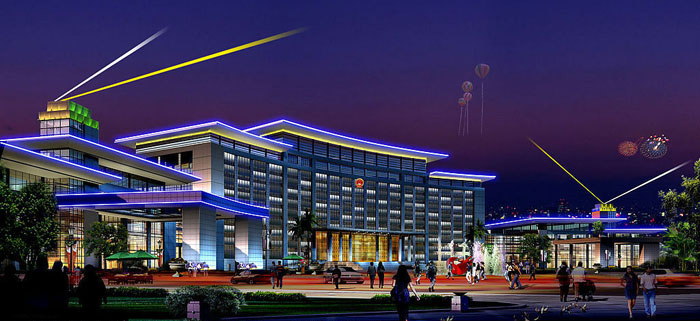 These days, LED-based lighting fixtures also have been applied to some types of projection lighting fixtures, configured as luminaires for exterior applications to produce spotlight illumination or wall-washing lighting effects for architectural surfaces. Digital lighting technologies, i.e. illumination dependant on semiconductor light sources, most notably light-emitting diodes (LEDs), provide a viable alternative to traditional fluorescent, HID, and incandescent lamps. Functional features and benefits of LEDs include high energy conversion and optical efficiency, robustness, extended life span, lower operating costs, and more. LEDs are exceptionally made for applications requiring low-profile light fixtures. LED luminaires with an asymmetric, wallwash-type distribution are ideally fitted to architectural lighting, landscape lighting, garden lighting, facade lighting, theatres, bridges, hotels, shopping centers, bars and night clubs.
LEDs characteristically produce singular points of light. However, the linear light assembly may be designed to refract light emitted from one or more LEDs in a manner to produce a sustained linear beam of light emanating along a length of the linear light assembly. Linear LED wall washers typically come with a array of LEDs arranged in a line in an elongated emitter housing. Similarly to other form factors, power converters and drive circuitry are included to power and control the light output from the LEDs. There may be a hinge that allows the fixture to swivel relative to a mounting bracket securing the fixture to a wall or ceiling. A linear multi-color LED wall washer produces a light beam with uniform color throughout the output beam without resortig to excessively large optics or optical losses. Linear LED lamp produces light over a wide color gamut, thoroughly mixes the color components within the output beam, and uses an optical feedback system to maintain precise color over LED lifetime, and in some cases, with changes in temperature. The light beam produced by LED lamp is often symmetric or asymmetric, and can have various beam angles. The optic may be formed of any material with transparent or translucent properties that comport with the wanted refraction to be performed by the optic.
Multi-color linear LED wallwashers produces a chain of colorful lights to uniformly illuminate a large portion of a wall. They frequently comprise red, green, and blue LEDs (RGB), however, some products use some mixture of red, green, blue, white, and amber LEDs (RGBW, RGBA, AWB). These ourtdoor fixtures are designed to create colorful backgrounds for window and store display lighting, match existing lighting temperatures while making it possible for future color temperature changes. They produce subdued or dramatic highlights, with soft tones or bright colors, standing still or automatically cross-fading at pre-set speeds. Whether using white tones (AWB) or rich colors (RGB), they create meaningful lighting forms controlled by DMX controllers.