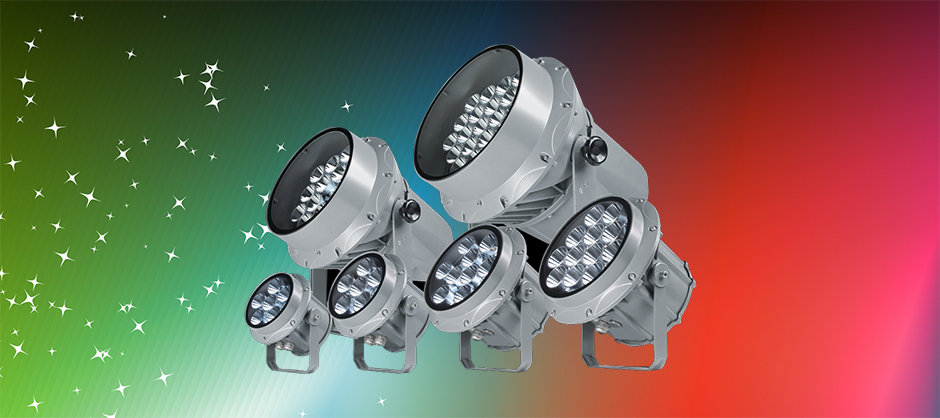 The JRF3 RGB LED spotlights from Jingri Lighting are designed to project a sharply defined beam spread of 4.5 degrees for highlighting a multitude of landscape and architectural applications, including tall building facades, monuments, towers, columns, cable-stayed bridges, flag poles, and any other outdoor high-rise structures. The pencil beam LED projector light is characterized by a high light output ratio and a concentrated narrow beam distribution that is free of any halo and light spill. The high-performance RGB architectural spotlights provides vibrant drama of fully saturated colors along with the benefits of energy efficiency and long life maintenance-free operation delivered by LED technology.
The JRF3 Series LED spotlights offers a range of lumen packages to meet design requirements for diversified outdoor lighting applications. The lighting system incorporates a highly engineered LED engine with 3, 6, 9, 12, 18 or 27 Cree/Osram RGB LEDs and produces up to 2411 lumens of high quality white light that illuminate objects up to 100 meters away. Optimized for the most cost color-sensitive applications and superior chromaticity stability in wide temperature variations, these high density, high efficacy RGB LEDs produce a vibrant spectrum of precisely controllable light through precision engineered optics that enhance the color uniformity and color mixing capabilities of the lighting system. Tight color binning of LEDs offer superior color consistence and uniformity that are critical in large-scale installations.
Utilizing proprietary logarithmic dimming technology from Jingri Lightinng, the three-channel LED spotlights can be programmed to deliver smooth dynamic color effects and light shows. The luminaire can be operated standalone or as an individually controllable node which is integrated into to the DMX512 addressed lighting network that enables an infinite variety and combination of dynamic effects on multiple nodes simultaneously. The JRF3 Series works with Jingri in-house online/offline controllers or any third-party DMX controllers, such as iColor Player. The lighting system is embedded with an ARM IC module for signal processing.
The JRF3 RGB LED spotlights are built to withstand virtually all climatic conditions. The durable, impact resistant construction that incorporate an HPDC aluminum alloy housing provides robust protection for the electrical and optical components. The low copper aluminum housing also provides superior heat sinking that enable the LED junction temperature tightly controlled within the allowable thermal stress limit. The LED driver circuit and control gear are mounted in a separate electrical chamber that is thermally isolated from the optical assembly. A tempered glass lens is sealed to the optical assembly, completing the high ingress protection of this durable luminaire. The luminaire housing include a breather vent for equalizing internal and external pressure.
Product features
Heavy duty aluminum housing with long-lasting durability and high thermal conductivity.
High quality polyester powder coating over chromate pretreated casting surface.
Advanced passive thermal management for high lumen maintenance and long component life.
Advanced color mixing system guarantees rich, saturated color light output.
Proprietary logarithmic dimming technology for smooth dynamic color effects.
Tight MacAdam ellipse color binning ensures fixture-to-fixture color uniformity.
Standalone operation and DMX512 controlled multi-node lighting.
Built-in preprogrammed light shows and effects.
High efficacy, high chromaticity stability Cree/Osram LEDs.
High PF, low THD LED driver provides high performance regulation and reliable operation.
Heavy duty yoke with degree markers. Optional ground spike mount.
IP66 ingress ingression.
5-year warranty.