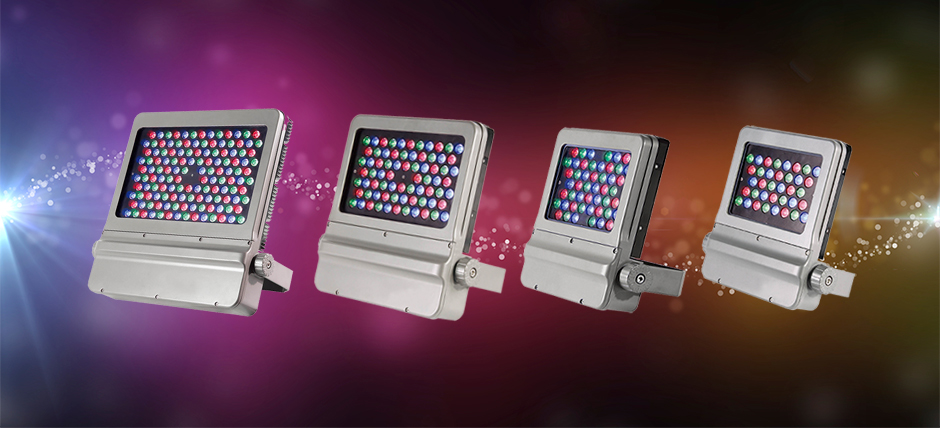 The JRF6 Series LED spotlights/floodlights from Jingri Lighting incorporate LED light sources, optical system and driver in a narrow-profile design that combines aesthetics and functionality. With high performance LED engines, precise optical control, and robust thermal management, the JFR6 Series offers an excellent cost/value proposition that maximizes energy saving and reduces maintenance. The RGB lighting system delivers a full spectrum of precisely controllable light for a range of dynamic spotlighting and floodlighting applications with static and dynamic color sequences.
The professionally designed luminaire is constructed with a heavy duty, high strength die cast aluminum housing electrostatically applied with a thermoset polyester powder coat finish after a five-stage conversion cleaning process for durable protection against impact, corrosion, ultraviolet degradation and abrasion. The professionally designed LED luminaire is equipped with a high performance heat sink that features an array of densely extruded fins to maximize heat dissipation. The high thermal conductivity Al 6063 aluminum alloy is black-anodized to improve radiation ability and corrosion resistance. A thermal shock and impact resistant tempered glass lens with molded silicone rubber gasket seals the optical compartment from water and dust penetrations.
The RGB lighting system offers superior color mixing performance by taking advantage of high-density, precisely binned LEDs and an optical system optimized for uniform luminance. The JRF6 series is available with 36, 48, 72 and 132 RGB LEDs which produce a lumen output ranging from 1577 to 6563 lumens. To offer a distribution adapted to the needs of different landscape and architectural lighting applications, the precision designed, injection molded TIR lenses produce a bundle of four beam angle options, including 10°, 25°, 40°, and 60°. Advanced color mixing scheme paired with Jingri's proprietary logarithmic dimming technology ensures smooth light shows and dynamic effects to be created from millions of fine-tuned, saturated colors, pastels, and uniform white light.
Product features
High pressure die cast aluminum housing with exceptional architectural strength and dimensional stability.
Heavy duty extruded aluminum heat sink and advanced thermal design ensure superior lumen maintenance and color stability at high drive currents.
Ultra-weatherable TGIC based polyester powder coating bonded by heat fusion thermosetting for superior corrosion and UV resistance.
Proprietary logarithmic dimming technology for smooth dynamic color effects.
Tight MacAdam ellipse color binning ensures fixture-to-fixture color point consistency in system.
Addressable and controllable through DMX512 programming for light shows and static sequences.
Advanced color mixing using high efficacy, high chromaticity stability Cree/Osram LEDs.
High PF, low THD LED drivers with exceptional operating efficiency under wide temperature and electrical ranges.
Heavy duty bracket with flexible optical aiming mechanism.
IP66 ingress ingression.
5-year warranty.