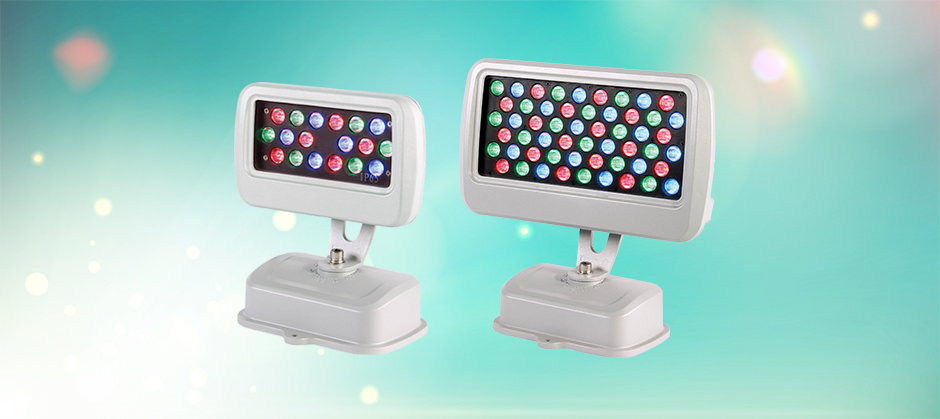 The JRF1 Series RGB LED floodlights blend high performance with a premium aesthetic that adapts to an extensive range of architectural and landscape lighting applications. This distinctive range of RGB flood lights offers powerful dynamic radiance in a compact size and durable package, making it easy to draw attention to architectural elements and design details in a tight space where unobtrusive lighting is needed. With its multiple photometric distributions and superior color mixing performance, this three-channel luminaire offers almost infinite possibilities of light effects that are perfect for applications desiring a dynamic color changing effect.
The architectural floodlight features a rectangular, low profile light head supported by a 360° rotatable heavy duty bracket which also allows the light head to be tilted vertically. The bracket is seated in a cast base that serves as an electrical box to house the LED driver and control module. The joints between the bracket and coupled interfaces come with cast-in angle measurements and mechanical locking systems to facilitate aiming accuracy and ensure aiming stability. The heavy duty, corrosion resistant luminaire housing is constructed of high pressure die cast aluminum alloy with tempered glass lensing that protects the LEDs from mechanical shock and provides minimal dirt depreciation. Both the light head and electrical box are sealed against water and dust ingress.
The JRF1 range is equipped with LED light engines that incorporate 18, 36, 54 and 72 LEDs with a light output ranging from 871 to 3980 lumens. JRF1 offers a choice of precision engineered optics including 10° narrow, 25° medium spot, 40° flood, 60° wide flood and 25 x 60° elliptical beams for spotlighting, floodlighting, wall washing, and grazing. These three-channel LED luminaires take advantage of high performance Cree/Osram RGB LEDs that deliver superior efficacy with superior lumen maintenance. The LED packages are specifically designed to address optical issues such as color uniformity, chromaticity stability and binning for superior quality of light with consistency in system color point.
Optimized geometrical mixture of high quality RGB LEDs on the optical assembly combined with precision designed optics enables superb RGB color mixing to achieve a vibrant spectrum of color that can cycle in a smooth transition at varying speeds and in different color sequences. JRF1 can be operated standalone or work as an individually controllable lighting node for light shows in which large groups of DMX addressed fixtures operate simultaneously to create dynamic and intricate color patterns for a sophisticated presentation.
Product features
High pressure die cast aluminum housing with long-lasting durability and high thermal conductivity.
Ultra-durable polyester powder coating resists extreme weather conditions, while providing optimal color and gloss retention.
Excellent passive thermal management with a high efficiency thermal path to extract heat from the LED junction.
Advanced color mixing system guarantees rich, saturated color light output.
Proprietary logarithmic dimming technology for smooth dynamic color effects.
Tight MacAdam ellipse color binning ensures consistency in system color point.
Standalone operation and DMX512 controlled multi-node lighting.
Built-in preprogrammed light shows and effects.
High efficacy, high chromaticity stability Cree/Osram LEDs with superior lumen maintenance and assurance of ANSI color compliance.
High performance LED drivers matching the long lifetime of the LEDs.
Heavy duty bracket with flexible optical aiming mechanism.
IP65 ingress ingression.
5-year warranty.