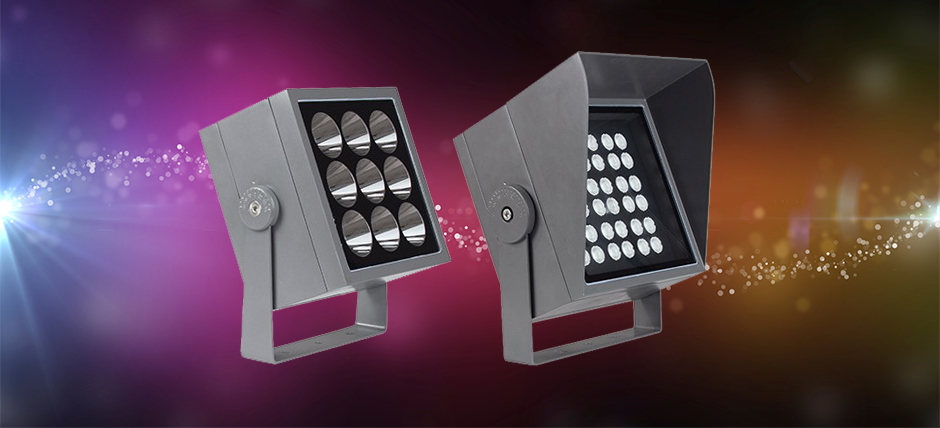 The JRF4 Series LED spotlights/floodlights from Jingri Lighting are a dedicated line of performance engineered mono-color light fixtures that produce high quality white light in color temperatures ranging from warm to cool. Designed and manufactured to the highest performance standards with low cost of ownership in mind, JRF4 combines all the benefits of LED lighting in contemporary minimalist design to deliver optimum illumination and unobtrusive architectural blending. With their precise light distribution and uniform illuminance over long distances, these highly efficient lighting fixtures may be utilized to create cutting-edge architectural and landscape lighting systems for large-scale installations, such as commercial skyscrapers, land-mark buildings, large retail exteriors, bridges, piers, public monuments, and themed attractions.
This product family is available in large variety of models which incorporate 1-, 9-, 16-, 25- and 36-LED light engines, drawing from 10 watts to 120 watts with a lumen output ranging from 114 to 11355 lm. A choice of precision engineered optics from narrow to wide distributions (5°, 10°, 13°, 15°, 25°, 30°, 50°, 10 x 35°) are provided to support a wide range of lighting applications with exceptional light control and precise distribution of light. These directional lights provide extremely clean beams optimized for long-throw projection or a homogeneous wash of light with a high light output ratio and unprecedented uniformity of hue.
JRF4 uses Cree/Osram LEDs that deliver enhanced combinations of light quality and luminous efficacy. These high density LED packages are thermally optimized to achieve high lumen maintenance and chromaticity stability at higher temperatures and drive currents. Tight color binning ensures high color consistency across a large installation of fixtures. The JRF4 LED engines available in 350, 525, 700, or 1050mA ratings are driven by high performance constant current drivers that provide flicker free operation with exceptional power conversion efficiency.
The rugged construction of the JRF4 LED luminaires provides exceptional durability and maximizes heat dissipation of the lighting system. The high pressure die cast aluminum housing combined with a thermally efficient MCPCB assembly offers integrated thermal management that contributes to longer system and LED life. The lighting system is lensed by a heat impact resistant tempered glass lens with high tolerance for thermal expansion and stress. One-piece thermally stable silicone gasket seals the optical assembly to maintain the high IP rating for weather tight protection. Durable TGIC thermoset powder coat finish electrostatically applied to chromatized casting surface provides superior resistance to corrosion and UV degradation.
Product features
Robust construction provides protection against dust, moisture and destructive vibrations.
High pressure die cast aluminum housing with superior heat sinking performance.
Ultra-durable polyester powder coat finish for optimal color and gloss retention, excellent impact, corrosion and UV resistance.
High efficiency thermal path to extract heat from the LED junction.
Proprietary logarithmic dimming technology for smooth dynamic color effects.
Tight MacAdam ellipse color binning ensures fixture-to-fixture color point consistency in system.
Addressable and controllable through DMX512 programming.
Advanced light engine technology using high efficacy, high chromaticity stability Cree/Osram LEDs.
High performance LED drivers with high-power factor correction to maximize power utilization.
Heavy duty bracket with flexible optical aiming mechanism.
IP66 ingress ingression.
5-year warranty.