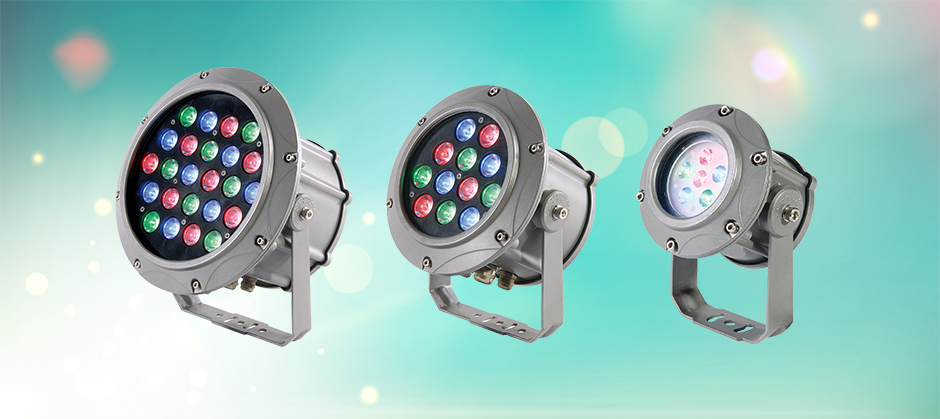 The JRF3 architectural RGB LED luminaires are available with 3, 6, 9, 12, 18, and 24-LED light engines in 3.5W, 7.8W, 11.8W, 16.2W, 22.2W, and 28.3W models. With initial delivered lumens ranging from 140 lm to 1057 lm and capability of generating 16,777,216 discrete combinations of R, G, and B values, this small and medium range of high performance color mixing luminaires affords infinite possibilities in exterior illumination. Its small footprint, robust design, focused beam, superior efficiency and reliability make it the perfect choice for creating innovative lighting effects in landscape, architectural and urban applications.
JRF3 architectural RGB LED luminaires take advantage of high density, high efficacy Cree/Osram LEDs optimized for the most cost color-sensitive applications. These LED packages are thermally optimized to withstand high drive currents and system temperatures for a high degree of chromaticity stability. Tight MacAdam ellipse color binning ensures the color consistence and uniformity required in synchronized operations across a group of interconnected fixtures. High quality RGB light sources and precision engineered optics combine to deliver brilliant and homogenous color mixing. These high efficiency optics produce 10°, 25°, 40° and 60° light distributions for a multitude of floodlighting, spotlighting, wall washing and grazing applications.
Proprietary logarithmic dimming technology and advanced color mixing system enable the lighting system to generate fine-tuned, brilliant colors within a distance as close as one meter. The 3-channel LED luminaires can be operated standalone with built-in pre-defined light shows and built-in effects. Coupled with an external DMX control system JRF3 can be installed in large arrays to bring all the drama and excitement of stage lighting to exterior architectural and landscape lighting. These lighting systems integrate seamlessly with Jingri's in-house offline/online controllers, as well as third-party DMX controllers. The system incorporates an ARM IC control module to deliver powerful lighting management. An integrated push button waterproof LED display provides an on-luminaire user interface for setting the mode of operation or DMX Address. An embedded wireless module allows the luminaire to be independently controlled for easy setup and operation.
The JRF3 RGB LED luminaire has a durable construction with high level of architectural strength, ingress protection and corrosion resistance. The HPDC aluminum alloy housing provides excellent external thermal management. The LED driver circuit and control gear are placed in a separate electrical chamber that is isolated from the optical assembly. The optical assembly is protected by a sealed, impact and heat resistant tempered glass lens. A breather vent equalized internal and external pressure to alleviate the stress on luminaire components.
Product features
Heavy duty housing constructed of high pressure die casting aluminum.
Ultra-weatherable TGIC based polyester powder coating over chromate pretreated casting surface for corrosion resistance, optimal color and gloss retention.
Excellent heat sinking performance, low thermal resistance of the components along the thermal path.
Advanced color mixing system guarantees rich, saturated color light output.
Proprietary logarithmic dimming technology for smooth dynamic color effects.
Tight MacAdam ellipse tolerance ensures fixture-to-fixture color uniformity.
Standalone, Master/Slave, and external DMX 512 control.
Built-in preprogrammed light shows and effects.
High efficacy, high chromaticity stability Cree/Osram LEDs.
Integrated LED driver provides high performance regulation and reliable operation.
Heavy duty yoke with degree markers. Ground spike available.
IP66 ingress ingression.
5-year warranty.