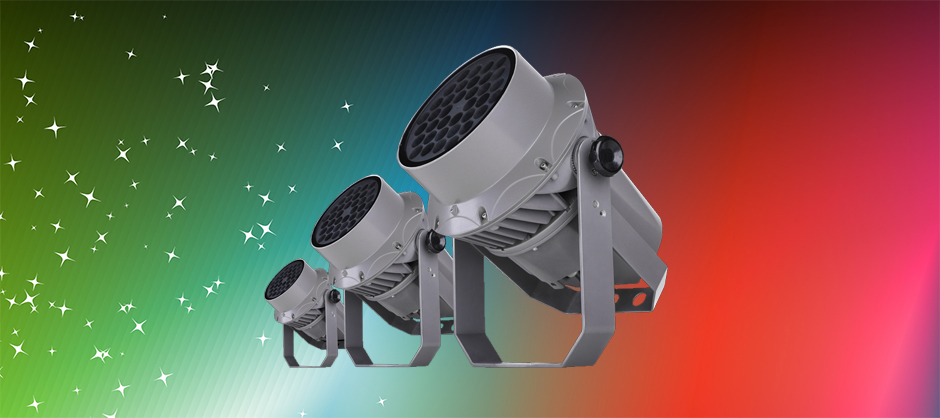 The JRF3-36D, JRF3-54D and JRF3-72D RGBW LED lighting systems are designed to produce spot (6°) and elliptical (15° x 70°) beam light distributions for a full spectrum of precisely controllable light. These high-output, exterior-rated LED lighting fixtures offer a plethora of possibilities for lighting designers and architects to create a fantastic nighttime appearance of a building or a decorative landscape lighting design for a property owner. The RGBW LED engine utilizes high quality red, blue, green and while LEDs from Cree or Osram who maintains tight tolerances at every step from wafer production to component packaging. With accurate and consistent colors delivered by these precisely binned LEDs, the JRF3 Series produces highly saturated light and clean mixed beam with higher application efficiency.
Vibrant color mixing performance combined with Jingri's proprietary logarithmic dimming technology allows fine-tuned, brilliant colors to be created for pre-programmed light shows. The RGBW floodlight produces full-color light output of up to 4405 lumens for smooth dynamic color effects or static lighting schemes. The JRF3 Series can be operated standalone, in simple Master/Slave mode by circuit cabling, or directly with a standard DMX-512 controller. The RGBW light comes with 12 built-in preprogrammed effects. Custom color changing light shows can be created to lend mood and visual impact to architectural details, sculptures, trees, and other hardscape and landscape features. This product family works with complete line of Jingri's in-house offline/online controllers, as well as third-party DMX controllers.
Combining value and performance in a dependable design and rugged construction, JRF3 LED luminaires are built for years of maintenance-free service with significant energy savings. Constructed of high pressure die cast aluminum alloy, the corrosion resistant, high strength housing with ultra-weatherable TGIC based polyester powder coating offers exceptional durability and thermal performance. Thermally optimized RGBW LED packages that support the high drive current are assembled on a metal core PCB using creep resistant alloy for excellent solder joint reliability. A high efficiency LED driver with robust specifications provides high performance regulation for the light engine. The MCPCB system with high efficiency optics is protected by a clear toughened glass with durable silicone rubber gasket sealing the optical assembly. The luminaire is IP66 rated and vibration resistant.
Product features
High pressure die casting aluminum construction provides excellent thermal management, environmental and structural protection to critical components.
Thermoset polyester powder coat finish on all die cast parts for excellent surface impact, corrosion, salt and humidity resistance.
Brilliant, homogenous color mixing guarantees consistent color characteristics for high-level illumination.
Proprietary logarithmic dimming technology for smooth and even outputs.
Tight MacAdam ellipse tolerance ensures fixture-to-fixture uniformity and unnoticeable color differentiation.
Standalone, Master/Slave, DMX control.
12 built-in preprogrammed effects.
High efficacy, high lumen output and long life Cree/Osram LEDs.
High reliability, high efficiency LED driver circuit.
Heavy duty yoke with degree markers
IP66 ingress rating against water and dust.
5-year warranty.