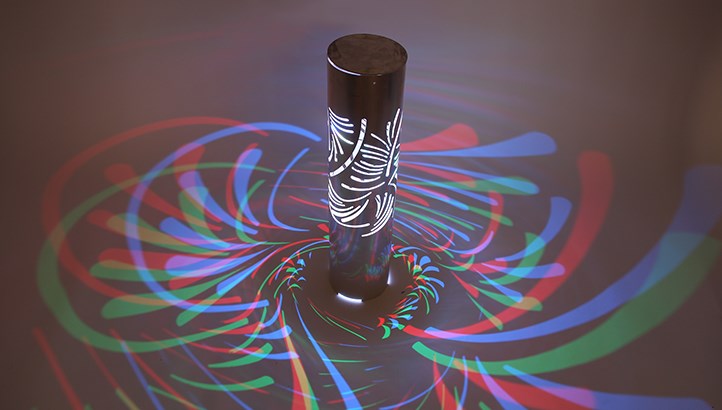 The Ucarve Series
LED bollard lights
from
Jingri Lighting
bring vitality and drama to landscape lighting applications. These decorative bollards project a compelling nature-inspired pattern downward onto the ground, adding a stunning pictorial drama to nighttime beauty of the landscape with excitement and fun. Combining the latest in LED technology with cutting edge mechanical engineering, this inventive lighting solution opens up a new horizon of design possibilities with wonderful presentation of light and shadow while delivering the best in system efficacy, lifetime value and quality of light.
The fascinating patterns of light and show are delivered by an array of distinctive geometric cutouts which are fiber laser machined using a high precision three-dimensional laser system. 3D laser cutting technology enables the manufacturer to carve out any imaginative optical geometry on the cylindrical surfaces of aluminum or stainless steel tubes in a single process. The sleek piece of art is integral in construction and accurate in artistic expression -- one-step, computer controlled carving on a complete work piece. The weldless design makes for both structural strength and surface quality.
Utilizing the luminous splendor of solid state light sources, the artistically designed geometric cutouts produce striking effects that add magic to the night. These lighting systems are designed to accommodate white, red, green, or blue single color LEDs depending on the aesthetic preference of a landscape lighting plan. The fixture can also be illuminated by a mix of RGB LEDs and creates more layers of decorative lighting. The Ucarve Series takes advantage of high performance, long service life Cree or Osram LEDs to deliver flair and wonder to the nighttime ambience through an integral, frosted polycarbonate lens which softens the light for visually comfortable illumination.
The landscape light fixture is built for a lifetime of optimal performance with its superior weatherability. The metal housing is electrostatically applied with a thermoset super TGIC polyester powder coat finish after a multi-stage chromate conversion cleaning process. Rigorous surface finishing enables the fixture to withstand salt and humidity corrosion. With maximum adhesion and excellent color retention, the durable, attractive finish resists rusting, cracking, peeling and fading. The impact resistant, UV stabilized PC diffuser protects the light engine from ingress of moisture and dust.