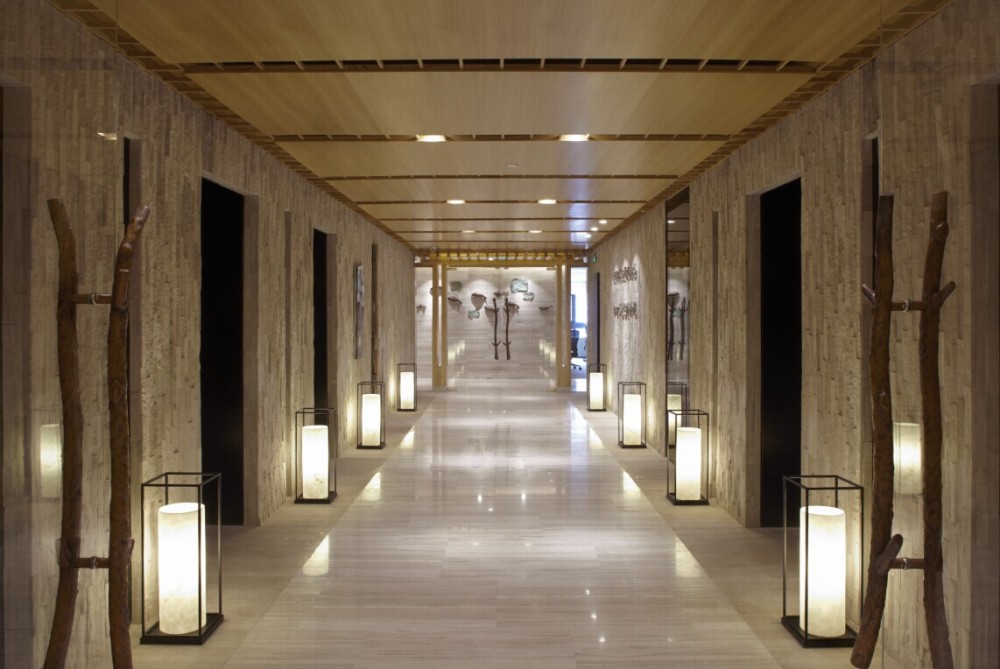 The HIDE trimless architectural downlights from Aplus Lighting integrate the latest multi-die LED chip technology to provide optimal lighting performance with clean aesthetics and low-glare, uniform distribution. The recessed luminaires allow lighting designers to bypass trims for a contemporary minimalist look for seamless architectural integration in high-end commercial, retail, office, hospitality, residential and institutional interiors. Available in 7W, 10W and 13W wattage options, the LED downlight produces up to 800 lumens of consistent, bright white light with luminous efficacy approaching 80 lm/W. Together with its unobtrusive, adjustable 3" aperture, the HIDE recessed luminaire is a stylish complement to any interior lighting design.
The directional downlights are designed for use in applications where adaptability and versatility are required from a recessed installation. Lockable angles of 0-20° tilt and 4 x 90° rotation facilitate optimum alignment of the luminaires to illuminate specific areas or features in a room. The adjustable design makes the suitable mounting on both flat and sloped ceilings. HIDE comes with a dedicated mounting frame designed to be fixed above the ceiling and accommodate the luminaire seamlessly in any direction. The interchangeable optics are available in 14°, 24° and 35° beam angles. With three reflective finishes to choose from, including champagne gold, matt white and silver, the aluminum reflector of the luminaire complements a variety of interior decor and lighting design. The highly versatile LED downlight delivers an appealing recessed aesthetic and offer brilliant illumination packages, making it truly the single source for virtually all your commercial recessed lighting needs in its category.
Cutting edge optical design and state-of-the-art LED technology combine to create a product with superior photometric performance and optimal light distribution. Chip-on-board (COB) technology from Citizen features industry leading punch for high center beam intensity and uniformity. HIDE trimless LED downlights are available in a choice of color temperatures including 2700K, 3000K and 4000K. Tight color binning with a 3-step MacAdam ellipse tolerance ensures luminaire-to-luminaire uniformity which is critical in commercial lighting applications. The 90+ CRI LEDs take visual merchandising and artwork display to a new level by bringing out the vibrant colors, patterns and textures with their capability to deliver a full spectrum of color. The high density light source sits behind a diffused lens deep set into an aluminum reflector providing precise optical control with greater visual cut-off.
Constructed of die cast aluminum the luminaire housing and heat sink have substantial volumetric thermal capacity to dissipate heat flux at a tremendous rate. Excellent thermal design ensures components along the thermal path (from the high density LED array to the heat sink) have the lowest thermal resistance. HIDE LED downlights have a rated L70 life of 50,000 hours without suffering color shift, accelerated lumen depreciation and shortened lifetime due to thermal degradation. The recessed housings are suitable for installation in ceilings with insulation and are IP44 rated to protect the downlights against splash water.
The luminaire is equipped with an off-board LED driver compatible with triac (leading edge and trailing Edge phase control) dimmers and 1-10V dimmers. The universal voltage (100-240VAC) driver is power factor corrected and has low total harmonic distortion (THD). The driver incorporates a ripple filter circuit to avoid the generation of high ripple current which may lead to a rise in temperature inside the driving circuit and may also cause uncomfortable flicker.
Product features
Trimless design provides clean aesthetics and seamless ceiling integration.
Citizen COB LEDs delivering high efficacy and high flux density.
High chromaticity stability and chromaticity consistency.
Deep set optics provide uniform light distribution and excellent glare control.
Lockable angles of tilt and rotation ensure precise alignment of the optical assembly.
Excellent thermal design facilitates optimum LED performance and extended lifespan.
High efficiency driver provides exceptional line and load regulation.
Easy installation and maintenance with dedicated mounting frames.
IP44 rated housing protected against water splash.